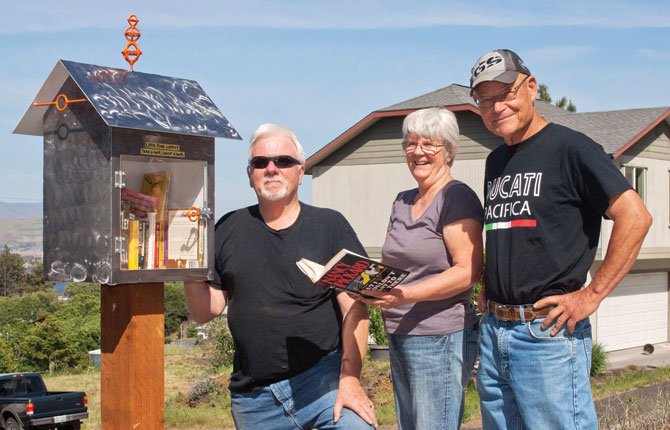 After owning property in The Dalles for over 20 years and living in town off and on for four, Ron Carpenter said he still hasn't met many of his neighbors.
For years, he said he's seen people walking their dogs and taking their morning exercise along Scenic Drive and wondered what might cause them to slow their pace and take a moment's pause to say hello to one another and chat.
"It's just like everywhere else," he said. "You'll see each other, maybe wave, but that's it. It seems like you barely ever get the chance to stop and chat or get to know each other just by living in the neighborhood these days."
The perfect solution, he decided, came in the form of a Little Free Library.
Little Free Library is an international organization whose motto, "take a book, leave a book," is meant to promote community learning and literacy by creating a "gathering place where neighbors share their favorite literature and stories."
"In its most basic form, a Little Free Library is a box full of books where anyone may stop by and pick up a book (or two) and bring back another book to share," according to the organization's website.
A retired shop teacher and flight engineer, Carpenter said what he really feels he "excels" at is welding and fabricating.
"I'm a hands-on guy, so
it really makes my day when I get to build something," he said. "This was the perfect opportunity, it's a great project but besides all of that — it just makes me feel good."
After studying the library box's building specifications outlined on the organization's website, Carpenter said he set to work building his own out of 50 pieces of recycled scrap metal welded together to appear as though it were a single piece. The box is crowned with a metal steeple and a glass door so passersby can easily view the library's contents.
"Reading is such a wholesome activity," he said. "It's a neat thing to do just to use your own imagination, but it can also be something that brings a community together and that people can share and enjoy with one another."
While serving as a flight engineer in Vietnam for two years, Carpenter said a pilot advised him to always pack a book into one of the pant legs of his flight suit for the inevitable, sometimes several-hour lull in activity that accompanied the work.
"It was the best advice I'd ever heard," he said. "'Always carry a book with you,' he said. And I did. I'd always bring something action-packed, like a mystery or a suspense novel, to really keep my brain up and running."
Referring to himself as not the "typical old guy on a Harley," Carpenter said he's been packing himself off on a motorcycle to go 'adventure riding' across the country and visiting remote locales for years.
"To this day, I'm always looking for more adventure — in reading or otherwise," he laughed.
Carpenter said he pitched the library idea and worked in cooperation with the city to get the little library legally installed right alongside the road, where it now sits along West Scenic Drive in The Dalles, for any interested community member to use.
The library also includes a small logbook which is meant to encourage readers to write down their thoughts on the library or its books, the genres or titles they might like to see in stock in the future or any reading recommendations they might offer other library-goers.
"My goal is to just make sure everyone in the area is aware that it's a community resource, and one they can make very good use of," Carpenter said. "Everyone is welcome. We try to keep the selection fresh and bring in new books as often as we can, and of course we can always use more donations. Children's books in particular we're pretty short on, and I'd love to have more things for the kids to read since I often see so many walking by with their families."
While many Little Free Libraries are scattered around larger metropolitan areas like Portland, Carpenter said that according to the map on the Little Free Library website, his will be the first to be registered in the North Central Oregon region.
Once officially registered, Carpenter said he will start receiving free books from the Little Free Library organization to include in the library's selection.
"Ideally, I'd like to get a picture of children using the library, perhaps alongside their families, and send that photo to the organization so the library can be officially registered," he said. "That way we can start getting more books and finally be put on the map!"
To submit a photo to help the library become officially registered or to arrange a book donation, email Carpenter at blackdog471@mac.com. For more information about Little Free Libraries, visit http://littlefreelibrary.org.