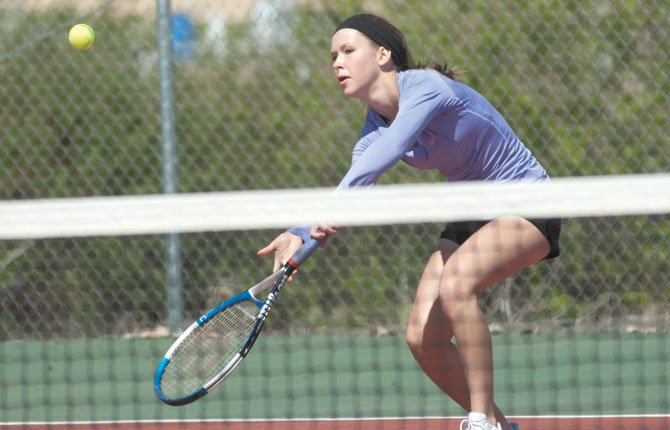 Coming off a third-place output in district tennis play, Sherman freshman Meghan Belshe went to work for the three-day 2014 4A/3A/1A/1A Tennis state championships ending May 24 on the campus of Oregon State University in Corvallis.
After an opening-round bye, Belshe matched up with La Salle Prep's Kate Arp.
The sophomore won this battled in straight sets over Belshe by margins of 6-1 and 6-4. This loss dropped Belshe to the consolation bracket where she initially squared off against Mac-Hi's Kaylee Davis.
At districts, Davis had defeated Belshe, and her run continued in state consolation play with an 8-5 winner over the Husky youngster, ending her season.
Now that the season is wrapped up, Sherman head coach Kalie Rolfe said the important aspect of improvement lies in the practice time.
It is up to the players to continue hitting, serving and staying in shape.
In all, Rolfe was proud of the performances put forth by her team and said they all handled themselves with dignity and class.
"I could not have asked for a better group of kids for my first year as head coach," Rolfe said. "With some focus on strengthening our strategy and net play, we should hit the ground running and be a strong contender in our league."
Just putting in time is the important thing, which is a difficult task given that most of these players are multi-sport athletes.
Rolfe said she felt that the improvement was there, but the results were not something evident on the scoreboard all of the time.
As a program, Rolfe feels optimistic that her group is turning the corner for the greater good.
"This was a great year," the Sherman coach said. "The girls tied for third at the district tournament with only one doubles team and three singles. Next year will be another good year. We will have a strong girls' team, with talented players and I anticipate a good showing at district."
It was especially pleasing to Rolfe to have a few veterans show leadership, while she brought in a new message and philosophy.
There is a young influx of athletes such as Karolyn Kaseberg, Addie Bates, Katherine Shafer, Elvia Rubio and Hollee Kaseberg whowill earmark a new regime of Husky hopefuls.
Karolyn Kaseberg won a district match and Belshe claimed three, so the top of the roster appears to be in good hands.
One area Rolfe will concentrate on in 2014 is getting more male players to see some time.
She had Garak Casper and Brett Lane as the core players, but if she could double or even triple those numbers, the extra depth will bode well.
There is no shortage of top athletes coming up through the pipeline from middle school and from the high school levels.
Rolfe said most of her focus is on the fundamentals of the game and getting her group to summer matches to establish continuity and experience on the court.

"We will come back with a solid foundation of leadership, and hope to gain some new players in the freshman class," Rolfe added. "Looking back, we learned a lot and matured, which will help us advance further next year. There is a steep learning curve for a first-year coach, I hope to take what I have learned this year and help our team achieve greater success next year."