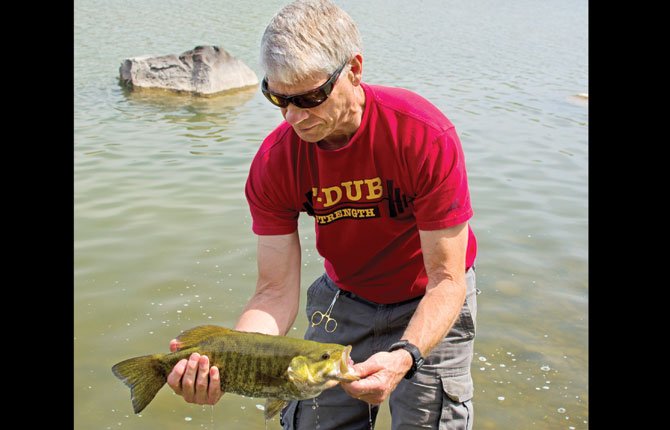 May presents a smorgasbord of fishing opportunities in the Columbia Gorge area.
There are spring Chinook available in the Hood, Wind, Deschutes, and Columbia rivers.
The Deschutes has its annual salmonfly and stonefly hatch that has gained a reputation worldwide.
Summer steelhead are starting to trickle into the Hood and Klickitat rivers. Needless to say, options abound for a springtime angler.
One option that I've forgotten in recent years, and the fishing I probably did the most growing up, is the phenomenal smallmouth bass fishery available in the Columbia River and its many sloughs.
My plan was to go carp fishing.
Yes, carp are sometimes considered a trash fish, but they are incredibly picky, strong fighting, big, and maybe even beautiful if you can get past the lips and the alien-like whiskers on their snout.
Carp have turned into one of my favorite fish to target with a fly rod for these reasons and the fact that they are plentiful and it is entirely sight-fishing. But this isn't a story about carp fishing.
Carp were scarce, so I cast my Wooly Bugger into a likely looking bass spot and instantly came tight to a decent smallie.
The next cast produced the same result.
This continued until I had caught about a dozen smallmouth bass over twelve inches in an hour.
Completely on accident, I had stumbled upon some of the best bass fishing I have ever experienced, and stirred a passion I had put aside years earlier.
A couple days later, I returned with my dad and the fishing was at least as good.
Dad managed to catch the biggest smallmouth of his life and I experienced some of the fastest action I've ever seen on bass ranging from twelve to sixteen inches.
When
As water temperatures heat up with the spring sun, bass start to get the urge to spawn.
The pre-spawn can be phenomenal fishing as bass look to put on the pounds to get through the rigors of reproduction, as water temperatures rise to the mid to upper-fifty's bass transition to the spawn.
Right now, we should be in the mid to final stages of the spawn.
During this time bass become extremely aggressive in protecting spawning beds, and will attack anything they perceive as a threat.
Like the rut for deer or elk, you tend to see bigger and more bass during the spawn than any other time of year.
What to look for
Look for gently sloping bottom structure with small rocks or gravel.
Bass typically spawn in less than four feet of water and you can often see their spawning beds as a dark circle that is 1-4 feet in diameter.
If you are wading, be careful not to step on these beds as you may inadvertently kill off the next generation.
Something to keep in mind when targeting smallmouth bass is their propensity for rocky structure.

Unlike their large mouthed cousins, smallmouth bass tend to shy away from weeds and gravitate towards large boulders, cliffs, rip-rap, etc.
The best spawning beds often have large boulders littered throughout or have some other rocky structure nearby.
Techniques
Think slow.
Even though bass are aggressively defending their territory during the spawn, it is often a slow presentation dragged across the bed that produces the most strikes.
If you watch a bass as an intruder slowly makes its way across the bed, you can almost see the bass get angrier and angrier until it can't take it anymore and it has to pounce.
The retrieve can be super slow and steady, or it can be a jig-jig-jig-stop type of motion.
I tend to prefer the latter, with the majority of strikes coming as you stop and the jig or fly falls.
When using conventional gear stick to soft plastics and jigs that allow for that slow presentation.
For fly fishing, woolly buggers and crawfish patterns tend to get the job done.
Ethics
Be careful where you step.
As mentioned before, efforts should certainly be made to avoid stepping on beds.
Unlike many cold-water fish such as trout and steelhead, bass are incredibly hardy creatures and seem to withstand the added rigors of being caught while spawning with few ill-effects.
If you don't plan on eating the fish you catch, they should be handled with care and released back to their natural habitat.
Fishing for bass in the spring can lead to big catches and big fish.
Don't let this short window pass you by, get out there and create your own epic fish story.