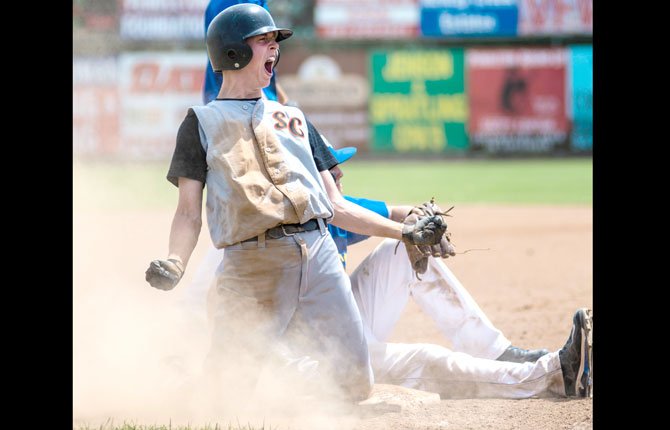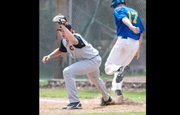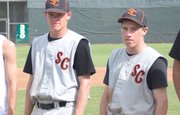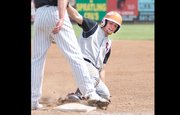 Sherman head coach Joe Justesen expressed pride and excitement when discussing the long list of happenings his team brought about during the 2014 baseball season.
The Huskies, playing with as many as five underclassmen, three freshmen, for much of the season totaled 17 wins and ended up with a 9-5 record in Blue Mountain Conference action for third place and spot to the district tournament for the first time in five campaigns.
For those attributes, the Huskies had five players awarded all-league recognition, including first-team nods to senior pitcher Ben Holliday and designated hitter Austin Kaseberg.
On the second-team were freshman shortstop Maverick Winslow and senior outfielder Nick Coleman.
The wall behind the plate, catching every game during the year, Wyatt Stutzman, earned a spot as an honorable mention selection.
"There were so many kids who were deserving of being all-league," said coach Justesen. "To get these five in there is a huge honor and great accomplishment for this program. I could not be more proud."
Holliday had several lights-out pitching performance this season. One of those was a 10-inning effort on the mound in a 5-2 loss to Weston-McEwen on April 26. He had a season-high 10 strikeouts and three of the five runs were earned.
Holliday earned a win in his final start, a 5-4 first-round district triumph over Pilot Rock, in what was a perfect capper to his career.
He struck out three and walked three, but tossed a complete game and did his best to keep his team's season alive.
"I cannot tell how many times Ben got on the mound and delivered for us," said Justesen. "He was always dependable, a good leader and someone you build your program around. I am going to miss his durability and his talent next year."
Much of the pitching success could be chalked up to stellar performances by Coleman, Kaseberg, Holliday and Kyle Fields, but the stalwart handling this crew was Stutzman.
The Husky staff allowed 117 runs, third in the BMC, and when they held squads to three runs or less, they were 7-0.
On the year, Sherman finished third in the BMC with 179 runs scored, taking sweeps over Pilot Rock, Irrigon and a split with Heppner.
What helped move the Huskies in the right direction was a hot May output. In that month, Sherman amassed a 10-1 record, with the lone loss coming in non-league action versus The Dalles.
When the offense strung together some clutch hits and scored eight runs or more, the Huskies were a perfect 10-0.
One of the reasons for the offensive breakthrough this season was the top of the order in Coleman, Winslow and Kaseberg getting on base and driving in runs.
"Our guys were just more aggressive at the plate," Justesen said. "They saw some pitches and worked the counts on a lot of these teams to get the right pitch and they made good contact. I think it was the extra work they put in after practice to get their swings right. It paid off."
Along with Holliday and Coleman, fellow seniors Daniel Aguilar and Cody Jauken were major contributors down the stretch.
When there was an injury, Aguilar filled in admirably at third base making all the stops and throws to help the pitching staff.
In the district game against Pilot Rock, Aguilar stroked a single and scored a run as part of a four-run inning.
When it was uncertain whether Sherman would even qualify for the district playoffs, after a 1-5 start, Justesen credits the veterans on this team for keeping everything together.
"Any good team has unsung heroes and players who are supportive of each other.," Justesen said. "This team never felt they were out of it. They never stopped believing. All that goes to the seniors. They were great leaders for these young guys to look up to."