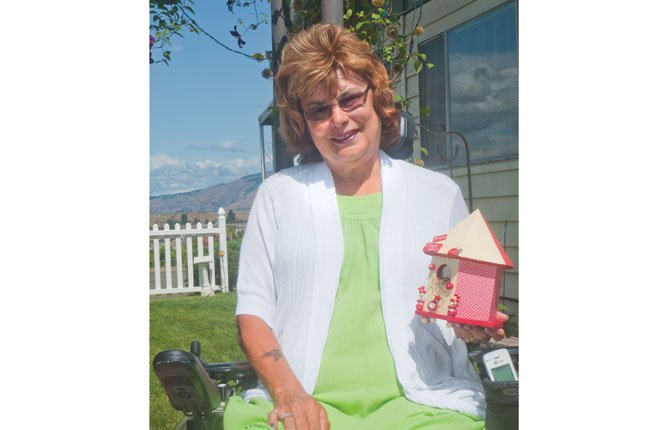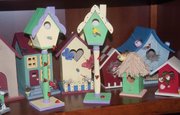 Marianne Sansour has ALS. It will eventually kill her, but she's facing down her diagnosis with a deep faith, a wicked sense of humor and a buoyant attitude.
When The Chronicle first talked to Sansour last September at her home in The Dalles, she was preparing for a fundraising walk. She could still move one of her legs a bit and didn't have any pain.
Now, her leg movement is gone. Her toes have begun to curl painfully. She has spasms and can't dress herself. She's seeing a counselor and taking medicine to cope.
But she wants to get the word out about ALS (Amyotrophic Lateral Sclerosis), and May is ALS Awareness Month. So here she is, talking about the neurodegenerative disease — also known as Lou Gehrig's Disease — that will eventually rob her of all muscle function, but leave her mind intact until the end.
She's got the slower moving of the two types of ALS, and first started showing symptoms four years ago, when she kept falling down. The typical lifespan from diagnosis is two to five years.
She no longer hopes for a cure in her lifetime, but does believe it will eventually happen. Rather, she wanted a story about ALS because she wanted to raise awareness about how hard the diagnosis is on caregivers, family and friends.
This doesn't surprise her friend and fellow church-goer Janice Schachner. "I think that's part of what keeps her going is her care for other people."
Sansour feels her diagnosis is harder on her family and friends than on her.
"People seem to forget about the caregivers like my husband, my daughter, my granddaughter, my friends. You know, what they have to do, how it's changed their lives also. And I know, I see how they look at me sometimes when they don't think I'm looking and it breaks my heart because I know how hard it is for them."
"If I didn't have the faith I have, I would not make it, and my family — my husband Albert has been just amazing. He always tries to find something funny about something, and that's good. And I am so glad that my daughter has finally accepted that I have this disease because it's brought her and I very close. My granddaughter Briahna, we've always been very close and I know this is extremely hard on her too, but she doesn't say much."
Sansour's daughter Karen, who asked that her last name not be used, said her closer relationship with her mom "has to be a miracle in itself. I'm really thankful for the time we have and that God has allowed that."
The time she has with her mother is a difficult gift.
"It's hard, it's not easy on anybody that's around her to see her like this."
Schachner can also see the toll the disease has taken on family. Every month she takes Sansour out for a haircut and some retail therapy, and "I know that poor man [Sansour's husband] sleeps as much as he possibly can because he's exhausted," Schachner said.
Schachner is well aware of Sansour's humor, and feels it came to her rescue once.
"One morning coffee hour after church she was talking about the cost of her new motorized wheelchair [$35,000] and she said she had been told that ALS is the most expensive disease you can have and I said, 'Well, Marianne, you always did have expensive tastes.' And at the same time I said that, I thought, 'Oh my gosh, what have I done?' And she laughed so hard and later in the week she called me and said 'That has kept me laughing all week long.'"
"She's so open and honest with everything about her disease that it makes it easier to laugh about."
It's not all giggles, of course.
"We grieve with her for everything she loses. Every new symptom, every new whatever," Schachner said. "Some days I'll call her or she'll call and you can tell that the lilt in her voice isn't there that day and we'll talk about it a little bit, or not."
Always independent, Sansour doesn't like pity, but it regularly comes her way anyway. "You can just see it and I'd rather them smile and say, 'Hey, how are you doing?' and say it cheerfully; not, 'Oh God, how are you?'" she said.
Getting to know Sansour, even a bit, makes it hard to imagine her evoking pity. If anything, she's a tremendous inspiration — someone to be next to just to get warmed by their fire.
Always a crafter, Sansour has started painting and selling birdhouses.
"My motivation is so that I will stay sane. I'm not kidding you. It keeps my mind occupied because there's things happening to my body and, to be real honest with you, it's getting harder and harder to cope with it."
"I'm trying very, very hard to keep a positive attitude," she said. "As this thing progresses, it gets a little bit more difficult, but there's still people that are a lot worse off than I am, there really are.
"Basically, I take one day at a time and I wonder what is gonna happen tomorrow. And there's times, lately, where I wish sometimes tomorrow wouldn't come."
Tears started to fall, but just a few. She brightens, saying, "But you know how it is. I can't think like that."
Her birdhouse business is booming. She's sold plenty, and plans to be at Saturday markets and the Jammin' July Street Fest. Her granddaughter set up a website for her at facebook.com/mariannes birdhouses.
Sansour also read to two kindergarteners this past school year, and loved it. She hopes to do it again this coming school year. One kindergartener, Tristan, was unfazed by her wheelchair. He simply asked her, "'How fast can you go in it?' Typical boy. I said, 'I'll tell you what, I could beat you on your bicycle if I wanted.'"
"Those kids, they're just so precious," she said. Tristan would always come running to see her. "And that made me feel good too."
Her lifelong faith also sustains her.
"I believe this is what God had in store for me. I wished he didn't, but this is what he has for my life and I just have to cope with it and accept it and move on."
Karen also has strong faith, but "I ask why God would do this to my mom. I'm trying to realize there's a plan for everybody and hoping this is something, part of a bigger and better thing for her.
"We try to joke around, I mean, what else are you going to do?" she said. "I try to live everything as normal as I can with her. My way of coping is I just try to keep everything as normal as possible. Just because she can't walk doesn't mean she's not my mom. She's still the same person I love and adore and admire and always will be."
Her mom regularly comes motoring up to her nearby house to supervise her gardening. As Sansour puts it, "I tell her what's right and what's wrong."
From her perch as a good friend, Schachner has watched the progression of the disease.
On their shopping jaunts, Schachner has seen people be rude to Sansour, as if she's in the way with her wheelchair, and it makes Sansour want to stay home.
"We say, there's always room for you. I think sometimes she's embarrassed because she feels she's in the way, but she's not, she lights up the room when she comes in."
"She is truly my inspiration," Schachner said. "She is a wonderful, wonderful person and I admire her very much and I love her."
Sansour encouraged people wishing to contact her to call. She is listed in the phone book. She also encouraged people to make donations to ALS by visiting ALS.org and making a donation in her name.