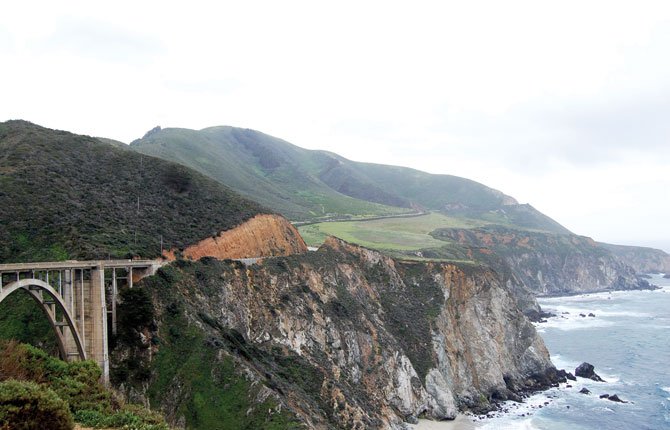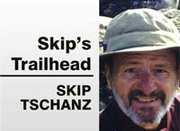 Every once in a while, Janet and I get the itch to go on a multi-state road adventure.
That means no motel reservations, no time tables, no fixed routes and no exact date to get back home. Often this also means no maps, just a general idea of what we want to see and experience. One thing we had talked about was to drive California Hwy 1 from San Francisco to Los Angeles. Neither one of us is sure where this idea came from. I suspect it started way back in the early 1970s when we lived for one year in Santa Rosa, California.
From The Dalles we drove to Tillamook, and followed US Hwy 101 all the way to San Francisco. It's been a long time since we were in the bay area but we still have fond memories of many of the small towns we drove past. Bodega, Calif., is where Alfred Hitchcock filmed part of The Birds, Petaluma was the background for American Graffiti and Santa Rosa was home to Charles Schultz, creator of Peanuts.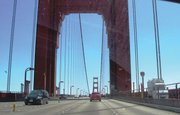 We crossed the Golden Gate Bridge, found California Hwy 1 and spent that night in Santa Cruz. We checked into our room at a Best Western Motel. I mentioned to the clerk that I thought I had seen the top of a roller coaster about two blocks away. She replied that what I was seeing was The Boardwalk. Further questioning just got me the same reply with no further explanations.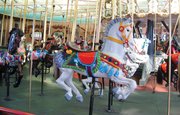 After checking in Janet and I took a stroll towards the roller coaster that was silhouetted against the evening sky. One more time Janet and I found something we weren't looking for. The Boardwalk is amazing. It is one of the few seaside amusement parks left in California. Although it was started in 1907, it is so well kept that it looks like they had their grand opening yesterday. The grounds are spotless and security staffs wearing casual slacks and golf shirts are everywhere. Needless to say, we will be back.
Day two found us driving through The Big Sur. Big Sur is a corruption of the Spanish name for the area El Sur Grande meaning the Big South. Some people say this is the most beautiful coastline in the United States and I'd have a hard time arguing against that.
The San Lucia Mountains rise unannounced from the Pacific Ocean. The beaches are few and far between. Janet and I walked Sand Dollar Beach, the largest public beach in The Big Sur and by Oregon standards it's a pretty small patch of sand.
Although Big Sur has no official boundaries, it is generally defined as the 90-mile stretch between Carmel and Gorda, Calif. This is a rugged landscape where travel would be almost impossible without the highway. Deep ravines and high cliffs limited travel to the mountain ridge lines in the days before the modern road system.
Day three found us doing touristy stuff in San Simeon at the Hearst Castle Interpretive Center. The Hearst Castle was built by William Randolph Hearst and later given to the State of California as a state park. The castle is impressive but also reminds me that Mr. Hearst almost single-handedly got us into the Spanish American War. That night we stayed in Morro Bay, a small town with a great selection of restaurants.
Day four we spent driving past vast fields of vegetable crops languishing in the sun for lack of water. That reminds me that I failed to mention that when we were in northern California we saw rivers that were nothing more than boulder fields bleached white in the sun. We saw cattle being rounded up to be trucked north to Oregon, Idaho or Montana where they hoped to find enough water to sustain the heard.
Day five we sailed past Los Angeles, found Palm to Pines Hwy that would take us over the mountain and drop us into the Coachella Valley, Joshua Tree National Park, Montezuma's Castle, and then north through Utah and home.
Don't be afraid to travel without a goal, don't tie yourself down with hotel reservations and don't forget Yogi Berra's great quote. "When you come to the fork in the road, take it."