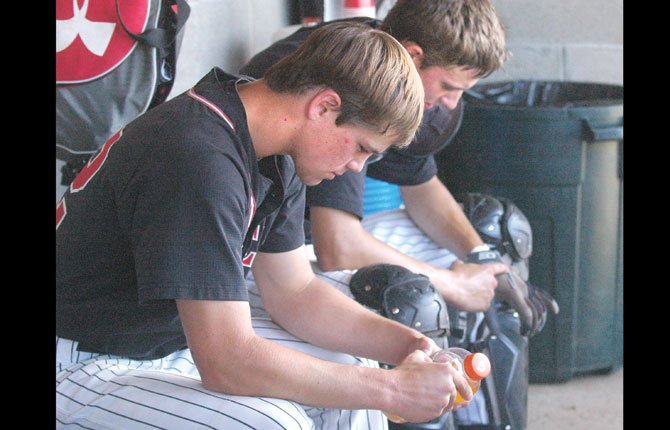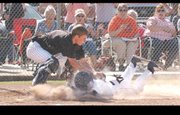 Dufur fell behind 10-1 after three innings, but as they chipped away to get within 10-5 and 13-8, Monroe Dragon slugger Austin Crowson had two big hits to drive in his team's final six runs in a 16-9 OSAA/U.S. Bank/Les Schwab Tires 2A state quarterfinal baseball triumph Friday in Monroe.
With the score 13-5 entering the top of the sixth inning, the Rangers made things interesting with a rally against Dragon reliever Zach Hollenbeck in what was a crazy inning that had two hit-by-pitch calls reversed.
The Rangers had scored two runs and Jake Kortge was at first with two out and Trever Tibbets on.
At first it appeared that Tibbets had reached first base on a hit-by-pitch, but after contention from Monroe coach Bill Crowson, the umpires deliberated and ruled the play a foul ball.
Tibbets later singled to right to put two runners on base for Josh Keyser. The senior first baseman got hit by a pitch to load the bases.
With Nathan Duling at the plate, Kortge scored on a balk to make it a 13-8 game, and now the senior had two runners in scoring position and two outs.
Two pitches later, Duling was hit by a pitch and the ball went off the catcher's glove to the backstop.
Again, Crowson contested that Duling had swung, and the umpires deliberated on three separate occasions over a five-minute span.
In that time, Crowson ordered his team into the dugout and Duling had scampered to first base.
The umpires ruled that Duling had swung on a third strike, and even though the ball had gone through backstop, he would not be awarded first base because it was a dead ball.
End of the inning.
Dufur leaves two runners on base, down 13-8.
"I am proud of the team. We left it all on the field," said Keyser. "A few errors and some questionable calls kind of got to us today. That all should not matter, I think we had a good season." In the bottom of the sixth, the Dragons threatened again using an infield single, an error and a sacrifice bunt to put runners on second and third base with Austin Crowson stepping in.
The Monroe slugger promptly rifled a three-run home run over the left field fence to swell the lead to 16-8.
Down eight runs and three outs left in their season, the Rangers were not going to go silently in the night.
Nick Little was hit by a pitch to lead off the seventh inning, but ended up being forced out at second on a fielder's choice by Turner.
Connor Uhalde then singled to put runners on the corners with one out and Parke at the plate.
Parke drove in Turner on an RBI sacrifice fly to left field to make it a 16-9 game.
Down to their final out with Bryson Caldwell at the plate, the Dragon catcher made a snap throw to first base for the pickoff to end the game.
There were several moments in the contest where after a slow start, it appeared Dufur had found its bearings offensively to creep closer.
They were down 8-1 with the bases loaded and one out in the third against Austin Crowson, the Dragons southpaw, but he settled in and retired the final two batters on a strikeout and a popup to end the rally.
After three innings, the Rangers fell behind 10-1, but were able to break through on Crowson with four runs on four hits in the fourth frame.
Uhalde smashed an RBI single to right field to score Duling to make it 10-2.
With Nick Little at third and Uhalde on first, Dufur senior Cole Parke rifled a 2-1 pitch over the left field fence for a three-run home run to inch the Rangers closer, at 10-5.
In the bottom of the fourth, the Dragons had two runners on base with two outs, when a hit batter loaded the bags for the younger Crowson.
He hammered an offering to right centerfield to the base of the fence for a three-run triple to move his team ahead, 13-5.
"We dug ourselves a huge hole early," said Dufur head coach C.S. Little. "We had opportunities to come back, but they just got squelched for whatever reason. We are all just proud of the boys that they came back after digging such an abysmal hole."
All told, Monroe had 19 hits, received seven walks and had three batters plunked.
The Rangers committed five errors, stranded seven runners on base, four in scoring position, and two runners were picked off.
Uhalde paced Dufur's 12-hit attack by going 3 for 4 with a run and an RBI.
Turner had two hits and scored twice and Nick Little had a hit and scored twice, as the 7-8-9 hitters in the batting order for the Rangers accounted for six hits, five runs and an RBI.
Parke had a pair of hits, scored twice and drove in three runs in his final high school game, and Keyser, also a senior, went 2 for 3. Duling had a hit and a run scored in his four at-bats.
Against Austin Crowson, the Rangers amassed nine hits and scored five runs. The lefty struck out eight and walked two in his five innings.
"I am fairly disappointed because I thought we could have done better," Duling said. "We played hard and gave it our all as we had it. We made mistakes, it happens all the time, but we just didn't pull through."
As he heads towards graduation and adulthood, Keyser learned a lot in his four years on the diamond he called home.
Now he embarks on a new set of challenges.
"Teamwork, I think, is the most important thing you can take from playing sports," Keyser said. "It will help me in the future. I am going to Central Washington University to be a pilot and so it will be good for me."
As Keyser, Duling, Parke and fellow seniors Brandon Broeckel and Rashed Al-Qarra pass on the baton to the next group of talented athletes, the hope is that they soaked up all the knowledge they could in the short time they shared together as a team.
There is a certain mentality in a Dufur Ranger, and freshman Bailey Keever and a host of other underclassmen intend to keep the momentum going.
"If we come out knowing that we can win and never give up, we can accomplish so much," Keever said. "In these last couple of years in sports here at Dufur, we have gotten better and better. Football we did pretty good, basketball we came out and surprised a lot of people and so I think that really helped us into baseball. Next year, we will be good again and this experience will help all of us young guys."