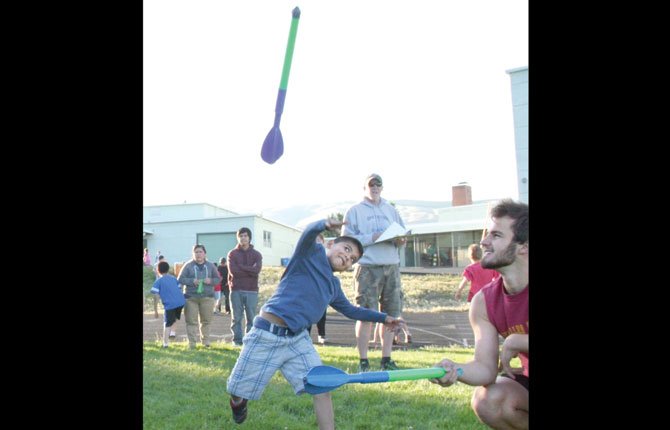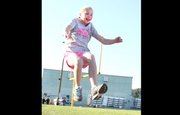 Local children were able to watch a high jump duel between Zach Nerdin and former The Dalles track standout Luke Conklin Thursday at the Elementary School Track and Field Meet at Wahtonka Field in The Dalles.
Both Nerdin, a 2014 senior, and Conklin matched each other jump-for-jump, as the bar raised higher from 5-feet-6 inches, to 5-8 then to 5-10 and finally 6-0 in a demonstration of the sport for the 55 youths in attendance.
At 5-8, both athletes cleared easily in two attempts, and at 5-10 the duo made it through on their first attempt.
With the bar set to 6-0, Conklin made it up and over on try one, and Nerdin needed two attempts to set his marks.
"We ended the battle, so we could get on to the other events planned for the evening," said event coordinator Tom Conklin.
Many, if not all the kids ran themselves to the finish of energy, by doing every event on the slate. Although times and distances were not recorded in the long jump, javelin and all the races, 100, 200, 400, 800, they were called out for all to keep track, if they were interested.
Ribbons were awarded to the top-5 places in each boys/girls event.
Colonel Wright Parents and Teachers and Dry Hollow PTA provided the many ribbons that were awarded.
"We had athletes representing all three D21 elementary schools, Maupin Elementary, Sherman County Elementary and home school," Conklin added. "This is one of the free elementary races that Jumpstart youth activities puts on each year, with the elementary programs."
More than the times and ribbons, the whole goal of Conklin and his fellow physical education instructors, J.R. Runyon and Samantha Tenneson, is to establish a love of athletics for these kindergarten-through-fifth grade students.
While many students participate in several different avenues of entertainment, being in the outdoors, under the sun with a smile on their faces with friends and family togetherness is the main source of motivation.
"I just hope these youth events establishes two things: Enjoy moving and competing and consider track and field, basketball, and many other sports in their future," Conklin said.
This event marked the end of the District 21 P.E. curriculum in the track and field unit. With Conklin, Runyon and Tenneson leading the charge, Conklin said he was happy to say they had a good showing of kids from all three schools.
Cross Country races at Sorosis Park will take place at 3:30 p.m. Tuesday, Sept. 23. The Jumpstart program's flagship event is the Summer Basketball Camp, which is set for June 23-27 in Dufur on the high school campus.
Spots are filling in quickly and there is a limit of 150 boys and girls.

Interested parties can email questions to Jumpstartyouthactivities @gmail.com or log on to Jumpstartcamps.com.