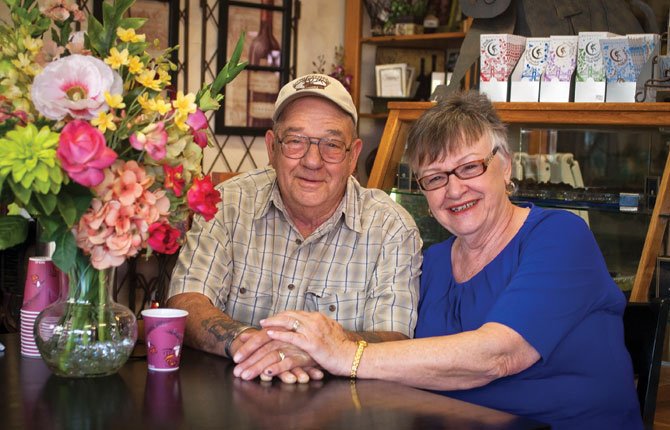 Hank and Linda Brown are the very picture of newly wedded bliss.
Walking across the street holding hands, they exchange warm smiles. Whenever the other's name is mentioned, and when relating the story of how they met, their voices take on a smitten enthusiasm.
Both Hank's and Linda's spouses died after long bouts of ill health. What brought the couple together was their effort to give back to a care organization that had looked after their late partners and seen them through the final years of their lives, Heart of Hospice.
"Heart of Hospice took wonderful care of my wife," Hank said. "And they offered phenomenal support after my grieving period to help me try to decide what to do with the rest of my life."
Hank said the hospice nurse who had worked with his wife throughout her last year told him he might make a good volunteer, and that the program was always looking for men to work with their male patients.
"My experience with the generosity and care they show their patients made me want to volunteer," he said. "So I did."
"What volunteers like me do," he said, "is we go to patient's homes and look after them so family members can get out once in a while and go shopping or spend a couple of hours away to just breathe," he said. "I experienced that with my wife when the volunteer would come up once a week to sit with her so I could go out to get some coffee or run a few errands — it frees your mind up a bit. Keeps you sane."
Linda was married to her previous husband almost 50 years. He was a minister at the Baptist church in Rufus for many years before he died. About three years after he was gone, she decided she needed to be more active.
"I wanted to make more friends and be involved in more community outreach," she said. "I've been busy in the ministry all my life, but I wanted to do more, so I started volunteering different places and one of those was Heart of Hospice."
Hank said he and Linda formally met at a volunteer luncheon held at Cousins Restaurant in The Dalles.
It was the first meeting, Linda said, where she'd had the opportunity to mix with some of the other volunteers.
"I was a flower girl for Heart of Hospice and each week we'd meet, pick up the flowers Sigman's had donated and bring them to the people at the care centers, who would then make them into bouquets before delivering them to patients," she said. "But at that time, I really wanted to see another volunteer in motion; to see how they were with a patient and how they were able to comfort them."
So, Linda tagged along with Hank, a senior volunteer at the program, on one of his rounds.
"I saw how compassionate he was," she said, "how sincere his heart was and how clearly he cared for the person he was seeing. That's how he won my heart — or at least it was one of the ways." She smiled. "I thought, 'Hank's a pretty good guy, I think I'd like to get to know him better.'"
The two became fast friends before they began going on dinner dates and driving around town to see the Christmas lights during the holiday season.
"At 73 years of age, I didn't think it would ever happen again," Hank said, looking at Linda. "She gave me hope and brought a whole lot more joy into my life than I ever expected."
"Finding someone wasn't really something I'd even thought about before, really," Linda said. "I keep myself pretty busy, but you can't always outline and plan your whole life out. If you're a little bit more flexible and give in to receiving good things in life, when it happens, you grab it. Especially when you're 73 and 74 years of age.
"So, before you know it, he was saying he wanted to marry me because it was costing him too much money to come up to Rufus all the time," she laughed.
Now, Linda said, she and Hank enjoy keeping up the flower gardens around the church they live next to in Rufus, taking walks along the riverbank and sightseeing whenever they are not busy taking part in one of their many volunteer activities.
Hank, who received the Man of the Year award in January, said both he and Linda will continue to volunteer at Heart of Hospice.
"We both like to stay busy and want to keep helping others," Linda said.
"It's something I've always enjoyed," Hank agreed. "And we'd both like to continue doing it for as long as we can. We've got a lot of good years left in us, I think."
Hank said he encourages "anyone with a heart" to donate to Heart of Hospice or to volunteer whatever time they have to helping the organization support its patients and their families.
For more information about the organization or how to do any of the above, visit http://heartofhospice.org or call 541-296-2289.