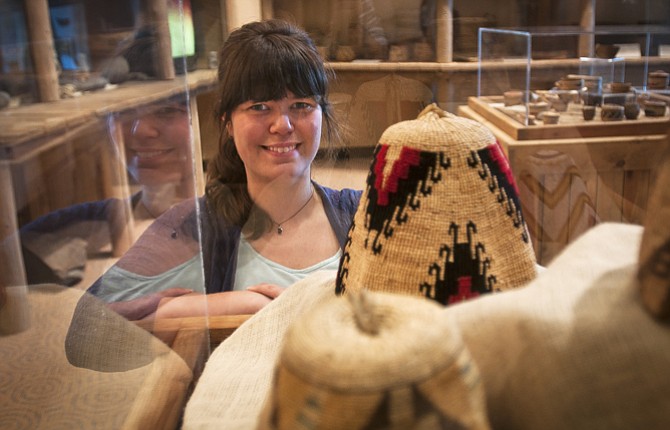 The native basketry exhibit at the Columbia Gorge Discovery Center has been greatly expanded, with many more baskets now available for public viewing.
The expansion, which includes a new display case and additional curation, was funded by a grant from the Oregon Heritage Commission and was curated by Eryn Sanderson, who first began work at the museum several years ago as a University of Oregon intern.
"Baskets were added and rearranged," said Sanderson. "We easily quadrupled the number of baskets we have on display."
Prior to the expansion, only a few basket styles were featured as part of a Native American exhibit anchored by a wooden replica of a split-plank home. The exhibit explores native life, from fishing to clothing.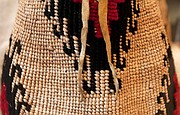 The larger display is introduced with two free-standing cases, the first of which now features a collection of basketry hats once commonly worn in the Mid-Columbia. Today these hats, which resemble an upside down, round-bottomed basket, are primarily saved for ceremonial occasions. Historically, they were part of a woman's daily wear. The hats provided shelter from the weather and helped support head straps used when carrying large loads or a baby strapped to a cradle board. They were known as Pati'aapa.
Most of the hats displayed appear to have been used ceremonially, said Sanderson, pointing out the bright red yarn woven into one pattern. Yet another, made fully with natural material and showing a lot of wear, may well have been worn daily.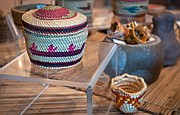 Just beyond the first free-standing case is a second, which now contains a collection of trinket baskets. Some of these are no bigger than a man's thumb, and represent a variety of styles, including the Klickitat style, complete with the characteristic little "ears" or rings used to secure leaves over a full basket of berries. Like the hats, the majority of these baskets were made after Europeans settled the area. "As pots and pans replaced utility baskets, these were made to sell," explained Sanderson. A few rougher pieces may have been made as the weaver learned their craft, and in some areas the tiny baskets were used in healing ceremonies. "But the majority of these were made for trade to Europeans," she said.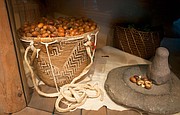 The two free-standing cases are the center piece, but the meat of the revamped display is seen in the two wall-mounted displays that follow. They create a narrative that begins with the baskets and other items used to prepare acorns for food. The baskets, and the specifics of the process, are from California. There, acorns were gathered, hulled and ground in a pestle. The ground meal was then leached of tannin, a bitter poison, and cooked with hot rocks in a cooking basket. The process is demonstrated in a video. A similar process was used in the Mid Columbia, Sanderson said, although instead of grinding and leaching away the tannin, here acorns were hulled, placed in a loosely woven basket and immersed in a lake or stream to allow the tannin to slowly leach away.
Nearby are Klickitat baskets, a coiled basket originating in the area of Klickitat, Washington.
These rigid baskets were used primarily for picking berries, their stiff sides protecting the berries from being crushed in transport. Many of these have not been displayed before, and are followed by an expanded collection of Sally baskets. Unlike the stiff coiled baskets, these are twined, a technique that creates a soft, pliable basket that was commonly used for gathering roots and other items not be easily damaged.
Where before a single folded cedar bark basket was on display, now all the cedar baskets owned by the center are on view.
These simple baskets were used extensively for gathering and storage. Although they lack the craftsmanship and beauty of coiled and twined baskets, these simple utility baskets could be made quickly and easily and were used widely throughout the Mid Columbia region.
The new display then uses the character of the Mid Columbia as a trade center to introduce a wide range of baskets from a broad geographical region. These include twined items, like a bottle and a glass float, a pair of cradle boards, one of which was made as a child's toy, and a collection of Nez Perce flat bags. There are cooking baskets, a clam basket and more.
"Native Americans used baskets for everything you could possibly imagine," Sanderson said. "This was a very important trade area, and we are using that as a platform to display a lot of items."
Near the end of the display is one of Sanderson's favorite items, a twined canteen. Indian hemp was twined into a gourd-like shape with a small mouth opening. The twined bag was then coated in pitch to waterproof and stiffen the canteen. "It was twined freehand," she noted, unlike a nearby bottle encased in twine to protect the glass.
Curating the display was a great experience, Sanderson said. She is a native of The Dalles, and will graduate this fall as an anthropology major from the OSU's e-campus. "I want to work in a museum," she explained. "This gives me the experience, gets my foot in the door."
Sanderson will come away with more than just a portfolio piece and resume entry, however.
"The baskets themselves are just fascinating. They have definitely piqued a life-long interest," she said.