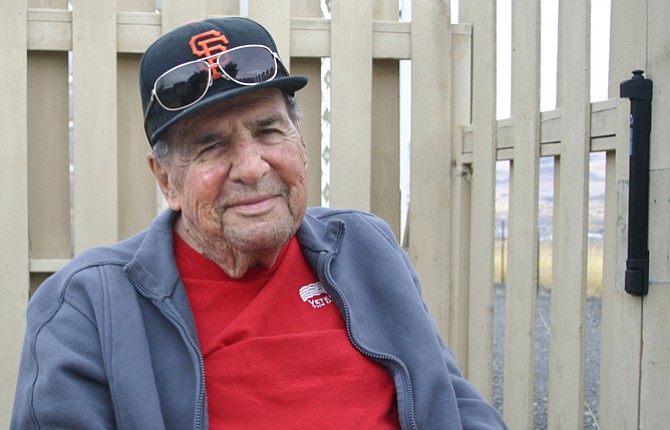 Geza Liskay lived most of his life in California and The Dalles. The Oregon Veterans' Home claims him now, and he's quite a prize.
His various inventions and innovations not only saved America's military and space programs millions, he says, but was also likely a factor in averting Russian nuclear aggression during the 1962 Cuban missile crisis.
Now 94 and still sharp as a tack, he is unabashedly proud of his many accomplishments, but his cheer and sheer zest for life veers it well away from being off-putting.
"I did so many things for this country, I should've been in the headlines," he said by way of introduction. A chemical engineer, he helped develop a patent called broad band radar absorber, which was based in the nose of a missile so it couldn't be tracked by enemy radar.
"It was a big factor in having Russia pulling hundreds of missiles out of Cuba which may have sometimes been launched over the USA," he said in a letter to the Chronicle, which prompted a reporter's visit with Liskay recently at the veterans' home.
"They never put my name on the patent as they feared of my being kidnapped and tortured to reveal how the patent could be made," he wrote.
Drafted right after he finished college in his hometown of Youngstown, Ohio, he served as a captain in the Air Force during World War II and was stationed in India for four years.
He helped make maps of most of China, since existing maps were inaccurate. The goal was to enable Allied bombing runs into Japan from air bases in China, which finally happened by 1944.
It was 95 degrees at night, he said. They slept naked outside under mosquito nets, with pistols under their pillows to shoot cobras. From India, they flew over "the hump," as they called the Himalayas, and shot photos from 25,000 feet over China. The photos were printed, cut out, and pasted together, covering a large section of floor. From there, Liskay did the calculations to shrink it to a usable map.
A month after coming home from the war, he married Roberta (Bobbie) Strowm, who was to be his wife until her death nearly 63 years later. He worked for 15 years in a steel mill in Youngstown and they had three children, Michael, Larry and Patricia.
Then he moved to California and began working in the aerospace industry. He was involved in a series of significant engineering accomplishments, but what chafes him is that he's never gotten much more than a quiet "thank you" for it.
One innovation of his made cruise missile wings much stronger and lighter, giving them greater range.
"You know how much that saved? Eighty million dollars. You know what I got from them? A hundred dollars a month and a 'thank you, Liskay,'" he said.
That innovation came about after he'd heard of a material called graphite, which was made in England, and suggested his company buy some. By combining the thin fibers — smaller than hair strands — and resin, and then applying high pressure to squeeze it firmly together, he was able to create something of almost unbelievable strength.
He actually thought the testing machine was broken when he got the first results.
He developed an inch-thick rod of the graphite/resin mix that could support 350,000 pounds per inch, he said. "Nobody believes it, but I believe it because I tested it."
When he finally created his graphite missile wing, he demonstrated it to an audience of Navy personnel. He had the wing, just under eight feet long, wheeled out to him onstage. First, he pretended to be unable to budge it, then hefted it above his head, to gasps.
The old wing, made of metal, "I wouldn't have been able to lift it two inches off the ground," he said.
He also invented a cheaper way to insulate the space shuttle's minus-390-degree hydrogen tank, replacing glued-on bits of honeycombed insulation with a sprayed-on foam insulation.
His idea worked. The sprayed-on foam was not only four times as efficient as previous insulation techniques, but it saved 2,000 pounds in the weight of the shuttle.
But, once again, all he got was a thank you. "I got no more notoriety," he said. "You think you would."
In yet another innovation, he was asked how the military could launch missiles off ships without burning a hole in the ship from the 5,100-degree heat of the launch process.
"I called all over the country," he said. "One company had material that would withstand 3,500 degrees, but they never tested it higher."
Using a mixture of asbestos, graphite and resin, he created a three-inch thick shield three feet across and submitted it to his boss. "He called me and he said, 'I see you've made that shield. We're gonna test it Saturday.'" He asked Liskay if it would succeed or be an embarrassing failure that could cost the boss his job. "You know what I said? 'Fire the mother,'" Liskay recounted, breaking into a broad smile.
It worked, and the man told him, "'Liskay, we did it.'" Liskay still chafes at that credit-grabbing "we."
Though it grates on him that his work has gone largely unrecognized, he's a cheerful guy who marvels at the "wonderful" life he's led, which included everything from playing high school football with an eventual Heisman Trophy winner, Frank Sinkwich, to being asked by the college homecoming queen to a Sadie Hawkins dance.
A good buddy in college, Charles Kollman, went on to be a highly decorated pilot credited with sinking four Japanese ships, including a destroyer, in the Battle of Guadalcanal. During the war, he played baseball with Lt. Gen. Claire Chenault, commander of the famed Flying Tigers.
He was invited to the palace of the local maharaja, or governor, and took a ride on his elaborately decorated elephant. "I knew everybody," Liskay said.
As a kid he saw tons of baseball games, seeing greats like Joe DiMaggio, Lou Gehrig and Yogi Bera play. An all-around athlete, he only casually played tennis, but his senior year was good enough to play the No. 2 spot on his college tennis team.
He loved opera and is still a good singer – he demonstrated for this reporter – and was an avid fisherman and golfer. He also loved to prank people: in college, during the war, and in the workplace.
His work life did not keep him from being an active family man. His kids describe him as an involved, loving father who took them to countless activities, never missed a dance recital or play, and was a great storyteller. But they didn't know about his work activities.
Liskay moved to the veterans' home here through the efforts of oldest son Michael, a professor of molecular and medical genetics at Oregon Health & Science University.
Ever the engineer, as Liskay puffed on a cigar recently, he said he calculated that he's smoked 35,000 of them. Yet, he said his lung capacity is 150 percent of normal, something he marvels at as just another lucky attribute in his life.
A back injury some years ago has now confined him to a wheelchair, but he tells this reporter, "I have more muscle now than when I played football. Feel my muscles in my leg."
He's also an expert at furniture refinishing, his Hungarian-born father's profession, and has in recent years become a prolific watercolorist. "I'm always busy," he said. "I don't like to just sit." He's spiffed up the smoking huts at the vets' home, and feeds birds twice a day.
He's also been allowed to use some prime real estate at the veterans' home, having converted a small solarium with river, mountain and dam views, into his art studio.
"I don't think I could have found a place in the whole wild world to equal my studio!" he enthused in his autobiography, which he wrote recently.
Daughter Trisha said her dad helped with every science experiment, and made homemade scooters and slip-and-slides. He'd play with his kids for hours, and they'd sing and dance together.
As son Larry said, "They don't make them like that any more."