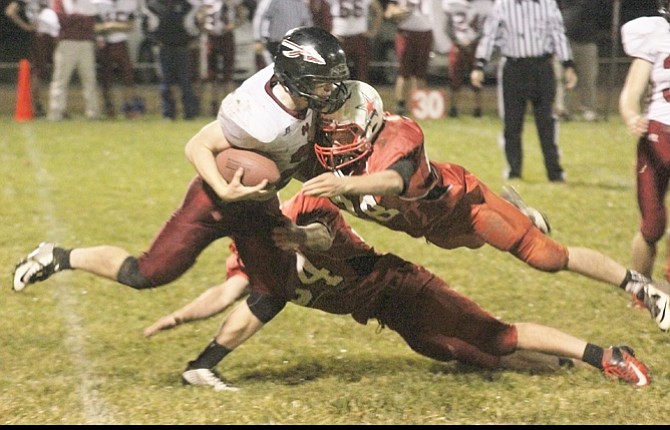 REDMOND - The No. 3 ranked Dufur High Lady Rangers advanced to the OSAA/U.S. Bank/Les Schwab Tires Class 1A volleyball finals after a 25-19, 25-23, 25-12 semifinal win over the Crane Mustangs (18-7) Friday at Ridgeview High School in Redmond.
Dufur (28-3), led by coach Kelly Darden, met the No. 1 ranked Country Christian Cougars (24-6) in Saturday's championship while seeking to win its first title since 2007.
The game was a rematch of an earlier nonleague contest (a 3-2 Cougar win Sept. 22) between the top two title contenders.
"I'm very proud of the kids for playing so well in some very close sets and matches today," said Darden, who has guided Dufur to the state tournament three of the last four years. "I respect them for grinding things out and I'm so proud of them, because I don't think anyone expected us to reach the championship game."
Ranger seniors Montana Ferres (two aces, six kills, 15 digs) and Taylor Darden (14 kills, 12 digs) paced the Rangers. Kirsten Sorensen had 10 kills and five aces and Aimeelyn Miller posted a career-high five kills.
Dufur had pinpoint accuracy in serving with 96 percent, led by Ferres and freshman Chloe Beeson, who were both perfect at the stripe, serving 100 percent. Sophomore setter Sydney Reed led Dufur with 22 assists and 10 digs.
"Everyone has worked so hard to get here and it's just amazing to be in the championship game," said Miller. "It's going to be exciting playing against the top ranked team and it should be a fun game."
In the earlier 10 a.m. Friday morning quarterfinals versus Trinity Lutheran of Bend, the Rangers opened the eight-team weekend tournament with another impressive 3-0 sweep (25-23, 28-26, 25-22).
Dufur served at 95 percent while recording just four missed-serves. Sorensen and Ferres both served at 100 percent while they each were 16-for-16 at the service line.
Darden had a team-high 15 kills, while Ferris (six kills) and Miller (three kills) also contributed to the powerful Ranger offensive attack at the net.
Reed totaled 24 assists.
Detailed descriptions of each match will be posted in Tuesday's edition.