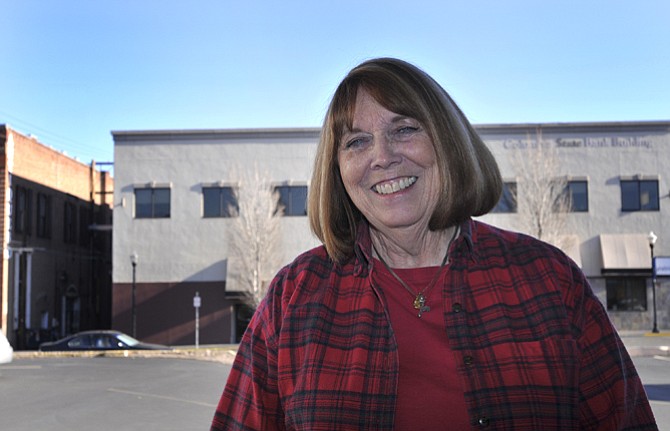 Councilor Linda Miller often finds herself the sole dissenting vote when citizens are being asked to pay more money for services.
"It doesn't bother me to be the only one voting no when I disagree with a decision because I'm there to serve the people and not please other council members or city staff," she said.
Her first vote after assuming office in January 2013 was against a series of 3.44 percent sewer rate increases. She objected to residents, especially those on lower incomes, being asked to pay more when the city had not first streamlined its own budget to free up funding.
"Senior citizens across the country are being forced to sell the homes they own outright because they can't afford the taxes and rising cost of utilities," she said. "I see that happening here and it's not right."
On Monday, Nov. 10, she voted for the same reason against finalization of a 5 percent reduction in the 10 percent water rate hike for 2014. She felt the rate increases could be pared back further once the council has completed its in-depth review of the budget in December.
"I wasn't on council when the rate increases were enacted but I have heard from plenty of families who are struggling economically and their utility bill has become part of the problem," she said. "We've got to find a way to stop these increases altogether, or at least slow them way down."
For the same reason, she voted last summer against a proposal to increase the city's gas tax from 3 to 6 cents per gallon.
Miller, a professed fiscal conservative, has also weighed in consistently against "forced consent" for annexation or payments of fees for future utility upgrades when single-family homes are built.
She views these agreements as a "bullying tactic," similar to those used by former School District 12 to get District 9 incorporated during her childhood.
"At that time, Harvey Alumuniun was in District 9 and District 12 wanted those tax dollars so they said students couldn't come to their schools unless the districts merged," she said. "That move led District 9 to create Wahtonka, a brand new high school. I think the city is using some of the same bullying tactics, which is causing a lot of pushback from citizens."
As an example, the city requires people wanting to develop to commit in writing to pay for infrastructure improvements that might not take place until years later when the cost is much higher, if at all.
These documents work like a lien against the property, obligating future buyers, which Miller said has made some local properties difficult to sell. Especially when the price tag for utility upgrades is $50,000 to more than $150,000 — sometimes more than the value of the lot.
Miller has also opposed the city requiring that Randy Hager, an east end resident, sign an agreement to be annexed in order to divide his property into two lots (See related story, A1).
"The city has been using agreements to get more tax dollars but there is no commitment to giving these people what they are paying for," she said.
She stands by her 2012 campaign statement that "citizens are tired of being bombarded by regulations and fee increases at every level of government."
Miller said the city may have to make some changes in its expectations for improvements. She said curbs and sidewalks don't need to be installed on streets at the edge of the city or those not heavily travelled by pedestrians.
"We need to find a way to be okay with that and concentrate on getting our dilapidated streets repaired instead," she said.
Although much attention has been given to street upgrades on the east side of town, Miller said there are problems throughout the city.
"It's not just one area, it's the whole community," she said.
Miller has been advocating since taking office that an in-depth look be taken at whether the city's development fees are impeding economic development.
In 2013, she supported the protest by the Pepsi-Cola Bottling Company about the high cost of local development fees by voting against the $175,546 assessment levied against Pepsi for roadwork.
The company viewed its share of the cost for street improvements as excessive out of the belief there was not a need for curbs and sidewalks next to its First Street property.
At that time, Miller said Coca Cola, which once had a distributing center in The Dalles, had left town, as had Budweiser and the Mt. Hood Brewing Company. She said if Pepsi also decided to take its operations to a more "business friendly" location, then the local economy would be adversely affected.
"When one of these companies leaves town, we lose jobs and we lose money from the services provided to the company and its employees," she said.
With so many of the city's streets needing work, Miller would like to see Urban Renewal dollars invested into infrastructure upgrades of downtown streets. She said roadways and utilities need to be able to accommodate growth as it occurs.
Once that work has been completed, she said money should be invested in preservation of historic structures to help attract visitors and new businesses.
"We need to continue to clean up, fix up and maintain what we already have," she said.
She has consistently voted against millions of Urban Renewal dollars being used to help Rapoza Development erect a hotel in the Granada block. Miller believes the private company should be responsible for more of the costs associated with the project.
Miller is optimistic about the direction the council will take next with the election of Russ Brown and Taner Elliott. She expects to find it a little less lonely in the vote department as both men have expressed some of the same concerns that she has.
"I think it's going to take a while to get where we need to go," she said. "Changes are not going to come overnight but, if people can be patient, we'll get things done one issue at a time."
Miller has been employed at the Wasco County Landfill since 1994 and currently works as the assistant to the site manager.