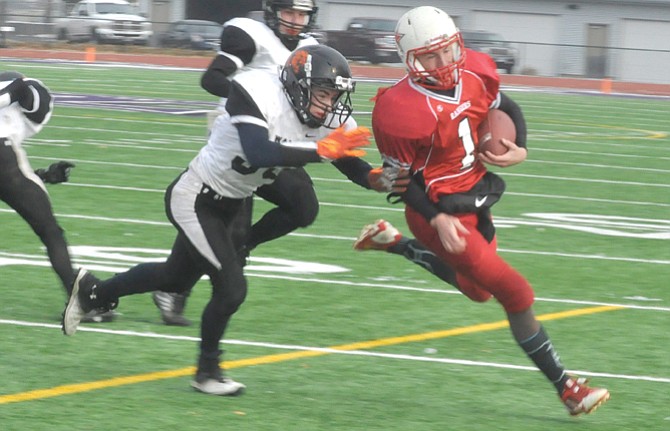 HERMISTON – It has been a long six years since the Dufur Rangers have advanced past the 1A state football quarterfinals.
Saturday, the Rangers snapped that infamous curse by breaking open a 14-all first-quarter tie with 46 unanswered points on their way to a 72-20 victory over the Wallowa Cougars in an OSAA/U.S. Bank/Les Schwab Tires playoff game at Kennison Field in Hermiston.
"I am truly happy for these seniors. This group has worked really hard for a long, long time to get to where they are at today," said Dufur coach Jack Henderson. "There were people that did not expect us to be very good this year. In-house, we knew things were going to go well for the Rangers."
The turning point in this quarterfinals contest came nearly midway through the opening quarter with the game knotted at 14.
Over the next 19 minutes and 19 seconds spanning the first and second quarters, Wallowa had six drives and ran 23 plays for 74 yards, but turned the ball over four times on four fumbles, had a drive end in a loss of downs and also punted once.
"They have a weird offense and it took us a little bit to get used to it," said Nick Little. "They could not hold onto the ball. They had like five fumbles or something and we were able to get back in the game because of their mistakes. We hit them hard and swarmed to the ball. That is what we do."
While the Cougar offense sputtered, on the Dufur side, they ran 26 plays and racked up 260 yards of offense in that first-half stretch.
Nick Little had scoring runs of 40, 1 and 1, and senior teammate Trever Tibbets chipped in a 14-yard score. Bailey Keever and Jake Little also added a touchdown apiece to make it a comfortable 60-14 halftime lead.
Up by more than 45 points, the Rangers (10-1 overall, 6-0 league) invoked the running clock for the second half.
Wallowa scored with 1:31 left in the third quarter on a 36-yard run by Koby Frye to inch the Cougars (7-3, 4-0) to within a 60-20 deficit entering the final quarter.
In the fourth, Tibbets capped a five-play, 47-yard drive with a two-yard run, and then Travis Lucas capped the scoring summary on a four-yard plunge.
"Wallowa made a couple of plays early and we were kind of on our heels a little bit," Henderson said. "When we finally got rolling, it was really impressive. We played really well in every phase of the game and that is what you want to be doing at this time of the year."
For the game, Dufur totaled 551 yards, 489 through the run game on 57 attempts.
Nick Little paced the Dufur offense with 204 yards on 19 carries to go with his four touchdowns.
Tibbets had 10 rushes and 131 yards, and Keever added 120 yards on 14 attempts.
Through the air, Keever completed 3 of 5 passes for 62 yards.
The stakes are raised for next weekend at Kennison Field, where the Rangers take on Adrian in a semifinal matchup at 6 p.m. Saturday.
The Antelopes defeated Yoncalla by a 64-8 margin Saturday in their quarterfinal game.
Sumner was happy, but knows there's a lot more to play for.
"For me, it is a huge accomplishment. We have never been past the quarterfinals in a long time," Sumner said. "It feels great, but we all know that making it to the semifinals is just another game. We got to go into it with the attitude of it is one game at a time. We can't have our heads up in the air thinking that we accomplished anything."