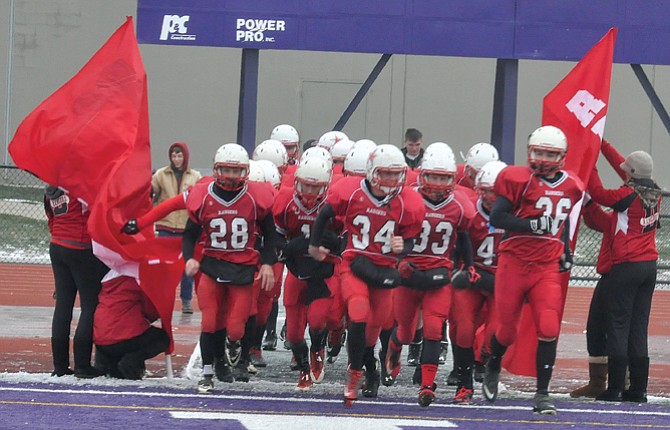 With all of the hoopla and congratulations lobbed towards the Dufur Rangers after a semifinal football playoff win last week, as a group, they know the journey is far from over.
Just two more wins will cap a memorable season.
Starting at 6 p.m. Saturday at Kennison Field in Hermiston, the No. 3-ranked Rangers take on No. 2 and undefeated Adrian in an OSAA/U.S. Bank/Les Schwab Tires 1A state playoff matchup.
With such a veteran team that is enjoying its first semifinal berth since 2008, Dufur coach Jack Henderson knows his group is not putting the cart before the horse by any stretch.
"We treat each game the same throughout the season, which always helps us down the stretch," Henderson said. "Although we are in the Final 4, at the end of the day, it is another high school football game. Our kids are focused and relaxed and are prepared to give a great effort against Adrian."
With this matchup on the horizon, there is a bit of history between the schools, as they faced each other on a neutral field in Imbler on Sept. 12. Adrian won the game, 42-20.
That was the lowest scoring output by a Dufur football team since Nov. 17, 2012, a 44-8 playoff loss to Lowell.
As with any group of players and football rosters and playbooks, a lot can change from September to November.
"We played Adrian in Week 2, which seems much longer than it really is," Henderson said. "Our kids have improved throughout the season in all three phases and really look forward to playing Adrian once again."
All told, the Antelopes (10-0 overall, 4-0 league) have scored 60 or more points seven times, including 64 put up last week in a lopsided playoff quarterfinal win over Yoncalla.
Leading Adrian is speedy tailback Bryson Shira (5-foot-8 inches, 150 pounds). Earlier this spring, Shira clocked in at 11.74 seconds in the 100-meters.
Ends Jett McCoy (6-2, 200) and Tyler Reay (6-2, 190) add some muscle to a line that boasts five players who weigh 190 pounds or more. Dufur has 10.
At the quarterback position is a dual threat athlete in Reagan Shira (6-1, 175).
Since their win over Dufur on Sept. 12, the Antelopes have gone 8-0 and have outscored their opponents by a 510-116 margin.
Adrian head coach Paul Shenk knows his offense can provide even more pop than it has showed.
Under extreme weather issues versus Yoncalla, the Antelope coach said he and the coaching staff learned that they can execute well in when in the middle of adverse conditions.
"Our success comes down to consistency and cutting down on penalties," Shenk said.
From that opening tilt, Henderson said that the biggest adjustment his squad has made since the start of the season comes on the defensive side of the ball.
The scheme is totally different.
This defense is ranked third in scoring defense with 196 points allowed in 11 games (17.8 a game).
For the past six games, the Rangers (10-1, 6-0) have allowed an average of 11 points a game.
In their last game, a 72-20 quarterfinals win over Wallowa, Dufur surrendered 14 points in the first four minutes and 41 seconds.
But, in the final 43:19 gave up just one score.
This group takes on an Adrian offense has scored 594 points (59.4 a game).
"We have been working on balancing the field and being quick to the ball on every play," Henderson said.
The Adrian defense is clicking on all cylinders heading into this game. On the year, the Antelopes are ranked No. 1 in the 1A class with just a 15.6 point-per-game number.
This unit has allowed 13 points or less five times, including the past three games, a league playoff and two state games.
On the flip side, Dufur's offense has rattled off 342 points in seven wins in the months of October and November. Five of those wins came against 2014 playoff teams.
Shenk knows the weapons are plentiful for the Rangers given the likes of Trever Tibbets, Nick Little and Bailey Keever.
Last week, that trio rushed for 355 of the 551 total yards.
There's no surprise to what Dufur intends to do against this Adrian defense.
Shenk said he has been hard at work with his defense with an emphasis placed on sound tackling and gap responsibility.
"I would say they are a well-balanced team that executes really well," Shenk said.
"They love to run the ball right at you and have been very successful at it," he added.
So far, the Rangers are 5-0 when scoring 55 points or more. They are coming off a season-high 72 points versus Wallowa.
"We need to be consistent in terms of effort as well as execution throughout the game," Henderson said. "To have success, we will have to be able to run as well as throw the ball."
Fans can listen to the game on 102.3 FM and on www.nfhsnetwork.com/associations/osaa starting with the kickoff at 6 p.m. from the campus of Hermiston High School.