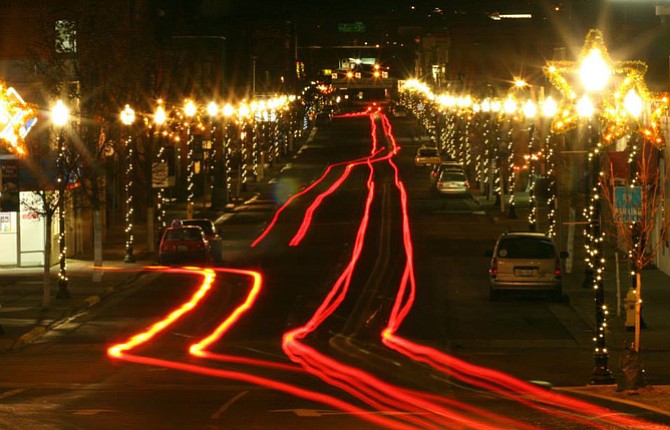 The Dalles Main Street invites volunteers to get into the spirit of the holiday season Tuesday, Nov. 25, by putting up white Christmas lights in the downtown blocks, starting at 7 a.m.
"This is your chance to help transform our downtown and show off for Santa," said Matthew Klebes, executive director for the nonprofit group.
He said Tuesday's work crew will meet at the Griffith building on Third Street, across from Sawyer's True Value.
That is the site of "Santa in the Downtown" event that will take place Dec. 13 and 20, both Saturdays, from 1 to 4 p.m.
Community members are invited to have their picture taken with Santa, enjoy sleigh rides courtesy of Gary Honald, sip hot chocolate, savor baked goods and listen to story time organized by The Dalles-Wasco County Public Library. The Salvation Army will also be collecting toys to assist Santa in his holiday efforts.
White lights purchased from Sawyer's last year through a partnership with Main Street, The Dalles Area Chamber of Commerce and the Port of The Dalles will be strung next Tuesday near the dock, on Second Street and the roundabout. Volunteers under the age of 18 will have to present a waiver signed by a parent or guardian to participate. To arrange for a waiver, or sign up to help, call Klebes at 541-370-2966.
"We have already had a great turnout of volunteers and support from the Sunshine Mill Winery and Copa di Vino, The Dalles High School, The Kiwanis Club, City of The Dalles, the chamber's Young Professionals (Yo-Pros), Fairfield Inn and Suites, and more," said Klebes.
He said the traditional stars and trees will go up the following day through the efforts of Keef Morgan from Copper West and Chuck Covert from NAPA, along with help from the city, chamber, Northern Wasco County PUD, NORCOR, Wasco Electric and Century Link.