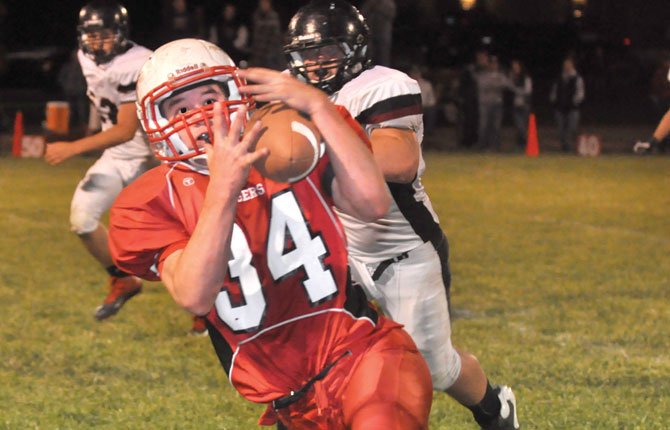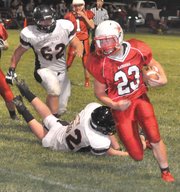 It appears the Dufur Rangers are hitting their proverbial stride.
Playing in one of their biggest matchups since Adrian on Sept. 12, the No. 6-ranked rangers racked up 368 yards of offense in the opening half and scored on seven of their first eight possessions to sink the Perrydale Pirates 46-8 in a non-league rivalry showdown on Homecoming night Friday at Dufur High School.
Withstanding this test showed starting quarterback Bailey Keever a lot about what his team is capable of when they are firing on all cylinders.
"I think it taught us that when we play like we can, we can be one of the top teams," said Keever, who completed 4 of 7 passes for 171 yards and four scores. "Tonight was the launching pad. From here, we need to keep going up, keep showing up strong every day and not settling for anything less than our very best."
In the opening 24 minutes of action, the Rangers ran 24 players and had 12 of them go for 10 yards or better.
On half of those drives, Dufur scored touchdowns in three plays or fewer.
Nick Little sliced and diced his way to 139 yards and two scores on his team-high 10 carries, as Dufur rushed the ball 17 times for 197 yards.
Trever Tibbets tacked on five rushes for 33 yards and a score, and he hauled in two passes for 103 yards and two more touchdowns.
Tibbets started the scoring barrage in the first quarter by capping a six-play, 43-yard drive to make it 6-0 at the nine minute and 16-second mark of the opening frame.
On Dufur's next possession, Tibbets then connected with Keever for a 57-yard passing play to swell the lead to 14-0 midway through the quarter.
With Tibbets starting the offensive engine, Nick Little entered the fray and revved it up into over drive on the next two Ranger possessions.
The first score came on a 55-yard catch and then the second one on a 40-yard scamper to run the count out to 26-0 with 10:44 left in the second period.
"Nick Little was Nick Little tonight," said Dufur head coach Jack Henderson. "He was making those tight, driving cuts on the field, getting past guys for big gains. When that kid is on top of his game, he is hard to stop."
After a Perrydale fumble on its ensuing possession, the Rangers got things going again with Keever and Tibbets dialing long distance once again, as the senior running back made an over-the-shoulder grab and dash for 46 yards to the house to make it a 32-0 game with 7:46 left on the watch.
Little added his third touchdown of the half with 2:42 left in the second, barreling his way 14 yards for a score, and with 21 ticks left on the watch, Keever connected with Jake Little for 13 yards to cap the scoring and make it a 46-0 halftime cushion.
Even with the reserves on the field for the second stanza, the Pirates managed just one scoring drive on a 43-yard run by Keenen Bailey to end the shutout.
"We were really fired up during this game," said Pence, who had two rushes for 27 yards. "We just came out here with intensity and never let up. This has been the best game that we have played in a while, so we were just really happy with the result."
As efficient as the Ranger offense was in the first half, Dufur defensive coordinator C.S. Little had the defense playing its usual hard-hitting style.
In the last nine quarters, the Ranger defense has allowed just three offensive scores.
Friday, Perrydale's offensive group had seven drives and managed 135 yards, 55 through the air.
The Pirate offense converted on 1 of 7 third downs, committed three turnovers, had two drives end in a loss of downs and punted twice.
"Defensively, we had people flying all around the ball and getting after Perrydale," Henderson said. "When we arrived to the ball, we arrived with authority and swarmed them. I am really excited about their play. It is really a good step for us."
There are still four more regular season games left, and if things go well in the postseason, maybe the Rangers can make amends on that outcome.
It is still only the first week of October, however, so the progression is ongoing.
"We are just not nearly as consistent as we need to be yet, but we are getting there and moving in that direction," Henderson said. "They are starting to take what we do in practice and taking it into games. I think everybody is finding their comfort level and settling into their positions and that is a good sign for the Rangers."
Dufur (4-1 overall, 2-0 league) travels to Ione for a Thursday contest at 7 p.m.
The game date is switched to Thursday evening due to a state-wide teacher in-service day.
No. 14-ranked Ione (3-2, 2-1) lost 68-18 Friday to No. 3 Sherman (5-0, 3-0).