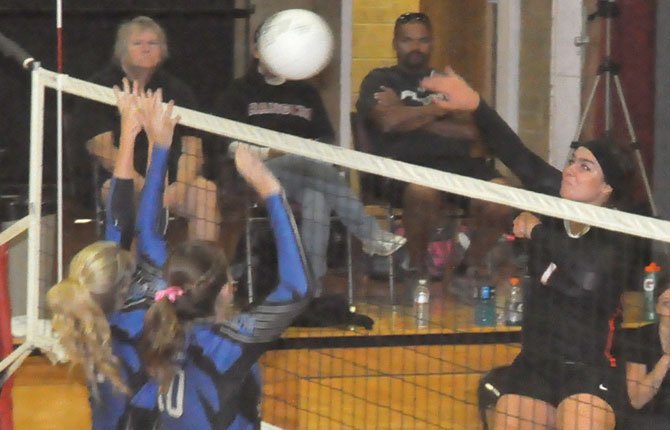 Being ranked No. 1 in the state, the Dufur Rangers have a target on their backs whenever they hit the volleyball court.
Saturday in Dufur, the Lady Rangers pulled off consecutive sweeps over Condon-Wheeler and St. Paul in a double dual at Dufur High School.
"I thought we played pretty well," said Dufur coach Kelly Darden. "This team played one of their best matches of the season against a tough St. Paul team. I liked what I saw from them in that match."
St. Paul entered action as the top-10 program in the 2A classification, so they were a tough test for the Rangers.
Dufur committed just two hitting errors on 73 attempts, with 20 kills, and tacked on 65 of 74 serves with five aces.
Led by the nine kills, three digs and three blocks from all-state hitter Taylor Darden, the Rangers were able to secure wins in three sets by an average margin of six points.
Dufur took control from the onset with a 25-19 edge setting the stage for a 1-0 lead.
St. Paul had a better output in the second set, but could not find its groove as Dufur came out in front by a 25-21 margin for a 2-0 lead.
The Rangers dropped the hammer down to close out St. Paul with a 25-17 marker in the finale.
Montana Ferres added eight kills, three aces and a team-high 13 digs, and Chloe Beeson notched an all-around match for a kill, an ace, six digs and a block.
In the back row, Abbey Stelzer chipped in eight digs, and Tianna Ellis tallied a kill, an ace and a dig.
"The girls needed a challenging match like this," coach Darden said. "The best thing I saw from this team is their hustle. They were all over the court, hustling for every loose ball. When we play like this, everyone feeds off that energy."
To open the day, the Rangers went up against No. 11 Condon-Wheeler and after a nip-and-tuck opening set, which the home team won, 25-23, they did not let up in the final two sets.
Dufur cruised to a 25-14 marker in the second set and completed the all-important sweep, its eighth overall in the year, by rolling out a 25-6 score in the third frame.
Taylor Darden had a team-high 16 kills, and Ferres reeled off four kills, three aces and five digs.
Kirsten Sorensen was good for a kill, five aces, a dig and a block, as the Lady Rangers made good on 67 of 73 serve tries with 15 aces.
Adding to the ace numbers, Ellis turned in four and freshman setter, Sarah Helyer, added a kill and a dig.
"We had a lot of our girls play and they all contributed to these wins," coach Darden said.
"We are getting better, but we still have some work to do to be playing at a high level for the rest of the season."
Dufur (17-3 overall, 1-0 league) hosts South Wasco County at 5 p.m. tonight.