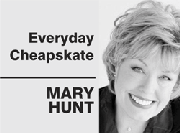 I had a striking deja vu moment when I read today's first reader tip. I don't think I'd ever thought about it, but Roseanne's tip brought back a memory of my grandfather doing this very thing on the big, black cast iron wood range that sat in my grandparents' tiny kitchen in Potlatch, Idaho. The stove had a small door with a glass window to observe the fire burning inside. He would clean that door so my grandmother could see when she needed to add more wood to the stove. Sounds like something out of the dark ages, doesn't it? For the record, I was a very, very young at the time.
FIREPLACE GLASS. This is a trick I learned from my mother for cleaning the glass on the glass fireplace or stove doors that get fouled with smoke and soot, becoming opaque so you cannot see and enjoy the flame. Spread newspaper down, and then open the door. Take another wadded-up page of newspaper, wet it, dip it in the ashes and use it to clean the glass. This will remove everything from the glass without scratching or harming it in any way. Last step: Wad up one last piece of newspaper and use it to wipe away all of the crud and nastiness. The result is quite amazing, and the price is right. — Rosanne
TRANSPORT A CAKE. I couldn't afford one of those pricey cake savers for transporting cakes, so I went to the dollar store and bought the biggest plastic bowl I could find with a lid. I set the cake on the lid with a little frosting under the cake to hold it in place and then frosted it, and now I have an airtight cover by using the bowl over it! —Mike
DISHWASHER CLEANER. Keep your dishwasher looking like new on the inside by simply pouring a small package of unsweetened Lemonade Kool-Aid powder into the soap dispenser and running it empty for a complete cycle. The citric acid in the Kool-Aid removes all the hard water stains and leaves it sparkling white or (shiny clean if stainless). This is much cheaper than Tang (a useful tip but at $4 or more, pricey), which does about the same thing. Do this twice a year. — Christine
MUSTY SMELLS. Here's one antique dealer's secret for removing musty smells from old pieces of furniture. Place a slice of white bread on a saucer and cover it with white distilled vinegar. Place the saucer inside the drawer or cabinet, and carefully close. The smell will absorb into the mixture in just a few days. — Harriet
Would you like to send a tip to Mary? You can email her at mary@everyday
cheapskate.com, or write to Everyday Cheapskate, P.O. Box 2099, Cypress, CA 90630.