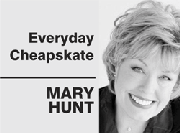 Dear Mary: Thanks for your most informative recent column on poultry labeling. I have seen chicken in the supermarket that includes "enhanced" on their label. As nearly as I can figure this means pumping salty water into the meat. What is all this about? Thanks. — Mimi
Dear Mimi: The USDA allows meat products to include solutions that deliver benefits such as adding moisture, tenderize meat or add flavor. However, such additives must be fully disclosed on the label, which you know because you have seen this. Turns out that a lot of our meat is enhanced. About 30 percent of poultry, 15 percent of beef and 90 percent of pork are injected with some kind of liquid solution before sale, according to the USDA, and it's usually something high in sodium. According to the American Meat Institute, the solution pumps up the meat's volume and can "replace the flavor and moisture loss that results from raising leaner animals or from potential overcooking." What you figured is right on.
Dear Mary: I have an issue that I would like cleared up. On the strength of your gushing review of the LG Wave Force washer and dryer that you purchased at very good prices, we bought the exact same set. Recently, you wrote that you had changed washer and dryer to something else and said "more about that later" (may not be your exact words, but something like that). Please explain. — Martha
Dear Martha: Wait. I gushed? I guess I did because I loved that washer and dryer. As you know, that is a top-loading washing machine. If you've been following along with my life (which is sounds like you do and thanks for being such a careful reader), we sold our home and will be relocating next year to our new home in Colorado. As I write we are still in our 18-month interim, living in a very small apartment. That LG set would not fit, and I have to tell you that kinda broke my heart. However, the LG's are safe and happy in our son's home nearby. For this small apartment, we got a full-size stackable GE washer and dryer set. You may recall my warnings about front-loading washers in the past. Having no choice because space limitations, we went with it. And I'm happy to report that this set is fabulous, as well. I am careful to do the "basket clean" every 30 days, running a full cycle with hot water and a lot of bleach, as outlined in the owner manual. And I leave the washer door open between use to allow it to dry out. So far no odors, no problems. I hope you are enjoying your set. I'm still a big fan.
Dear Mary: How can I get rid of wasps? I have used wasp spray, and they die and the nest is destroyed. But as soon as I get rid of one nest, a few days later two more show up in other areas. Can you please help with a solution? - Eleonor
Dear Eleonor: There's something around your property that those wasps really enjoy. Do not keep any food (including your pet's) lying around. Keep drinks covered when outdoors and always ensure that garbage cans are tightly sealed. Also, keep any fallen fruits from nearby trees or shrubs, as well as in the garden, picked up, as their sweet juices attract the wasps. If the nests are large or you're dealing with the more aggressive types of wasps, such as yellow jackets and hornets, you may want to call in reinforcements (professionals) to handle the job. There are times when, in the end, it just doesn't pay to handle difficult problems yourself. Wasps have a nasty sting and can pose health problems. Please be careful!
Mary Hunt is founder of www.DebtProofLiving.com, a personal finance member website.
To find out more about Mary and read her past columns, please visit the Creators Syndicate Web page at www.creators.com.