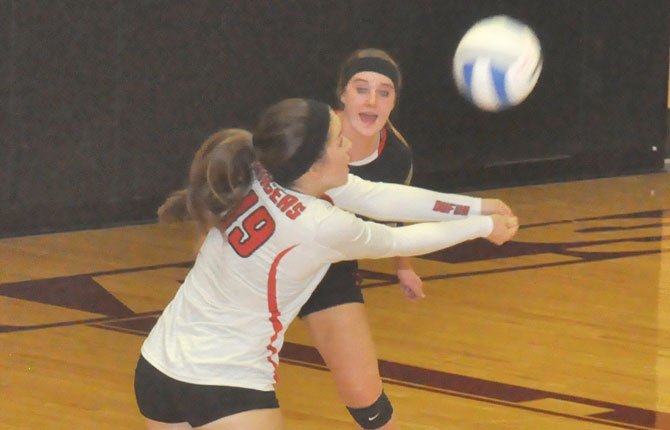 Even with a sluggish beginning to action, the No. 3-ranked Dufur Rangers restored order in their sixth consecutive sweep, this one Thursday evening on the road in a Big Sky Conference matchup at Ione High School.
Many of the athletes had their hand in this whitewash, as the Rangers rattled off a 55 of 62 effort on swing attempts for 31 kills.
The Lady Rangers moved out in front for a 25-21 winner in the first set.
After that close call, Dufur got back to playing fundamental volleyball to work top runs of 25-10 and 25-8 to secure the sweep for 10 on the year.
"We got off to a slow start, but then with tough serving and smarter hitting, we finally got the momentum on our side," said Dufur head volleyball coach Kelly Darden.
Taylor Darden paved the way with 14 kills, five aces, three digs and two blocks.
Montana Ferres notched 10 kills, nine digs and three more ace serves, as Dufur worked a 65 for 72 output from the line with 13 aces.
Tianna Ellis added three kills, five digs and an ace, and Chloe Beeson tallied a pair of kills, an ace and an assist.
Adding to the kill numbers were Kirsten Sorensen and Aimeelyn Miller with one apiece.
Sophomore setter Sydney Reed was once again the facilitator to the offense with 23 assists.
She also chipped in three aces and dove on the ground for six digs.
With five days until hitting the hardwood again, coach Darden is looking forward to getting her squad mentally prepared for the stretch run of four matches next week on Tuesday, Thursday and Friday.
"It will be good to get some rest this weekend," the Ranger coach said. "We have all been sick and we need to focus on next week with some big matches to finish the season."
Dufur (19-3 overall, 2-0 league) hosts last-place Horizon Christian (1-13, 0-3) for a BSC doubleheader starting at 5 p.m. Tuesday.