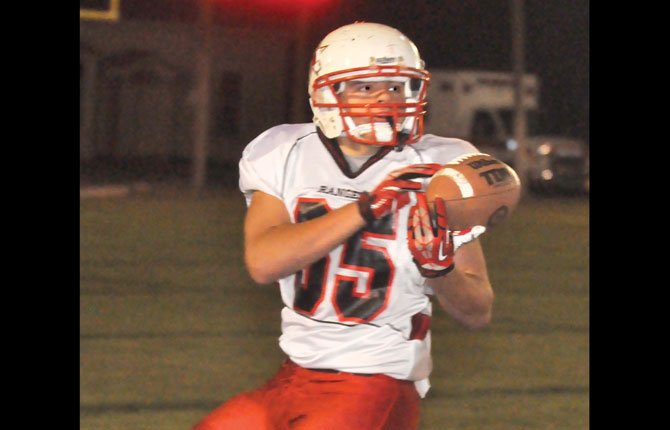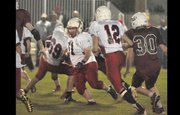 IONE – With girls in gowns, sashes ready and classic cars in tow to display the 2014 homecoming court Thursday on a crisp night in Ione, No. 4-ranked Dufur did its best to crash the festivities.
The Rangers had four one-play drives, two scoring drives of three plays or less and Bailey Keever capped the opening stanza with an 82-yard punt return as part of a 66-6 outburst in the first 24 minutes in a 66-14 Big Sky Conference drubbing at Ione High School.
"It was our goal to come out fast against Ione tonight," said David Brown. "We wanted to fly around and be physical with them. We practiced that all week and accomplished what we wanted."
Hagen Pence started the offensive fireworks with a 65-yard scoring surge with 10 minutes and 42 seconds remaining in the first period.
After an Ione punt, Keever capped a three-play 77-yard drive on a connection with Jake Little for 27 yards to make it a 16-0 game with six minutes on the watch.
Following another Cardinal punt, Nick Little set up the pins on a 32-yard punt return and he knocked down the pins on the next play from scrimmage, taking a handoff 42 yards to the end zone to swell the lead to 24-0.
Trever Tibbets got in on the paydirt parade, rustling untouched on a trap play for 86 yards to move the scoreboard reading out to 32-0.
Ione scored on its next possession, with a 75-yard pass from Cord Flynn to Donnie McElligott to inch a step closer at 32-6 with 9:54 left in the half.
Just 1:38 later, Keever was dancing down the sidelines for a score.
Another 14 seconds after that tally, the Rangers turned a fumble recovery from Kurt Nuevo into a 32-yard touchdown pass from the fingertips of Keever to Nick Little to make it a 44-6 contest with 7:49 left.
Jake Little then scrambled 27 yards and after another Ione miscue, Nuevo followed his blockers to a clean trip to the end zone to run the count to 58-6.
On the conversion, Kolbe Bales fired a pass into the waiting arms of Curtis Crawford, and the score was set at 60-6 with 4:35 still reading on the clock.
The Cardinals had their final drive stall on the 25-yard line, so the punt team went in to kick.
Keever scooped up the loose ball at the Ranger 27, and zigged and zagged past a slew of hapless defenders for a punt return of 82 yards to cap the scoring.
"Our goal is to play fast and physical against any team we play," said Dufur lineman Zach Christiansen. "We do not look past any opponent, we come with our best no matter who it is. We talk about taking it one game at a time and we definitely showed it tonight."
With the Rangers playing in several lopsided games through the season, there are plenty of playing opportunities granted to the likes of Travis Lucas, Trevor Phetteplace, Morgan Marcum, Mathew Sipe, Bales, Josh Brown, Wade Blake, Steven Bailey and Jon Keyser.
Nuevo is also part of that bunch.
With his running style, the junior scatback is itching for additional minutes with the first team.
"It doesn't matter who is on the sideline, when you have your chance, you have to come in mentally ready," said Nuevo, who has already had a 200-yard rushing performance to his stat line earlier this season. "We are all part of this. If we win, we know we helped the team."
Now the master schedule is circled in bright red ink with No. 3-ranked and undefeated rival Sherman next on the docket.
The winner of that game will likely be crowned Big Sky champs.
Sherman has its crosshairs on re-establishing Big Sky supremacy.
Dufur is gunning for its third straight crown.
"We have to be focused and ready to play," Jake Little said. "Nobody is going to give us anything. We have to earn it."
Kickoff is slated for 7 p.m. next Friday for homecoming night in Moro.
Radio station 102.3 FM will broadcast the game.