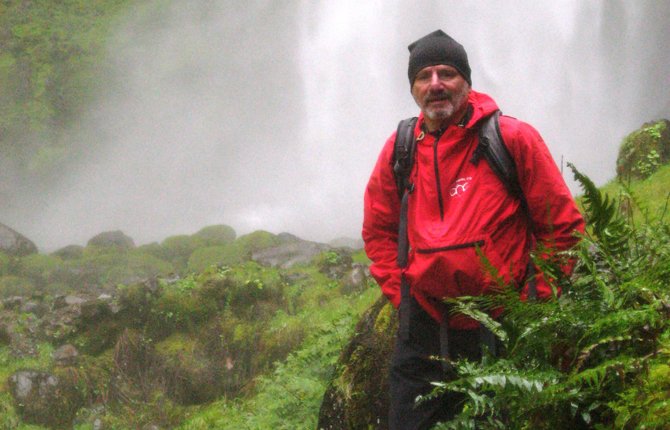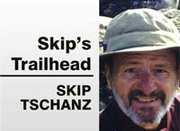 Well, Janet and I have done it again. We have wasted another summer wandering single lane forest service roads looking for the next greatest hiking trail. We have run into our share of road hogs who think they are driving in downtown Portland. We have pointed more than a few disoriented people in the right direction. That said, we have had another great year roaming the trails of the Columbia River Gorge and Mount Hood.
Last week we did our first rainy day hike of fall. No one is on the trails at this time of year and we have the forest all to our selves. Our goal was to find where Oregon Department of Transportation is going to build the next paved leg of the Historic Columbia River Highway State Trail.
The only problem with this type of outing is that it gives me too much time to think. And my mind turned to random thoughts about our summer adventures and how to avoid other people's misadventures. So here goes my best advice for anyone venturing into the forest; whether it is for a day's hike or a road trip to find a Christmas tree.
Any great adventure starts at home. Pack for the worst case and hope for the best case. Always have extra clothing, food and water. Be prepared to spend the night under a tree. Check the weather forecast.
Are you heading into a storm? If so, what time is it expected to arrive? Do you have a good topographical map of the area you are going into? Do you have a compass or a GPS? Do you know how to use them? I have run into people who were traveling with a GPS and were just as lost as the next person who didn't have one. On the other hand, I have had to point out that compasses point to magnetic north and maps are oriented to true north. Yes, they are two slightly different directions.
On the road: The numbering system that the forest service uses in our area does have a rhyme and reason. Two digit roads are well maintained, are usually navigable for any family sedan and will take you to a state or county road. Four digit roads are not so well maintained, but will take you through to a two digit road. Three digit roads beware, you may need a high clearance vehicle and the road is a dead end.
Many forest service roads are one lane with turnouts. The etiquette when meeting another car going in the opposite direction is to slow down, move as far to the right as is safe. Stop if necessary to allow the other car passage. Make a habit of watching for wide spots in the road and back up to the closest one if needed. On a steep road the vehicle traveling uphill has the right of way. It's much more dangerous to back up going downhill than it is uphill. Give the other driver a friendly 4-finger wave. Remember, 4-finger waves are good; 1-finger waves are bad.
At the trailhead: Orient yourself with your map and compass. Know which direction the trail heads from where you are. Don't leave valuables in your car. Have a turnaround time so that you are back to your car before dark. And last but not least, know the name of the trailhead your car is at.
That may sound silly but I have met many, many people who have gotten turned around on the trail and have no idea where their car is. And as bad as that is, they also don't know the name of the trailhead they started at. Often they will say "It's the parking lot by the big waterfall. Well, in the Gorge there are 5 different parking lots that match that description. This can make for a long afternoon.
On the trail: Stay found, know where you are. Check your map at every fork in the trail. Walk a few paces in your new direction and look behind you so that you will recognize the trail you came in on.
As a matter of habit, every once in a while I'll take a look back in the direction I am coming from. Here is another mistake that beginning hiker can make: Often hikers take a lunch break at their turn around point. They sit back, relax and enjoy the scenery, food and good company. Then they repack their stuff; and head off in the wrong direction; hiking away from their car, not towards it. More than a few folks have spent a cold night in the woods because they were busy gabbing, not busy thinking. If you get turned around in the Gorge; find Trail 400, it will always take you back to the highway.
Here goes the end of my random thoughts. Forgot your compass? An analog watch will make a workable substitute. Point the hour hand at the sun, and then draw a line between that and the 12 o'clock mark. That line will point north. If you have a digital watch just draw an analog watch on a piece of paper. Adjust your watch for standard time if it is set for daylight savings time.
How long will I have daylight? Stretch your right arm out, holding your hand horizontal so that your pointer finger is just below the sun.
You will have about 15 minutes for each finger between the sun and the horizon.