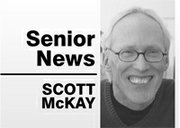 Because of Labor Day, I had less time to write this week's column, so I decided to keep it simple and include a pop quiz for some mental stimulation.
I found these brainteasers on two 2012 posts written by Holly Green for the Forbes Magazine website to show how our preconceived notions, combined with our brain's tendency to see what it wants to see, greatly affects our decision-making abilities.
The answers will be included in next week's column or if you have delayed gratification issues, they will be on the Mid-Columbia Senior Center's website, www.midcolumbiaseniorcenter.com, under the tab Brainteasers.
As a reminder, mental stimulation is just one of six components of brain health with the other five being physical exercise, social engagement, stress management, nutrition and a good night's sleep.
Here we go:
• A clerk at a butcher shop stands 5-feet 1-inches tall and wears size 13 sneakers. What does he weigh?
• How much dirt is there in a hole that measures 2-feet by 3-feet by 4-feet?
• What word in the English language is always spelled incorrectly?
• Before Mt. Everest was discovered, what was the highest mountain in the world?
• Johnny's mother had three children. The first child was named April. The second child was named May. What was the third child's name?
Now these next five are a little more difficult — at least that's what my brain told me.
• If you were running a race and you passed the person in second place, what place would you be in now?
• A man stands on one side of a river, his dog on the other. The man calls his dog, who immediately crosses the river without getting wet and without using a bridge or a boat. How did the dog do it?
• Two boxers are in a match scheduled for 12 rounds. One of the boxers gets knocked out after only six rounds, yet no man throws a punch. How is this possible?
• What is unusual about the following words: revive, banana, grammar, voodoo, assess, potato, dresser and uneven?
• What makes this number unique — 8,549,176,320?
After enjoying the Kiwanis Steak Feed on Thursday, Sept. 4 from 5-7 p.m. at Sorosis Park, you can look forward to Friday, Oct. 3 for the Baby Back Rib Dinner at the center sponsored by The Springs at Mill Creek from 4:30 p.m. until 7:30. During that time there will be a silent auction that includes a Wildhorse Casino Package.
The musical entertainment will be provided by one of my favorite blue grass bands, Hardshell Harmony. The cost is still $15 per person and tickets are available at thecenter.
Saturday Night music is back at the center with Martin and Friends playing on Sept. 9 followed by Truman on the 16th. Music always starts at 7 p.m. and continues until the wee hours of the night — which for me is 9 p.m. Everyone is welcome and donations are appreciated.
Last week's quote "If that plane leaves the ground and you're not with him, you'll regret it. Maybe not today. Maybe not tomorrow, but soon and for the rest of your life," was from the movie Casablanca and spoken by Humphrey Bogart to Llsa (played by Ingrid Bergman) when he persuades her to fly to Lisbon with her husband Victor Lazlo. (And the winner of a free Saturday Breakfast is Robert Griswold.)

This week's "Remember When" question is not about a quote, but lyrics from a song released in 1971 that told the metaphorical history of "rock and roll" from 1959-1969. What singer recorded the song that included the lyrics "Drove my Chevy to the levee but the levee was dry," and whose tragic death was the inspiration for it? E-mail your answer to mcseniorcenter@
gmail.com, call 541-296-4788 or send it with a 12 inch apple pie.
Well, it's been another week trying to squeeze two square pegs into one round hole. Until we meet again, you may never forget, but there will always come a time to forgive.
"You will have bad times, but they will always wake you up to the stuff you weren't paying attention to." Robin Williams
Menu
Wednesday (3) Taco Casserole with Refried Beans
Thursday (4) Hot Open Face Turkey Sandwich
Friday (5) Lemon Pepper Tilapia
Monday (8) Beef Stroganoff
Tuesday (9) Pork Medallions