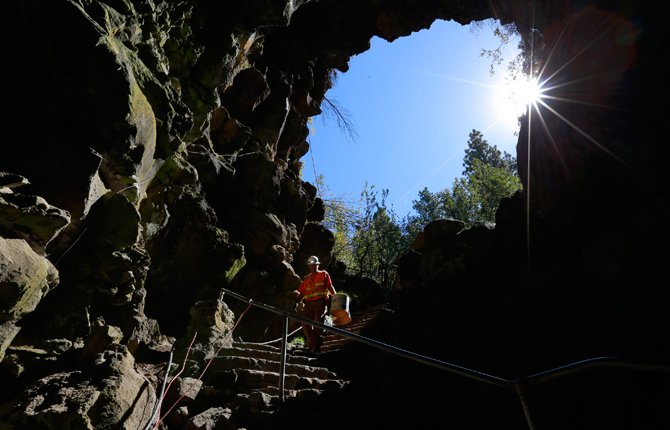 SUNRIVER (AP) — Lava River Cave south of Bend will have a new look next spring, in time for its 50th anniversary season.
Construction workers are busy at the popular tourist stop off U.S. Highway 97, taking out old staircases and boardwalks and preparing to install replacements. For now, the revamp is focused on the first 650 feet of the mile-long lava tube.
"This is just the first stage of it," said Mathew Barnett, a civil engineer with the Deschutes National Forest in Bend.
While not drastic, the $320,000 reconstruction will be noticeable in the first section of the cave. On Thursday, Barnett walked into the mouth of Lava River Cave, crossing over old stone steps with the handrails already removed.
"We are keeping the stone stairs," he said, "this being a unique feature to the cave."
But deeper into the cave the narrow steel staircases and boardwalks will be replaced , including a portion that passes close to the right cave wall as people descend into the lava tube. There, visitors often bumped their heads on the rock.
Also with safety in mind, the new steps and boardwalks will be wider than before — 4 feet as opposed to about 2 1?2 feet. The wider walkways will allow people heading in and out of the cave to pass one another. The new boardwalks will be made of galvanized steel; the old ones were steel over a wooden frame. The new boardwalks will be higher off the ground than the old ones.
The Deschutes National Forest closed Lava River Cave early this season to allow time for construction work before bats come looking for a place to stay over the winter.
"It usually closes Sept. 30, but this year it closed on (Monday)," said Cristina Peterson, lead ranger at Newberry National Volcanic Monument, which includes the cave.
The bat factor made for a unique element to this construction job, said project supervisor John Winston of Catworks in Battle Ground, Washington. The contractor is doing the stair and boardwalk work.
"The main thing is just trying to get done before the bats hibernate," he said.
This phase of construction should be done by Oct. 3, Barnett said. If and when the next phases happen depends on funding.
Information from:
The Bulletin, www.bendbulletin.com