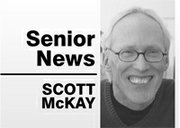 I usually try to avoid being too focused on the Mid-Columbia Senior Center, but this week is going to be an exception because of these opportunities:
Wednesday, Sept. 18: Passport to Happiness event from 1-2:30 p.m. Lauren Kraemer, OSU Extension Family and Community Health specialist, will demonstrate several healthy dishes.
Friday, Sept. 19: Nehemiah Brown returns to the center. Wear a Hawaiian for the "Luau" and music starts at 7 p.m. for a cost of only $3 per person.
Saturday, Sept. 20: Saturday Breakfast at 8 a.m. and Dennis Davis, Oregon's AARP Smart Driver Instructor of the Year, will be recognized.
Sunday, Sept. 21: Stop in for the Pie and Jam express from 2-5 p.m.
Monday, Sept. 22: The Dalles Toastmasters Club will start meeting on Monday nights from 6-7 p.m.
Tuesday, Sept. 22: Molly Hamlin from the Planetree Health Resource Library, explains at 11 a.m. how to search for health data.
Here are the answers to the Brainteasers from two weeks ago. 1) Meat. 2) There is no dirt in a hole. 3) Incorrectly (except when it is spelled incorrecktly). 4) Mt. Everest. It just wasn't discovered yet. 5) Johnny. 6) You would be in 2nd place. You passed the person in second place, not first. 7) The river was frozen. 8) Both boxers are female. 9) Take the first letter of each word and place it at the end. It will spell the same word backwards. 10) It contains each number, zero through nine, in alphabetical order.
The name of the 1964 British-American black comedy starring Peter Sellers in three different roles and included "Gentlemen, you can't fight in here. This is the War Room!" was Dr. Strangelove or: How I Learned to Stop Worrying and Love the Bomb. (And the winner of a free Saturday Breakfast is Dennis Wygal.)

This week's "Remember When" quote is not from a movie but from its second cousin — television. Who was the comedian who hosted a television variety show first telecast in the 1950's and would end his opening monologue by saying "And awaaay we go!" E-mail your answer to mcseniorcenter@gmail.com, call 541-296-4788 or send it with a picture of Crazy Guggenheim —one of Joe the Bartender's regulars.
MENU
Wednesday (17) Baked Ham
Thursday (18) Spaghetti with Meat Sauce
Friday (19) Philly Beef with Sauté Onions and Mushrooms
Monday (22) Salisbury Steak
Tuesday (23) Pub Battered Fish