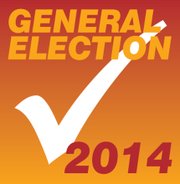 Dr. Monica Wehby dropped by the grand opening of the GOP campaign headquarters in The Dalles Sept. 13 to meet some of the people who are campaigning on her behalf.
Wehby, a practicing pediatric neurosurgeon and mother of four, wants to topple U.S. Sen. Jeff Merkley, D-Ore., who is seeking a second six-year term in office.
In a 30-minute interview Saturday, Wehby said she is running out of a strong belief that Merkley, who tied for the most liberal senator in a National Journal report, is too "extremist."
With an NBC poll showing that 70 percent of Americans now believe the country is headed in the wrong direction, Wehby believes it is time to bring "common sense" back into politics.
"We've really lost credibility in the world," she said. "Our allies don't trust us and our enemies don't fear us — instead of a coherent foreign policy, we are reactive."
She said family income in Oregon has gone down 8.9 percent since Merkley took office and one in five people now receive food stamps.
"He claims to be the champion of the middle class," she said. "If he's their friend, I would hate to see what it would look like if he was the enemy."
To show she is the right fit for "independent-minded" Oregon, Wehby differs from the traditional Republican platform by being pro-choice and in support of gay marriage. Although she is Catholic and personally pro-life, she believes the government should stay out of people's private lives. That also holds true, she said, for the right of same-sex couples to wed.
"Republicans are really a big tent party and we have to pull everyone together if we want to work through the huge problems facing this country," she said.
What should be of concern to all Oregonians, said Wehby, is a stagnant economy and growing national security threats.

During her campaign stops around the state, she said concerns have been expressed by people from all walks of life about the spiraling deficit, inconsistent foreign policy and lack of family-wage jobs.
"The question everyone needs to answer is, 'Do you feel more secure than you did before Sen. Merkley took office?'" she said.
She said Merkley votes 95-98 percent of the time in support of President Barack Obama and Senate Majority Leader Harry Reid's agendas. As a result, she said Obamacare, which had no Republican support, is now the law of the land and not only highly unpopular but unworkable and unaffordable.
Because Democrats rushed to get the new law in place, Wehby said 150,000 Oregonians lost their health insurance coverage, and many others saw premium increases.

She said information provided by the Manhattan Institute shows that premiums in Oregon have shot up 55 percent for 27-year-olds, 24 percent for 40-year-olds and 31 percent for 64-year-olds. On top of this, Wehby said consumers must now buy coverage for care they don't need or want.

She said citizens had to suffer the failure of Cover Oregon, the "worst state-run health exchange in the nation" at a cost of about $200 million. Merkley and other Democrats also made promises that people could keep the health plan and doctor they already had, but that did not happen. The true cost of implementing the Affordable Health Care and Patient Protection Act will not be known, said Wehby, until the administration quits changing the rules and delaying its own mandates.
She has nearly 30 years of experience in formulating medical policy, which she now wants to use to fix America's broken health care system.
She is currently the director of pediatric neurosurgery at Randall Children's Hospital in Portland, where she resides. Wehby is past president of the Oregon Medical Association, where she led the 2004 tort reform campaign. In 2009, she appeared on television commercials that ran nationwide warning people about deficiencies within Obamacare.
In 2011, she was elected to the board of trustees at the American Medical Association. She resigned from that position to challenge Merkley in 2013.
"We need a patient-centered, market-based approach," she said.
Wehby's ideas for an overhaul of the system include:
• Widening association health plans to lower insurance costs for people with pre-existing conditions.
• Allowing people to buy insurance across state lines to spur competition and provide more options.
• Cutting coverage requirements so consumers can buy less expensive catastrophic plans.

• Expanding health savings accounts would allow people to save money tax-free for out-of-pocket medical expenses.
• Tax benefits to enable more Americans, particularly the sick and poor, to purchase catastrophic coverage.
Although last week's Portland Tribune poll showed Wehby trailing Merkley by 13 points, she is confident that getting her message out will turn things around. She previously pulled ahead of the incumbent in the spring until a spate of negative media reports were aired about her personal life.
She claims Merkley orchestrated the "character assassination campaign," but he denies any involvement. "If someone needs to resort to personal attacks, they are on the wrong side of the issues and I think Oregonians can see through that despicable kind of behavior," said Wehby.
The three police reports, from 2013, 2009 and 2007, entail complaints from Wehby's former husband and a former boyfriend that she had been stalking them.
In subsequent interviews, both men said they remained good friends with Wehby and were supportive of her candidacy.
Wehby said her votes in Congress will be guided by the question, "Will these policies make it easier for Oregonians to live and work every day?"
READ NEXT TOP STORY: Forest Service eyes eliminating roads