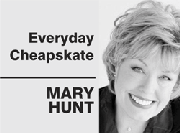 Dear Mary: HELP! I just pulled a load of dried, white clothes out of my dryer and discovered a blue ink pen was in that load. How do I get blue ink out of already dried white clothes? Thank you. — Jenny
Dear Jenny: Go to the drug store and buy the cheapest can of hairspray you can find. Cheap is the operative word because the cheaper it is the more acetone it will contain. That's what you want here. Aqua Net is one example of a very cheap, mostly acetone hairspray product. Saturate the ink stains with that cheap hairspray. If those stains can be removed, you will see the ink begin to dissolve and run. Great. Let it sit and soak for a bit, and then hit the stains with your regular laundry detergent, and launder as usual.
On a personal note, I was ready to walk on stage to speak at a large convention many years ago, wearing a pale blue wool blazer. I didn't realize the Sharpie pen handed to me did not have a lid attached and, you guessed it, somehow I laid a big black permanent-ink mark right across the lapel.
Fortunately someone had a can of hairspray handy. I sprayed it liberally (how could it get any worse, right?) and it was amazing. That ink dissolved and actually disappeared by the time I reached the podium. While my ink stain was very fresh, it was permanent ink! I hope you have equally good luck with your ink stains.
Dear Mary: What is an AMT card, and how does it differ from a debit card? — Nancy
Dear Nancy: Many people think of them as the same, but an ATM card is quite different than a debit card.
ATM cards operate over a network of different banks that are connected together to service their customer's needs. Look on your card to find out which network(s) it can access. The most common are STAR, LINK, Cirrus, PULSE, PLUS, Interswitch, Interac and so forth. You will know you are making an ATM purchase/
transaction because when you do so, you will be required to enter your PIN. ATM cards are used mostly with ATM machines to either withdraw or deposit money. Some retailers that have PIN processing machines and are part of a bank network (some gasoline, grocery and convenience stores), often accept payment by ATM card.
Debit cards are more common these days than ATM cards. With a debit card you have the ATM capability mentioned above and also the ability to make purchases without a PIN over the Visa or MasterCard network, processed the same way as a credit card transaction. That's why you have to select "credit" instead of "debit" to do this. That doesn't mean your debit card is also a credit card, only that it can be processed over the credit card network.
So, you may be asking, which is better? That depends on your needs and how convincingly I can advise you. What you need to know is that you might be liable for fraudulent transactions if your PIN was used to commit them. That's why you need to be very, very careful to keep your ATM or debit card PIN secret.
If fraud is committed without a PIN (as a credit transaction over the Visa or MasterCard network), then usually you have similar protections as a credit card — not by law, but by the terms offered by Visa and MasterCard.
However, I must to point out that the fraud protection laws in this country are for credit cards. Debit card transactions that are processed as credit are not considered the same, so technically, you are at the mercy of your bank or credit union if your account is hacked or compromised.
You get the best fraud protection with an actual credit card. Pairing that with an ATM card allows you to use any ATM in your bank's network without having to pay a fee or surcharge and enjoy federal fraud protection as well.
Mary invites questions at mary@everyday
cheapskate.com, or c/o Everyday Cheapskate, P.O. Box 2099, Cypress, CA 90630.