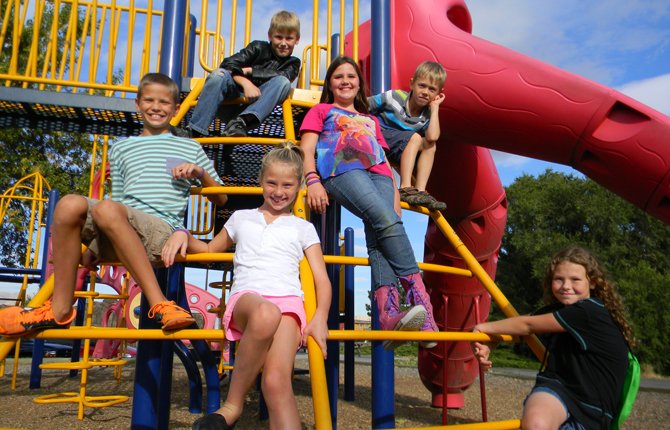 Students of all ages scrambled up jungle gyms and hung from monkey bars at Thompson Park in The Dalles on Friday, Sept. 18.
Cheering and racing back and forth across the playground and chatting amiably with their teachers, you'd never know this could be the first time they'd ever met face-to-face.
Marina Dunaway, a sixth grader at the Oregon Virtual Academy and resident of The Dalles, said she enjoys school just like any other student her age.
"I really like literature and stories, but art and creating things is really fun, too," she said. "My brothers and I get together with a homeschool group in town about once a week to go do something fun, like go to the library or a movie. I also live in a really friendly neighborhood, so the only real difference is I go to school at home."
At the Oregon Virtual Academy, a public K-12 charter school offered through the North Bend school district, students attend classes at home and parents act as "learning coaches" who teachers say are actively involved with their child's education.
Jamie Stiles, a K-2nd grade lead teacher at Oregon Virtual Academy, said the online education system is designed to focus on individual students' strengths and weaknesses as opposed to looking at the classroom as one large, all-encompassing whole.
"I used to be a brick-and-mortar school teacher, and in a big classroom, you can get distracted and not have the time to provide the same level of individual focus," she said.
"At a virtual school, students who are more advanced can progress as quickly as they're able and not be limited by the standard system. Each student has their own individual learning plan that's specifically geared towards their needs, not the rest of their classmates'."
Stiles said in the online classroom, students are guided through the material by the voice of their teacher through an audio feedback program and can engage the teacher through an interactive whiteboard as they progress through the lesson.
Parents work with their students individually and in direct communication with the teacher to provide further support.
"The whole family gets involved in this type of education," Stiles said. "It's not like regular school, where your kid leaves in the morning and comes back in the evening, eats dinner, does homework and goes to bed. Everyone in the family is very involved every step of the way."
Teachers usually call students and families on a weekly or bi-weekly basis for progress reports.
"Where in a brick and mortar classroom it might take all year to get through half of the curriculum, here we usually manage to get through 85 to 100 percent."
Drew Hinds, Oregon Virtual Academy's Head of School, said this is because students are allowed to progress at their own pace.
"In regular high school or middle school classrooms, students can just throw up their hoodies and so long as they're in a seat, they count as a positive statistic," he said.
"Here, that's not the case. A student's progress speaks for itself. It's our responsibility to keep them on track and teach them how to start identifying as individual learners who are actively engaged," Hinds said.
For details, log on to www.k12.com/orva.