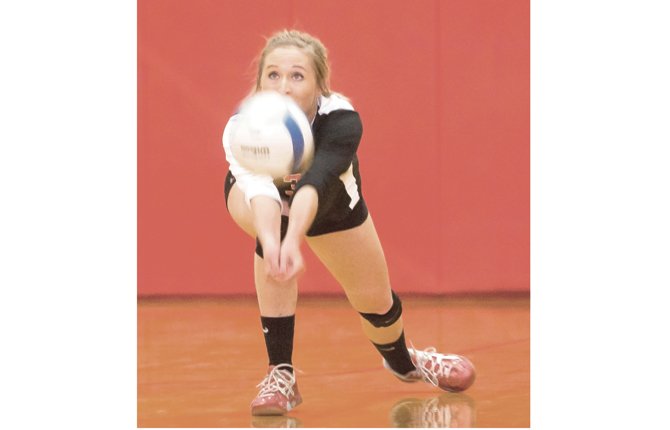 In a highlight matchup pitting the 1A classification's top two volleyball program, the No. 1-ranked Country Christian Cougars engaged in a spirited battle with the No. 2 Dufur Rangers and grabbed a five-set victory in a non-league varsity tussle at Dufur High School.
"What a great match tonight," said Dufur coach Kelly Darden. "We battled against a good team, but made too many unforced errors to get the win."
Dufur started off strong enough in this battle to gain an early edge with a 25-22 output in the opening game.
Not to be outdone, the Lady Cougars rebounded in the second set, scoring the final two points to even the match up at 1-apiece, inching ahead by a 25-23 margin.
The Rangers returned the favor in Game 3 for a 25-23 win to put themselves within one set of victory.
Country Christian then deadlocked the battle at two games each after a lopsided 25-10 score.
In the finale, the Cougars secured a winning formula in a 15-10 tally to complete the winning effort.
Overall, the Rangers had 38 kills and 21 errors on 156 swing attempts, and from the service stripe, they dropped 11 aces and committed 11 errors on 94 serve tries.
Taylor Darden paced the front row players with 21 kills and 10 digs, and senior teammate, Montana Ferres chipped in 11 kills, two aces and a team-high 19 digs.
Sydney Reed was good for a kill, 15 digs and 25 assists from her usual setter slot.
The freshman duo of Sarah Helyer and Chloe Beeson did solid defensive work with a combined 33 digs and Beeson notched three service aces.
Every player on the roster picked up a dig in this match, for 90 amongst the nine varsity athletes.
With just one non-league match on the docket, sandwiched by a full nine-match Big Sky Conference schedule, coach Darden is hoping the grueling slate has better prepared her group for this stretch run where the state playoffs are the biggest landing spot.
Win or lose, playing tough against Country Christian is the type of learning tool this Ranger squad needs.
"It's disappointing (to lose Monday to Country Christian), but we realize we need to learn from our mistakes and clean up our unforced errors as we head into league," coach Darden said.
Dufur (13-3 overall) starts league play at 4 p.m. on the road Friday evening versus the No. 53-ranked Mitchell/Spray Lady Loggers (5-6-1).
Dufur scores 2nd at Helix Tourney
Entering the Helix Tournament, No. 2 Dufur had been riding a streak of two consecutive tourney championships with some impressive numbers put to the forefront.
The Lady Rangers came within one win of turning the trifecta, but wound up losing in two sets to Cove to secure second place in Saturday's event in Griswold.
"It was a great tournament for us," said Dufur head volleyball coach Kelly Darden. "We played some tough teams all day and we keep getting better."
After running past Powder Valley in the semifinals by scores of 25-16 and 25-19, Dufur hit the championship stage in a pivotal test against the Cove team that dropped Imbler to punch their title game ticket.
The Lady Leopards had a hot start with a gritty 25-23 decision in the opening game.
Unfortunately for the Rangers, they could not muster enough of a surge in the second game, as Cove ran away with a 25-11 margin for the championship.
Taylor Darden led her squad with eight kills, five digs and two service aces, and Montana Ferres tacked on four kills and three digs.
Chloe Beeson slammed down two aces and Sydney Reed was good for 14 assists and three digs.
Against Powder Valley in the semifinals, Taylor Darden had eight more kills, two blocks and three digs.
Aimeelyn Miller dropped three kills, Beeson added two aces and seven digs and Ferres racked up two aces, a kill and 15 digs.
Reed followed up with 13 assists, four digs and an ace.
In pool play, Dufur matched up with 2A Cove first off and suffered through a loss by final tallies of 26-24 and 25-20.
Up next, the Rangers hit the hardwood versus Powder Valley and scored wins of 25-19 and 25-18.
Dufur capped pool play with markers of 25-20 and 25-20 to chalk up a No. 2 seed in its pool.
Staked to that high grade, the Rangers found their groove in bracket play in a tussle versus 3A Umatilla and laid out scores of 25-11 and 25-13 to keep the winning trend.
In the Umatilla match, Darden checked in for 10 aces, nine kills and two digs, and Tianna Ellis and Kirsten Sorensen combined for six kills.