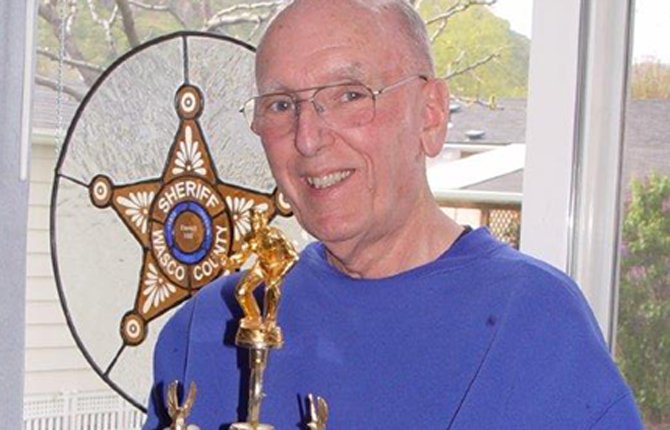 Darrell Hill, former Wasco County sheriff and The Dalles police chief, has been retired from his paid law enforcement career for 10 years now, but far from inactive in Wasco County.
After his retirement, Hill volunteered regularly as a member of the sheriff's reserve for five or six years. He also volunteered regularly for the Mid-Columbia Senior Center and the Columbia Gorge Genealogical Society and was a regular participant in events south of Wasco County.
But that has gradually changed since his diagnosis in December 2013 with rapid progressive dementia with siderosis.
"I just want people to know that Darrell has not forgotten them," said his wife of 56 years, Darlena "Dee" Hill. "He is unable to get around. It tires him to ride very far. We miss our contact with south county. We try to get to all the parades, etc., but it's just not happening anymore. He hasn't forgotten them and he always wants to do it, but he's just not capable."
Darrell has been confined to a wheelchair in recent months, but people may be surprised at the severity of his diagnosis when they see him.
"He sees people. He recognizes faces. He will greet them. He will talk to them. But unless you follow him around, you don't realize it's always the same greeting, comments, conversation with each one of them," Dee said. "But he still wants to have contact."
Despite his outward appearance, the prognosis is scary, Dee said.
"They say this rapidly progressing dementia is usually fatal in six to 12 months. Darrell is at month number nine, although he seems extremely healthy on the outside and mentally he is alert most of the time. It is extremely hard to accept or to understand tomorrow may be his last day."
Over the months since his diagnosis, Darrell has spent quite a bit of his time covering his den with photographs, news clippings and other memorabilia, and is proud to show off what Dee calls his "trophy room."
Dee said neither she nor Darrell are looking for sympathy, but Darrell enjoys showing visitors his trophy room. "Darrell loves to have company and would dearly love to show anybody who would like to drop by his trophy room," she said. "He is so proud of it. He is so thrilled when somebody comes and looks at his trophy room." Darrell is best known in the community for his 49 years and nine months in law enforcement. He started as a Wasco County Reserve in 1994 under Sheriff Sterling Trent, then joined The Dalles Police Jan. 20, 1969. He worked his way through the ranks of the police department to the level of police chief before retiring July 1, 1996.
He campaigned and won election to sheriff in November 1996 and served two terms, retiring in March 2004. He continued to volunteer and work on computers until 2013. He also served as director of Northern Oregon Regional Corrections for six months during 2005, until they hired a permanent director.
He also served as president of the Oregon Peace Officers Association and was awarded its highest honor as Officer of the Year for the state of Oregon.
He was instrumental in organizing NORCOR, Officer in the School and cooperative efforts between state, county and city law enforcement in the five-county area.
"Darrell never brought his job home," Dee said. "He was never the cop at home."
Law enforcement wasn't his only community involvement.
He was recently honored by the Columbia Gorge Genealogical Society and Washington State Genealogical Society for his service and contributions.
He and Dee are parents of two daughters, DeAnna Hill of Seward, Alaska, and Debbie Loomis of Gig Harbor, Wash., plus four grandchildren, three great-grandchildren and three great-great-grandchildren.
They were also foster parents to numerous foster daughters over a 20-year career, and helped establish and operate the Wasco County Attention Home. He received the foster parents' highest honor, the Klahre Award.
Until his illness, he was also active in The Dalles Area Chamber of Commerce, serving as president, The Dalles Lions Club, Wasco County Pioneer Association, was a lifelong member of the National Rifle Association and a certified firearms instructor for the FBI and NRA.