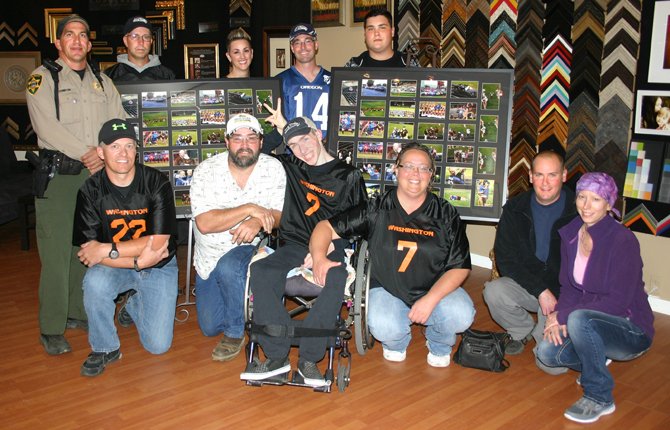 In depth
Pig Bowl Board Members
Ed Gunnyon, Stan Berkshire, Michael Holloran, Michelle Fox, Melissa Browning, Curt Harth, C.J. Toole, April Weaver, Tammy Keys and Randy Wells
Pig Bowl powerhouses
Announcer/MC
Rod Runyon
---
Washington Law Enforcement
Deputy......................Ross Guiney
Utility Athlete....................TJ Lund
Lineman...............Jeremiah Miner
Deputy..................Melissa Wykes
Corr. Officer......Andrew Gonzalez
Trooper....................Ryan Senger
Deputy......................Randy Wells
Deputy......................Ed Gunnyon
Trooper...............Jacob Kitterman
WA DOT.........................Kyle Titus
Dispatcher....................Joe Davitt
Officer..............Chris Wyzykowski
Officer............Dwayne Matulovich
Park Ranger............Andy Kallinen
WA DOT...........Dennis Newcomb
Officer....................Stan Berkshire
KC JUV.........................Tom Akins
Sgt......................Nate Hovinghoff
Trooper....................Shane Kesler
Trooper................Conor Schwilke
---
Oregon Law Enforcement
Chief...........................Mitch Hicks
Sr. Trooper.........Michael Holloran
Deputy...............Stephen Stewart
Deputy.............................Jeff Hall
Deputy.........................Clint Steen
Trooper.........................Matt Zistel
Deputy...................Jeremy Dutton
Corrections Deputy........Matt Tuia
Officer..................Shawna Lundry
Officer.........................Josh Jones
Officer.......................Sean Lundry
Engineer......................Hal Woods
Officer..................Sean Anderson
Officer.....................Dana Journey
Dispatcher..................Sean Wolfe
Officer.........................Mike Martin
Trooper...................Zach Bohince
Corr. Deputy.......Jason Matthews
Officer..........................Mike Cook
Corrections Deputy.......Mark Coy
Trooper.....................Scott Rector
Sgt..........................Russell Spino
Officer.........................Kyle Cozad
Dispatcher....................Curt Harth
What a difference a year makes.
From the monsoon conditions on a windy September evening in 2013, the elements stayed away from Sid White Field to create a pristine backdrop for two hours of action, as law enforcement officials from Oregon and Washington came together to lend a helping hand to Josh Miner and Misty Martin in the 12th annual Pig Bowl.
Both teams battled for four quarters with names like Jeff Hall, Josh Jones, Ross Guiney and Ryan Senger having their hands in on touchdowns in what turned out to be a 14-all tie.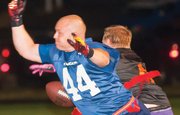 No one cared what the final score was, it was just a matter of a community showing solidarity and strength in helping two of their own in need.
"It is not about us. I want to give God all of the glory," said a longstanding Pig Bowl board member. "I think the human race is failing in a lot of places, but in the Columbia Gorge, they are doing pretty good. The businesses around here have been amazing and have stepped up this year. It is just awesome to watch the community come together."
Every year, board members select a family in need to help out, but for the past two years, through generous donations, the Pig Bowl staff has been able to select candidates from Oregon and Washington.
Family gives Martin strength
Martin was diagnosed with breast cancer a week before her 40th birthday.
She recently had her ovaries and lymph nodes removed in order to stave off progress of the disease.

Although all of the cancer has been successfully removed at this point, Martin will continue to undergo chemotherapy until November.
She will then receive six weeks of radiation therapy as well as be on an expensive regimen of anti-cancer drugs for one year.
The past weekend has been a whirlwind of emotions for Martin, who was beyond humbled by the show of generosity.
"It means a lot. We really appreciate this," Martin said. "It is just wonderful to see all of the people come here to support us. It was very surprising to be a part of such a big event."
One stronghold in Martin's life is her husband, Derek.
Derek, who works full-time at Bryant Pipe & Supply, has been driving her to and from her numerous appointments, while medical bills pile up.

Through this stage in their lives, their love is stronger.
"I can't thank my husband enough for the amount of support and care he has given me," Misty said. "It takes a lot to be a caretaker for someone who is not well. He has just done an awesome job.

n
Wednesday evening, community members and Pig Bowl administrators came together for a memorable meeting at Westwind Frame and Gallery in The Dalles to present two checks from the 2014 Pig Bowl football fundraiser event that raised $25,350.20 for the families.
This fundraiser has amassed more than $175,000 since its 2003 inception.
Over that time, the Pig Bowl has raised funds for Willie Funk, the Special Olympics, Christian Bagge, Barbara Mann, and Brandon Walter, along with Jennifer Magill and Peter Garland, Jessy Lyon, Gretchen McCoy, Karen Warren, Donovan Doroski, and Kadee Herrington.
At halftime Saturday, Doroski offered some inspiring words to the crowd of onlookers.
He gave God all of the glory and full credit and also thanked all of the fans for their support and thanked the Pig Bowl for assisting with his bone marrow transplant.
He announced a clean bill of health.
Showing love for Josh
Angie Robinson, of Goldendale, Wash., said her son, 19-year-old Joshua Miner, was diagnosed with Menkes disease a week after he was born.
According to the WebMD site, Menkes disease is a genetic disorder of copper metabolism that is detectable before birth (prenatally) and which follows a progressively degenerative path involving several organs of the body, but especially the brain.
It is characterized by seizures, mental retardation, stunted growth, failure to thrive, unstable body temperature, and very unusual color and texture of hair.
A preschool teacher's assistant coming up on her 11-year work anniversary with Goldendale Head Start, Robinson is doing the best she can to maintain a stable household for her sons, Josh and Jeremiah.
Josh has difficulties with his lungs, so any airborne disturbances can trigger issues.
Muscle stability also can provide challenges and keeping his arms and legs stationary to prevent an accident presents another challenge.
"Josh has gone through so much. But, he still brings a smile to my face," Robinson said. "Through all of this, he is the glue keeping this family together."
Robinson still could not grasp the words to show appreciation.
She was there on Sid White Field soaking it all in.
Thursday, under sprinkles and cloudy skies, so many strangers and friends had brightened her day.
Robinson can proudly call everyone who lent a hand – family.
"We're just so thankful and appreciative. This support is so amazing, I cannot put it into words," Robinson said. "It is definitely a blessing to have this happen."
The first order of business for Robinson and Josh, is to organize a trip to Disneyland.
M&M Cookies are first on the to-do list, and then maybe a funnel cake sprinkled with powdered sugar.
"Last time Josh was there, he was young. I know he will enjoy it again," Robinson said. "He will enjoy the food for sure, but he will love the shopping more. He loves to shop. Just the whole shock and awe of Disneyland will just really capture his attention."
For more information on the Pig Bowl, to suggest a name or to make a donation, go to www.pigbowl.net or e-mail the director at pigbowl@gmail.com.
Elements from an article previously written by Victoria Osborne were used in this story.