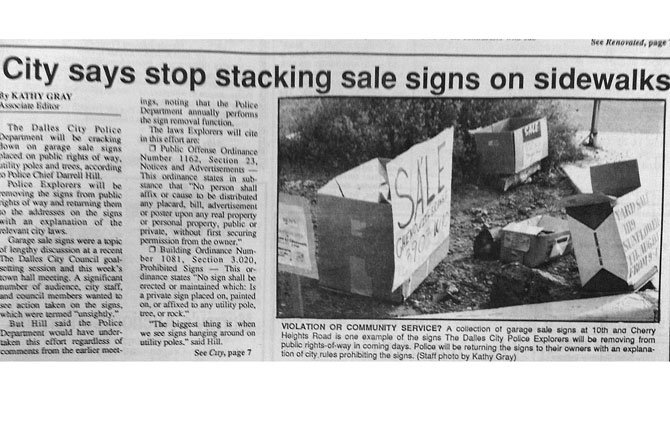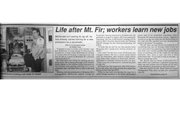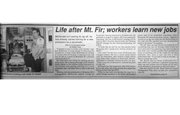 People, not issues, linger in memories of a long journalism career
I stood outside on my last Friday morning as managing editor of The Dalles Chronicle, waiting for The Dalles High School's Homecoming noise parade to thunder through downtown.
I couldn't help thinking it was a fitting conclusion, considering that the seeds of my journalism career sprouted during my stay at that venerable institution.
That's when I read the gripping book, "All the President's Men." I knew about Watergate, of course, after watching some of the Senate hearings that pre-empted much of afternoon television while I was in junior high school. But not until I read the Woodward and Bernstein book did I fully realize the role journalists play as the Fourth Estate, helping to hold government accountable.
It was a high point for journalism, during the same decade that sunshine laws were enacted in many states (Oregon included) to air out the smoke-filled rooms of politics.
I was inspired to get an after-school job with The Chronicle and to join the Tillicum staff my senior year at The Dalles High. A year later, I headed to Portland State University, majoring in political science while working part-time at the Oregonian for a chance to rub elbows with the journalism pros.
My professional life took a few twists and turns, including 10 years in the banking industry in Portland and Seattle, but almost always included some kind of professional writing.
I returned to my first love in 1990, working as a reporter-editor at the St. John's Review followed by the Hood River News.
Not until returning to my hometown in 1991, though, did I find my professional home.
I started in 1991 as a reporter at The Dalles Reminder and was promoted to editor later that year. I continued to report on community events during a brief sojourn into broadcast news at the now-defunct Q104 radio station, then went back to the print world in July 1995, joining The Dalles Chronicle as its associate editor. I've been at The Chronicle, in one capacity or another, ever since. Even during my brief attempt at documentary writing and public relations — doomed by 9-11 (It's a long story) — I continued to do contract writing for the paper.
I've worked with some truly amazing people over the years who stretched my outlook, my understanding and occasionally my patience. Knowing each one of them has been a gift.
Looking back at those old issues from both papers over the last few days, I was surprised to realize just how much government writing I did. I'd hazard a guess that those kinds of stories are rarely the ones that stick in most reporters' minds.
I do remember vividly my first interview with a public official in The Dalles. It was 1991, and this green-as-grass reporter was talking to the also green-as-grass new executive director of the Port of The Dalles, Scott Hege. He talked about his predictions for the future of the industrial lands taxpayers had funded in the 1980s. The community was concerned that the land hadn't already brought more jobs to the area.
Fortunately, Hege's prediction that the port would start to see more businesses within a few years proved true. Today, port lands house about 1,500 jobs, Hege is an elected Wasco County commissioner, and I start working full-time Monday at the Port of The Dalles. To paraphrase "The Lion King," this may be the circle of life at work.
Other stories have circled around more than a few times over the years. The PUD was just finishing up its first small hydropower project at the Port of The Dalles when I arrived to report on them at The Reminder. By the time I started at The Chronicle four years later, they were on their second project at McNary Dam. Today, as I leave, they are working hard to get their third off the ground, again at The Dalles Dam.
I had to laugh when I saw that I wrote a story in my first month at The Chronicle about The Dalles City Council concerns over yard sale signs, and another about water rates. Some things never change.
But those aren't the stories that stay with a journalist, at least not this one.
The stories with staying power are about people, not power plants or sale signs.
I have been entrusted with many such stories over the years. One of my first at The Reminder was a story about the workers at Mt. Fir Lumber in Tygh Valley. Lifelong timber industry workers, they were destined to lose their jobs as a consequence of Northern spotted owl protection and were contemplating the enforced changes that loomed ahead.
In looking back, some stories are bittersweet. David Palmer, a young Civil War re-enactor in 1991, died recently of a longstanding illness. Darrell Hill, then police chief in The Dalles and house parent at the local Attention Home, is today enduring a fatal illness.
Others are a testament to hope and fortitude. Steve Finston, a homeless Vietnam veteran with severe post-traumatic stress disorder, walked more than 50 miles up Mount Hood to raise money for HOPE (HOusing for PEople). A man with huge problems of his own, Finston chose to focus on the needs of others less fortunate.
The strangest story I ever wrote was about young Jesse Andrews. Andrews woke up one day with the sudden ability to compose and play classical music, with a voice he said was an old master speaking in his head. He inspired and entertained many with his music, but endured legal and mental problems soon after. Today he continues to pursue his music.
Most reporters do many stories about people valiantly battling life-threatening disease, but none touched me more than the story earlier this year of T.J. Miles in "Sisterhood of the Barrels," a young mother and barrel racer who remained unbowed despite a battle with breast cancer. The barrel racing community rallied around to make sure she could continue to race, despite her illness. "I forget I'm sick," Miles said of her time in the saddle.
Some stories are just plain fun, like the story I did this year on four generations of the Wagenblast family, who have entered their 4-H creations in the Wasco County Fair for at least seven decades.
I remember an early trip to Salem for "Mr. Perry Goes to Washington," following Bill Perry, a young The Dalles man with political aspirations, who served as sergeant-at-arms for the Oregon House of Representatives. It was an auspicious start to a longstanding political career. Today, Perry is the vice president of legislative affairs with the Oregon Restaurant and Lodging association.
I spent a day with Russ Pishion for "Where the West Begins." Pishion embraced the western life at the end of the pavement and kept a traditional lifestyle alive.
I have been honored over the years to report on people who selflessly work for the betterment of their community, like Lucille and Jim Torgerson, who helped found Habitat for Humanity in The Dalles. When I came to The Chronicle in 1995, I wrote a story on Habitat's second house in progress. In August of this year, I was proud to write a story about their 20th house and their merger with the Hood River area affiliate. Between them, they've housed 25 families.
I've watched the town change significantly over the years I've reported on it: A new middle school and armory have replaced old, decrepit buildings. The Union Street underpass and Riverfront Trail have opened up the river to downtown.
The landscape of The Dalles has changed in so many ways that it would take up more space than I have to count them all.
Throughout my years as a journalist in The Dalles, I've almost always carried an editor's title. It can be a hard title to carry, particularly in contentious times, and has always been an uneasy one for me. I think of myself more as a storyteller and that has always brought the greatest joy in my job.
I'm often amazed when people allow me to tell their stories. They are a precious gift and I've always tried to treat them that way.
I've heard from many of you in the weeks since I announced my departure. Your comments haven't gone unnoticed. I've been touched to be in your thoughts.
Even though I am leaving a role in this community that has been a central part of my life for more than two decades, I've mostly been able to hear and read your words with a smile on my face. It was a difficult decision, but I'm ready to take on a new role in the community and excited about the challenges ahead.
Despite that optimism, one card this week finally broke my composure, speaking to all I have tried to do as a journalist in The Dalles.
It said, simply, "You were always there for us."
Believe me, it has been a privilege.