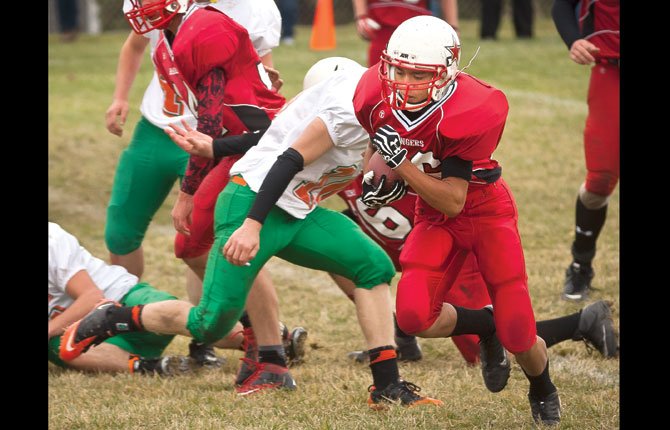 With the starters playing just 10 minutes, Kurt Nuevo and Hagen Pence shouldered much of the offensive load for No. 13-ranked Dufur.
This running back duo combined for 327 yards and four touchdowns, as the Rangers jumped ahead 58-0 at the half on their way to a lopsided 66-22 triumph over Mitchell/Spray Friday night in varsity football play in Mitchell.
"Nuevo and Pence both had really good games," said Dufur head coach Jack Henderson. "Those two are providing us with depth in the lineup to where we are not having the same kids carrying the ball all the time. If someone does get nicked up at all, we are developing more depth than we have in a long time."
Sparked by an interception by Nuevo on Mitchell's opening possession, the Ranger got on the board early in the first quarter on a 50-yard strike from Bailey Keever to Trever Tibbets.
Nick Little tacked on a 27-yard run, Jake Little hauled in a 12-yard scoring pass from Keever and Pence reeled off a 25-yard scamper to make it 30-0 midway through the opening frame.
Tibbets then strolled in from 26 yards, and next, Pence capped the frame with a 20-yard surge to swell the lead out to 44-0.
Staked to that huge lead through the first 12 minutes, Dufur notched another two touchdowns in the second quarter.
Nuevo hit paydirt on a 10-yard jaunt, and then Kolbe Bales scrambled to the end zone from 11 yards out to make it 58-0.
Travis Lucas chipped in with the two-point conversion to make it 6 for 8 on conversions in the opening stanza.
Up by a 60-14 margin in the fourth quarter, Nuevo plunged in from three yards away to make it a 66-14 contest.
Mitchell/Spray finished the scoring on an interception return for the final score of the game.
All told, the Rangers racked up 539 yards of offense with 134 of those coming through the air on 10 of 19 attempts.
"We didn't throw the ball a lot and when we did, it was very efficient," Henderson added. "Our offensive line is protecting really well and Keever continues to develop and is turning into a very good quarterback. We have five or six kids who can catch the ball and do some good things on offense."
Nuevo rushed for a career-high 202 yards on 16 carries to go with his two touchdown runs.
Pence followed up that effort with six totes for 86 yards and two touchdowns.
The freshman also had one catch for 39 yards.
Tibbets had two carries for 79 yards and one grab for 50 yards, Nick Little was good for 32 yards and Jon Keyser had one rush for six yards.
Keever completed 5 of 7 passes for 106 yards and two scores.
Dufur (3-1 overall, 2-0 league) hosts Perrydale (3-1) at 7 p.m. Friday for homecoming.