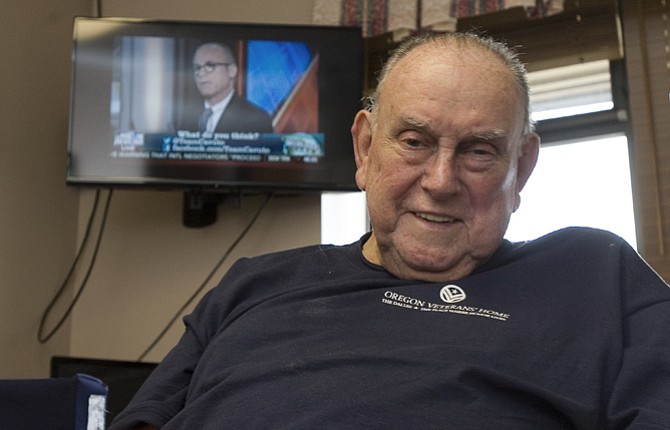 Dallas Swafford and an administrative team are moving on several fronts to meet generational needs at the Oregon Veterans' Home in The Dalles.
"Vietnam veterans are our fastest growing population and they want to be on the move," said Swafford, who serves as program director.
The pool table in Jean's Room at the home, 700 Veterans Drive, is popular with the Vietnam-era crowd and Swafford's team is planning a physical therapy court, as well as a putting green and raised gardening beds.
"We want to expand recreational opportunities so that these veterans can be active because we're pretty rural out here and there are not a lot of places for them to hang out," he said.
To welcome a new generation of veterans, Swafford is having staff learn about the Tet Offensive, one of the largest campaigns of the Vietnam War, and other notable moments from that period of history.
He is hoping to increase the volunteer force to provide Vietnam veterans, who come from many locations, with more opportunities to be part of the local community.
At the same time, aging Korean and World War II veterans are needing entertainments closer to home, said Swafford.
So the OVH team has arranged for televisions to be mounted in the room of each resident, instead of requiring them to go into a common area of Alpha, Bravo, Charlie and Delta wings.
That suits John Alger, 79, an Army veteran from the Korean-era. He has lived at the home since October 2013 and said there was sometimes conflict over what to watch in a group setting.
"It feels more like home now," he said. "It's neat."
Always focused on ways to improve conditions for the 130 residents under his care, Swafford and his team are expanding opportunities for the 21 experiencing dementia, a broad category of brain diseases that cause a long term and often gradual decrease in cognitive thinking skills.
Work is currently underway to reconstruct a patio in the Memory Unit of Delta Wing to provide more of a sensory experience. A concrete pathway will edge pockets of fresh green grass so residents can go barefoot if they wish.
They will also be able to enjoy a completely naturalized setting because the security fence will be screened by landscaping.
"The view is so nice from here and it is very quiet and peaceful," said Swafford.
Inside the Memory Unit, an almost magical moment awaits in the multi-sensory room.
The ceiling of the room is covered with twinkling stars and on the walls fish swim merrily through the sea – a nice accompaniment to the mournful calls of whales.
There are long glow sticks for the residents to handle and water features that also draw the eye. A person doesn't know where to look first – and that is the idea behind the attractions.
"A resident who is upset or having trouble winding down can experience so many things in here that he or she leaves tired enough to relax," said Swafford.
He said both the garden and multi-sensory room are designed to put residents in the mental state to remember important events in their lives.
Down the road, administrators want to see individual rooms at the home to provide residents with more privacy.
He said the facility has the best possible view on a 15-acre setting that overlooks the Columbia River Gorge.
But the home, which opened in 1998, is in need of a facelift and it is time to replace some of the worn furniture and repaint scuffed walls.
"Our motto is 'The Place Where Honor Lives' and we need to reflect that," said Swafford.
People interested in volunteering, or learning more about OVH programs, can call 541-296-7190.