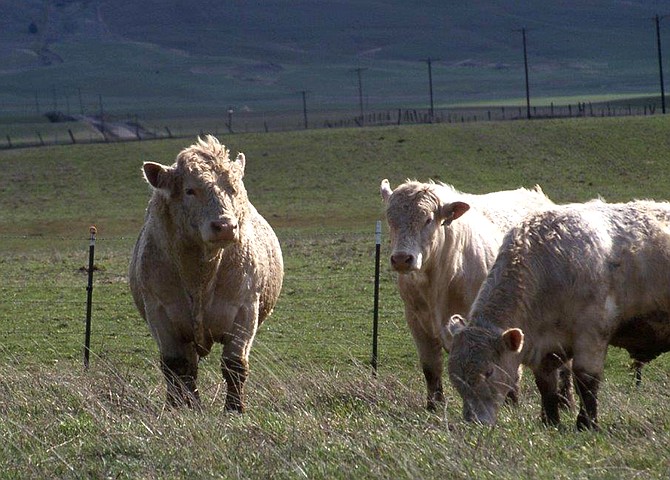 Wasco County business owners, residents and ranchers going on next week's Bull Tour — back after a 10-year hiatus — will be able to see what a Canadian Gray Wolf looks like and learn how a livestock kill should be handled.
Sandy Macnab, Oregon State University extension agent for Sherman County, said Lori Butterfield, a rancher from Joseph, will display a mounted wolf Friday, April 10, at the Wasco County Fairgrounds at Hunt Park in Tygh Valley.
"People will be able to see the actual size of these predators," said Macnab.
The cost to join the tour, which begins 8:30 a.m. at the fairgrounds and will travel caravan-style to four locations, is $45 dollars. The price includes lunch and dinner with proceeds being used to support North Central Livestock Association programs.
"This has been a great program because business owners and public officials have an opportunity to learn more about the agriculture industry," said Macnab.
The wolf discussion takes place at the end of the all-day tour. Butterfield will be accompanied by Todd Nash, also a rancher from Joseph, who chairs the Oregon Cattlemen's Association Wolf Committee. They will share information about how the state's wolf recovery program is working from the perspective of cattle owners.
Jeremy Thompson, a biologist from the Oregon Department of Fish and Wildlife's office in The Dalles, will also be present to talk about how a wolf kill scene should be dealt with.
Under state law, these incidents have to be handled like a crime scene investigation in order for livestock owners to qualify for compensation. Ranchers are eligible to recoup losses if law enforcement and wildlife officials confirm the kill was caused by a wolf.
Wolves reintroduced into Idaho in 1995 began finding their way over the border into Oregon several years later and the state now has nine established packs. On the east side of the state, wolves arnumerous enough to have been delisted as an endangered species by U.S. Fish and Wildlife and the population is now managed by ODFW.
There are now enough breeding pairs of wolves for the state to consider de-listing the animal — a review of the wolf management plan takes place this year — but conservationists want the number higher before protections are lifted.
ODFW allows hunts under limited conditions but a "no-kill" order is in place for the western side of the state, which is still under federal jurisdiction.
Last year, Wasco County formed a wolf compensation committee to qualify for state compensation funds and Sherman County is in the process of forming a committee.
The bull tour begins at the fairgrounds with a discussion of embryo transplants, artificial insemination and other production-related issues.
People in attendance will then depart for the Mankie Road ranch of Rory Wilson in Grass Valley.
He is the new president of the livestock association that serves both Wasco and Sherman counties.
Stop three will be the Imperial Stock Ranch on Hinton Road near Maupin that is owned by Dan, Jeanne and Blaine Carver. After a study of their herd bulls, a lunch catered by the Imperial River Company will be served.
Once the group has eaten, the caravan continues to Dillon Land and Cattle Company property on Oak Springs Road, about 10 miles northwest of Maupin.
Keith Nantz, business partner and general manager of the operation, will discuss the Adopt a Farmer program and other efforts being made to raise public awareness about the job of growing the nation's food.
In the U.S., food producers make up less than 2 percent of the total population.
Nantz just completed his two-year term as president of the livestock association and is seated on Wasco County's Wolf Compensation Committee. He also advocates for ranchers on several state and national committees.

At Dillon's holdings, a weight guessing contest for a bull takes place. Entries cost $5 each and people can make as many estimates as they please.
After returning to the fairgrounds for the discussion of wolf issues, about 3:30 p.m., people will judge the best cow-calf pair. Any rancher can enter up to two pairs for a fee of $30 each.
The Best Pair competition is being organized by Leo Baptiste of Grass Valley and entries must be arranged today, April 3, by calling 208-631-4904.
The day ends with a tri-tip roast dinner at the fairgrounds, once again catered by the river company.
To ensure that there are adequate servings for everyone, Macnab asks people to sign up ahead by calling 541-565-3230 or emailing sue.mabe
@oregonstate.edu or sandy.macnab@oregonstate.edu. Credits cards are accepted.
Macnab said the bull tour took place 56 years before going into a hiatus. He said county extension agent E.M. "Al" Nelson started the program after being asked to judge the fitness of a rancher's bulls, which caught the interest of neighbors who also wanted their stock evaluated.
The ranchers began exchanging wagers over who had the best bull and everyone had such a good time that Macnab said they decided to do it again the next year -and a tradition was born. He said interest in the tour had died down by 2005 but has revived with more active membership in the livestock association.
Beef production in Wasco County is estimated by OSU to feed $7 million back into the local economy each year.