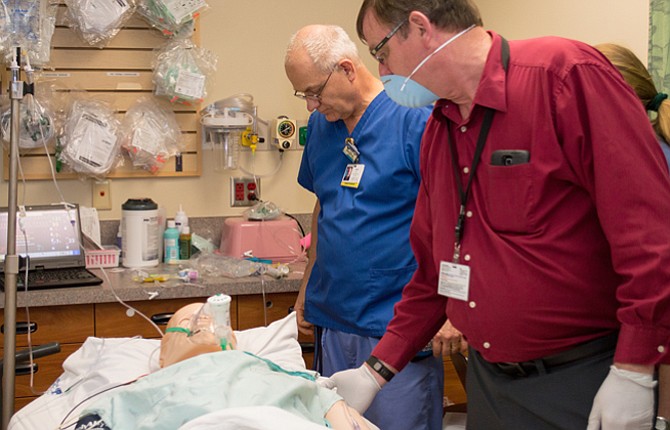 Proving its importance and timeliness, as Mid-Columbia Medical Center staff recently trained on quickly recognizing and treating sepsis, a potentially deadly infection, two real cases of it came into the emergency room.
And the sophisticated medical mannequin they used made their training experience as close as possible to the real thing going on in the nearby emergency room.
A trainer stashed in the corner of the emergency room provided the mannequin's voice – broadcast through the mannequin itself for more realism – as he described chills, cough, chest pain and difficulty breathing to ER staff, while gradually getting weaker.
The mannequin can cry, pee, sweat and vomit, though it didn't do any of those for this training. But it did produce the rapid heart rate and breathing, and rattling chest sounds to match his precarious condition.
Key goals of the training were: utilizing a computer-based decision-making tool to identify and treat sepsis; getting treatment underway within three hours; and ensuring communications were clear and respectful among staff and with the patient and their family.
Trainers lauded MCMC staff for their clear communication, which is crucial to patient safety. A key to that, a trainer said, is "peer checking" that doesn't set anyone apart, not even doctors, as superior.
"Overall, what we've seen in the past few days has been absolutely phenomenal communication compared to what I've seen" elsewhere, said Dave Varnes, a trainer with Healthcare Performance Improvement.
In sepsis, an untreated infection that might have started out as a skin or bladder infection triggers a diffuse inflammatory response in the entire body, leading to the potential for organ failure and even death.
It's the ninth leading cause of disease-related death in the U.S., and the average length of hospital stay is nine days, said Dr. Dale Reisner, a trainer with medical simulation training company Insytu.

The hospital had 105 cases of sepsis last year, just a tiny fraction of the over 15,000 cases that were seen in the ER. But that is what makes training important, because staff have little regular exposure to it, said David Stone, director of emergency services.
Sepsis can happen to anyone – and that's also why the hospital chose to train on this particular issue – but it more common with older people and diabetics, due to their weaker immune systems, said Reisner.
Rapid detection of sepsis is proven to save lives.
"Being able to clearly identify someone is septic is the key," she said, and quickly getting them on fluids and antibiotics is critical.
She said diagnosing sepsis is tricky because "It can mimic a lot of different things."
In nine training sessions over three days earlier this month, 63 emergency room doctors and nurses, plus lab techs, pharmacists, x-ray techs and respiratory therapists were trained.
It was a significant training session that took months to plan, involved two training companies, and was observed onsite by five other hospitals.
Set up in emergency room No. 4, the mannequin – who got a new name from each group of trainees, ranging from Sally Simulation to Fred Fragile to Mary Mental – had pulses in all the places a normal body would have pulses.
The trainer providing the mannequin's increasingly weak voice, also sent its breathing rate, heart rate and temperature to elevated levels, all potential signs of sepsis.
The "patient," a 68-year-old man, told nurses he hadn't felt well for a week, and for the last day or so he said it was hard to breathe and his chest hurt when he coughed, which produced green and yellow "junk."
Because he had chest pains, they "ordered" an EKG to rule out heart problems, and because of his fever and cough, they ordered a chest x-ray to rule out pneumonia, and also gave him a breathing treatment.
Mannequins are increasingly commonly used in medical training, and the personnel credibly interacted with the mannequin as a real patient.
The entire training – a pre-briefing, the hands-on training, and a post-briefing – were all videotaped and fed live to a nearby classroom where observers from other hospitals and a local reporter were seated.
Personnel used a "decision tree" in their computer system to help diagnose sepsis.
The sepsis tool had sequential steps that could be followed – focusing on high or low temperatures, low blood pressure, suspected infection and altered mental state, among other signs — to confirm or rule out sepsis.
The 20-minute hands-on portion of the training condensed what would normally happen over three hours.
Magically gone were the normal wait times for lab results and the arrival of imaging machines and the like.
The "patient" started to slur his words, causing one nurse to say, "I think his mental status may be changing a little bit." Then he complained of feeling sleepy, and then stopped being responsive at all.
Keys to treating sepsis once identified included quickly getting patients on antibiotics and providing plenty of fluids.
The mannequin company, Seattle-based Insytu, brings the training to hospitals. "It's invaluable to do it in the place where they work all the time," Insytu's Dr. Reisener said. "It's the real people in their real roles in their real environment."
"It's a lot of work to get ready for this, and the hospital is really committed to care to bring a team like us here," she said.