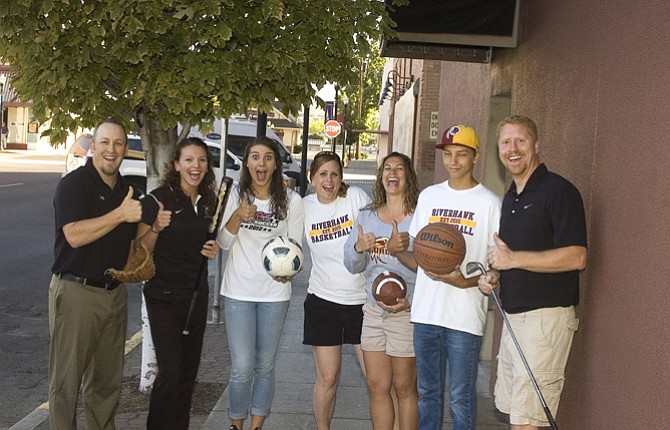 Athletes and coaches at The Dalles High School will be getting a big boost this fall from a newly formed booster club.
It has been a long time coming.
"We talked about starting the booster club three years ago, but it didn't happen," said Daniel Bonham, who was instrumental in the organization's creation and currently serves as treasurer.
"It came up again this year when we were contacted by the Education Foundation. They wanted to know if we were still interested in getting this going. We were.
"Our kids are not being supported in the community the way they are in other communities."
The lack of community involvement is easy to spot, he added.
"It shows at the games. When we were playing sports, the stands were packed. Today they aren't."
The Dalles Booster Club's stated mission is to "encourage excellence for all students involved in athletic activities, stimulate a positive community image, and to promote student health and a healthy competitive spirit at The Dalles High School by providing resources and promoting parent and community involvement in a strategic partnership designed to enhance the development of all the athletic activities."
"Our first mission has been to find corporate sponsorships," said Daniel Bonham. It isn't just the donations, it is getting them involved, providing them with game passes. "We are trying to connect the community to the high school. We have had some fantastic teams, some fantastic squads."
"Also, we are trying to overcome the transition from being the 'Indians' to being the 'Riverhawks,' said Lori Bonham. "Our biggest need is new Riverhawk uniforms."
In the past, each team had to go door-to-door, fundraising for uniforms. "We feel the coaches should concentrate on coaching, the athletes on grades and performance," she said. "We want the booster club to take on that fundraising role."
Instead of fundraising, coaches will request what they need, and the booster club will raise funds to supply those needs.
The TDBC will support over 300 students involved in athletic activities at the high school.
The biggest challenges is that they are starting with a zero balance, said Daniel Bonham.
"This really will have to be a community effort," he added. "We will only be successful if the community steps up and supports us, with dollars and volunteer support."
"Our student athletes are tremendous ambassadors for The Dalles and ought to be uniformed accordingly," said Lori.
TDBC is also considering financial support of other capital projects, including field maintenance, scoreboard refurbishment, seating rehabilitation and replacement and upgrades to concession stands.
Sponsorship opportunities include a variety of packages, including Conquistador del Cielo (Conqueror of the Sky) — $6,000; Wings Society — $2,500; Gold sponsor — $1,500; Crimson Sponsor — $1,000; Riverhawk Proud — $500; Junior Riverhawk — $250; Booster All Sports pass — $100; Booster Club membership — $25. Except for the All Sports pass and Club membership, each level of sponsorship from Riverhawk Proud to Conquestador del Cielo offers a rising scale of advertising opportunities and company promotion.
The TDBC is a 501c3 nonprofit organization, organized under the auspices of the Education Foundation of the North Wasco School District #21. All contributions are tax deductible.