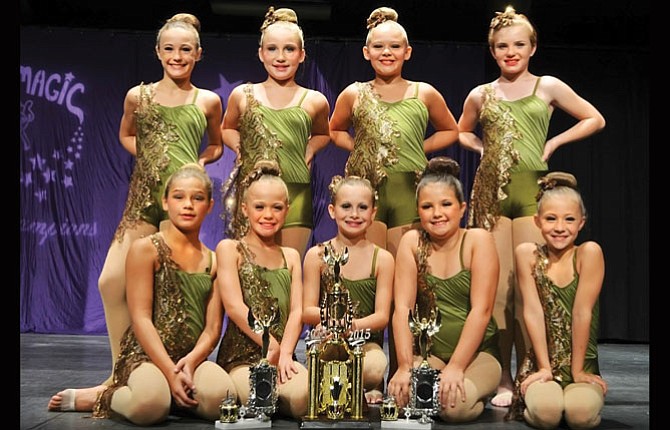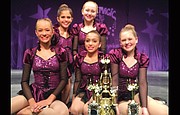 Working hard on their craft for hours on end through the summer, The Dalles Dance Club Academy had a chance to shine at the Dance Magic Grand Championships ending Aug. 4 at the Seaside Civic and Convention Center.
And shine they did.
While facing top dancers from all over the Pacific Northwest, including Oregon, Washington and Idaho, the Beginning and Intermediate groups both ended up earning the highest scores out of all the groups.
Hannah Kortge was recognized by the judges for her stage presence and Aidan Telles picked up a judge's award for his hip hop performance.
For the past six months, TD Dance Club Academy choreographer and director Kristi Maley has been in the trenches with her group in an effort to get them in top form for an in-depth summer session of dance, changing and perfecting routines.

"I was so excited at how well the kids competed and how hard they practiced this summer," Maley said. "I was really impressed with all my dancers. This was a great competition for us."
In the beginning division, receiving a first place award in tap and first place in jazz was Sophia Bucher, McKenzie Barrett, Tygh Timinsky, Ava Malcolm, Jayden Hansen and Bridget Donnell.
Also in the beginning division, McKenna Strain, Katelyn Vassar, Tora Jo Timinsky, Madison Malcolm, Vivian Harrah, Hayley Peterson, Allie Masterson, Madison Stembridge and Ahnikah Rubio danced their way to first place in tap, first place in jazz and ended up as the highest scoring group in the beginning division.
Maley was floored by the end results put forth by the beginners.
"I am really proud of my younger group for working so hard that they were able to accomplish so much," Maley said.
Meli Avila, City Mains, Kamrey Fransen, Lorelay Berry and Kortge received first place in tap and jazz, and wound up as the highest scoring group in the intermediate division.
Kortge received first place for her solo performance, and the tandem of Berry and Mains received a first place in their duo.
Maley had nothing but high praise for her intermediate group because of their technique.
"I am so proud of the kids and their professionalism on stage," Maley said. "We make a lot of changes before the competition and to not only remember everything but go out and execute it flawlessly is really impressive at such a young age."
Dance Magic is an annual dance competition featuring all forms of dance.

The dancers all had to previously qualify at a regional competition to be eligible for these championships.

The end result was several first-place awards.
In the junior division receiving a first place in tap and a first place in jazz were Telles, Nathan Nanez, Evan Despain, Sophia Pullen, Willow Drake, Sydney Rains, Addie Klindt, Jordyn Hattenhauer, Anna Singhurst, Brooklyn Bate, Gillian Wolf and Ella Morgan.
Telles and Pullen each received a first place award in their hip hop duo routine, and the twosome of Jordyn Hattenhauer and Anna Singhurst received first-place recognition in their jazz duo.
"I really liked how the kids went out there and put their nerves aside and just had fun and gave a great performance," said Maley.
Crysta Harris, Abbey Helseth, Abby Mains, Jessika Nanez, Tianna Smith, Madison Richardson and Kendyl Kumm shuffled and moved their way to third place in the accelerated advanced division.
In the accelerated tap division, Ale Pena, Lauryn Despain, Chance, Taylor Sugg, Schanno, Abby Mains, Abbey Helseth and Jessica Nanez earned first-place status, and both Pena and Sugg chalked up first place in their hip hop duo event.
In the accelerated advanced jazz division receiving first place were Pena, Sugg, Despain, Keagan Rice, Delaney Schanno, Sydney Langer, Lillia Chance and Lilly Ley.
"To be a successful dance participant, it takes lots of hard work from everyone," said Sugg, an incoming The Dalles High School senior. "Everything has to be perfect from your forms, spacing, projection, and facial expressions. We worked many hours perfecting our routine, and it paid off."
Maley announced that there are spots still open for competitive and non-competitive classes at The Dalles Fitness and Court Club for boys and girls from ages 3-to-19.
The Dance Club offers tap, jazz, tumbling and cheerleading, in some competitive and non-competitive classes.

For more information you can go to the front desk of The Dalles Fitness and Court Club located on 731 Pomona Street West, call 541-298-8508 or email kristi.maley@gmail.com.

Fall dance classes begin the day after Labor Day on Sept. 7 and runs continuously through May of 2016.