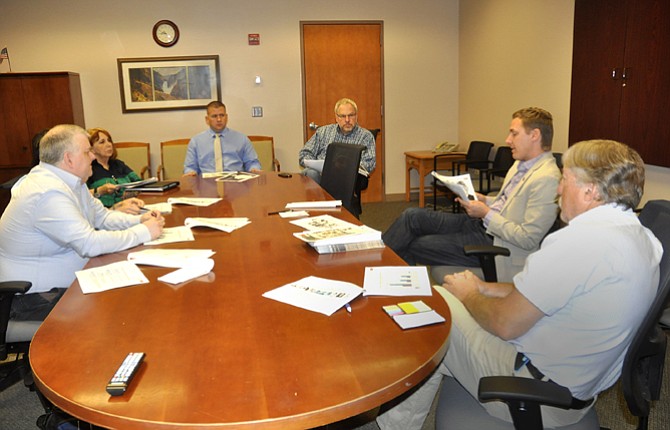 Cameron Smith, director of the Oregon Department of Veterans' Affairs recently visited The Dalles to praise local officials for developing a model of veteran care that is now being promoted statewide.
Jean Maxwell, volunteer coordinator for the Wasco County Veterans' Service Office, is even mentioned in Senate Bill 89 for her "trailblazing role" as a recruiter.
The measure creates the basic structure for all 36 counties in Oregon to utilize the help of community members to fill service needs and keep overhead costs down. "It takes that one person to do it and stay at it, and that's what Jean's done," said Smith during the June 27 meeting at the Oregon Veterans' Home.
In attendance was Dallas Swafford, program director for OVH, Wasco County Commission Chair Scott Hege and County Commissioners Rod Runyon and Steve Kramer.
Also present was The Dalles City Councilor Linda Miller; along with Wasco County Veterans' Service Officer Russell Jones and Patrick Wilbern, assistant service officer.
In a follow-up interview, Jones said state leaders initially objected to having an office primarily staffed by volunteers because of the potential to violate federal privacy laws related to health care.
"They didn't want volunteers having anything to do with veterans. They didn't even want them at the front desk," he said.
However, Wasco County officials needed to keep operational costs down at the 201 Federal Street office so Jones could work full-time and Wilbern could be brought onboard.
The key to expanding services, said Jones, was to have the front desk manned by volunteers, which Maxwell set out to do.
She brought 22 volunteers onboard and these individuals underwent a criminal background check and received training about confidentiality laws. Two volunteers were subjected to a more extensive background check and given additional security training. They have been allowed to file and archive client records.
Local volunteers provide a total of about 300 hours of service each month.
That allows Jones and Wilbern concentrate on processing claims for benefits and compensation.
As a result of the program, 70 percent of area veterans have been able to get a successful resolution to a claim, as opposed to the national average of 45-50 percent.
"When we built up the program, ODVA was able to see the benefits," summarized Jones about state recognition of Wasco County's success.
Runyon said SB 89 came about after Maxwell visited Salem in January of 2014 to report on the county's practices.
At that time, he was vice-chair of the Veterans Committee of the Oregon Association of Counties, which he now co-chairs.
Not only did Runyon and Maxwell brief state legislators about what was happening at the veterans' office, they provided information about the development of other programs for military families.
Interested to learn more, Smith and an entourage of state and federal officials visited The Dalles in April 2014.
They toured OVH, the medical and mental health clinic for veterans, the memorial at Kelly Viewpoint and the training center for National Guard soldiers. Maxwell made sure everyone had a hot lunch of homemade chili and cornbread.
"That tour kicked off other tours around the state – but there was no chili or cornbread," said Smith at last week's meeting. "Hopefully, we've also kicked off other volunteer efforts."
He was spending the 70th anniversary week of ODVA visiting with officials around Central and Eastern Oregon to learn more about their areas of concern.
"Never before have we had four generations of veterans across five major wars," he said.
According to Smith, one-third to one-fourth of the population in rural Oregon are veterans and 60 percent are over the age of 60.
There are more than 322,000 veterans in Oregon and the fastest growing demographic are women.

"We have to meet a lot of unique needs," he said. "Our counties are boots on the ground."
He said veterans play a big role in economic development within the state because millions of federal dollars for compensation and benefits are being circulated in Oregon communities.
According to a report from the U.S. Department of Veterans Affairs, more than $91 million per month in payments were made to 61,869 Oregon veterans in 2013, the last year for which numbers are available.

More than $138 million in federal veteran education benefit dollars were spent in Oregon in 2013.
That same year, 96,190 Oregon veterans had access to VA healthcare, and more than $959 million was spent for those services.
Jones said the average VA payment to veterans in Wasco County is $2,500 per month.
Smith said only one in three veterans in Oregon currently accesses their benefits, so greater outreach is needed.
"We know there are still big gaps and challenges," he said.
That support is crucial, said Smith, when one in every four suicides in Oregon is a veteran. He said communication between the local and state levels of government is key to finding solutions for this and other challenges.
"We need to make sure the state and counties are working in synchronism and not in opposition," he said.