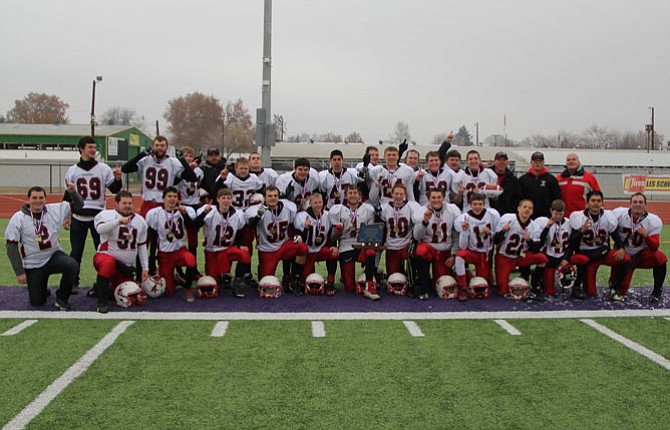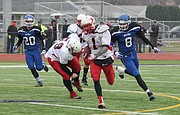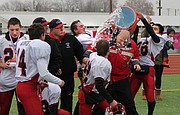 HERMISTON—After back-to-back come from behind wins to get to the state championship game, Dufur head coach Jack Henderson felt the Rangers were destined to bring home the Class 1A title Saturday.
He was right. But it wasn't easy as Dufur took a 12-point lead in the fourth quarter at Kennison Field and held on to defeat Crane 36-32 to win the school's seventh state championship.
"You feel like you have that momentum and the support from our community this year, I'm going to say is the best we've ever had," Henderson said. "I almost strangely felt before the game that if we didn't win I was concerned that we'd let a lot of people down."
The first three quarters went back and forth with each team answering the other's score.
But with the Rangers leading 28-24 with 6:16 remaining in the game and Crane just 30 yards from the end zone, Dufur's defense got a much needed turnover when Zach Christiansen stripped Mustangs quarterback Jack Bentz and Curtis Crawford recovered.
Dufur quarterback Bailey Keever then ran 58 yards for a touchdown to go with a two-point conversion to Kolbe Bales to stretch the lead to 36-24 with 5:53 left to play.
"Bailey took a broken play and turned it into gold and turned it into a state championship really," Henderson said.
Crane added a touchdown with 3:21 remaining but Dufur freshman Tabor McLaughlin recovered an onside kick and the Rangers were able to run out the clock.
"The kids bought into the whole we're going to get better every day thing and they kept getting better every day," Henderson said. "We had amazing wins throughout the playoffs. The whole Yoncalla thing where we were down 14 with just over a minute to go and beating them. It was just an amazing, amazing season. Our kids are just battle tested and hardened and unfazed by being behind in games and that's just a huge thing and Crane is a great football team and we made enough plays and forced turnovers late to beat them. It's just an amazing, great story."
Keever, who was named the Moda Health Player of the Game, had 24 carries for 159 yards and a touchdown. He was also 6 of 9 passing for 73 yards and three scores.
"Bailey is amazing," Henderson said. "Outside of his physical play, he's a great leader. He's really the glue that brought the whole thing together."
Crane had 287 yards rushing on 80 carries and passed for 96 yards.
"They actually threw less in this game than any tape that we'd seen on them all year and we had pretty much every tape," Henderson said. "Both teams were having success running the ball."
Dufur got the ball first and marched 66 yards in 4:08 to take an early 6-0 lead. Keever connected with Bales for a 10-yard touchdown but the two-point conversion was no good.
Crane also scored on its first possession as David Steeves got into the end zone on a 4-yard run. The Mustangs made their two-point try and led 8-6 with 2:42 remaining in the first quarter.
However, that lead didn't last long as Keever returned the following kickoff 78 yards to give the Rangers a 12-8 advantage after another two-point attempt failed.
Dufur and Crane again traded touchdowns in the second quarter. The Mustangs scored a 1-yard run by Bentz while Bales caught a 22-yard pass from Keever.
The Rangers also finally made their two-point try after two failed attempts in the first quarter.
"We just didn't block very well and probably didn't call the right plays on those," Henderson said. "Obviously those are huge in a game like that and Crane was getting their two point conversions and we weren't. We threw it more down there. It was difficult to run."
On defense, Keever, who finished with 20 tackles, then forced and recovered a Crane fumble and Dufur went into halftime with a 20-16 lead.
With 4:47 left in the third quarter, Crane took its last lead, 24-20, on a Bentz 1-yard run and successful two-point conversion.
The Rangers didn't stay down long as Keever connected with Crawford for a 14-yard touchdown. Keever then ran in the two-point try to give Dufur a 28-24 lead with 44 second left in the third quarter.
The Rangers never trailed again and now have more state championships than any program in 1A.
The title didn't come easy. Along with dramatic wins over Yoncalla and Perrydale in the state quarterfinals and semifinals, Dufur had to overcome a two-game losing streak and injuries early in the season to even get into the state playoffs.
Playing Arlington/Condon on Oct. 8 with their third string quarterback, freshman Derek Frakes, and without three other starters, the Rangers won 14-6 to end the skid and ultimately finish third in the Big Sky League.
"We didn't exactly set the world on fire over the next couple of weeks but by the time the playoffs started, I thought we had a chance and obviously we did," Henderson said. "We were eight points away from not going to the playoffs, essentially."
Dufur won its first state championship in 1994 and its last in 2006, before Saturday.
"There was a drought but we felt coming into the season that we would have a chance to win it, really, if we improved, and then we had the injuries," Henderson said. "But that ultimately made us better just because other kids had to do stuff during that time. It's just a great story of a group of kids coming together and the community coming together. The support we had this year was phenomenal."
The Rangers, who got contributions from many freshmen and sophomores, graduate only five seniors—linemen Christiansen, Steven Bailey, Jon Keyser and Alec Smith as well as defensive back Kurt Nuevo.
"We have kids coming back and I feel good about that," Henderson said. "We've got to get in the weight room and get bigger and stronger but we have kids that will plug in nicely. The seniors made a huge contribution to our football program and that's going to be our challenge next year, finding people to fill those holes up front. If we do, the Rangers should be competitive."