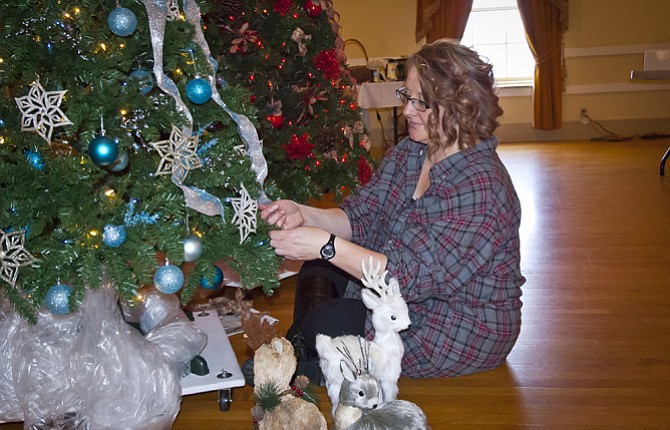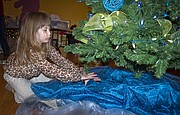 The 20th annual Festival of Trees is Friday, Dec. 4, at the The Dalles Civic Auditorium. Doors open at 6 p.m. for this 21-and-over event benefitting the Celilo Cancer Center Fund and Breast Health for Strong Families program.
The presenting sponsor for the event is Columbia State Bank.
Tickets are $10 and can be purchased online at the Mid-Columbia Medical Center website or by calling 541-296-7275.
Those attending are encouraged to dress up in holiday attire.
The evening begins with a silent auction and hors d'oeuvres at 6 p.m. There are 13 items available in the silent auction, said Anne Copper, project coordinator for Mid-Columbia Health Foundation, which coordinates the event.
"We don't let the silent auction get too big," said Copper. "We don't want to distract from the tree auction."
She said the silent auction is a great way for businesses or individuals to take part in the cancer fundraiser without actually decorating a tree.
The main event begins at 7 p.m. and involves a live auction of 28 fully-decorated trees with auctioneers Rocky Webb, David Griffith and Shawn Wilkinson.
Most trees are decorated on a theme.
"It's really fun to see," said Copper, who has worked with the event for 10 years. "Every year, the trees are so different and unique." She said spirited rivalries between tree decorators — all in fun – develop from year to year as well.
This year's trees will be as unique and creative as ever, judging from the many trees undergoing transformation in the Civic ballroom Wednesday afternoon in preparation for Friday's event.
Cheryl Elton of Urness Motors was there working on not one tree, but three.
"Last year I only had a week to do it.
This year, I had more time to plan and think about it," she said.
One tree is an angel that spins and glows from within — another is made up in burlap and red for an old-fashioned, traditional Christmas — and a third is done in black and silver for a night on the town Christmas.
Elton has enjoyed getting involved in the festival.
"It's definitely a lot of fun, and it helps a really great cause," she said. "You try to outdo yourself every year. And it's fun seeing what other people are doing."
Nearby, a glittering tree was being prepared by Anna Bean of Anna's Floral and Events of Goldendale, Wash., with help from her daughter Jackie, 6, who crawled around the tree's base, adjusting a drop cloth.
"She is my assistant at all of my events," laughed Anna. This is her first year doing the event in The Dalles.
Following the auction on Friday, trees can be viewed Saturday, Dec. 5, 9 a.m. to noon during the free Community Day, sponsored by Fred Meyer.
Riverside Gymnastics will be on site selling hot cocoa for $1 a cup, and Santa will be accompanied by Kiwanis volunteers, who will take photos at $5 apiece, a benefit for the Kiwanis reading program.
Joe Dodson and her daughter, Nina Kruckenverg, were also busy decorating their tree Wednesday.
Dodson, 92, decorated three trees as a Red Cross volunteer back when the festival first began in 1995.
At that time, the event was a community fundraiser for the American Cancer Society. Fighting cancer is big thing for Dodson, who said she lost two brothers, two sisters and a son to the disease.
She enjoys the festivities of the season, as well.
When the event got too big for the community group to handle, back around 2005, the event was picked up by the health foundation.
Like every year for the past 20, Dodson will be among those attending the auction and community day events.
"I enjoy the whole thing, we come to all of it," she said, deftly working a Christmas ornament among the branches of her tree.
"I'll be 93 in January, so I won't be 92 much longer. Life is good."