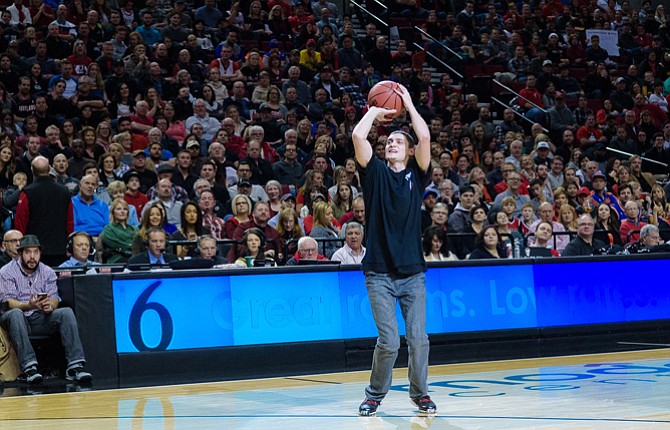 Ron Prominski, The Dalles, had been to over 30 Portland Trail Blazer games but he'd never quite had an experience like Saturday night's.
And it had nothing to do with the actual game played in the Moda Center.
Prominski was standing in line with his girlfriend, who wanted to buy a Damian Lillard jersey for her son, when someone asked if he wanted to participate in a 3-point contest.
Prominski, who grew up playing basketball and was on his high school team in Klickitat, signed up, not knowing exactly what he was getting into.
He didn't realize the contest would take place on the court or that he'd walk out of the same tunnel that Lillard and the other Trial Blazers had earlier. But that is where Prominski found himself at the end of the first period.
"The whole first quarter I wasn't really paying attention because I was thinking about it," Prominski said of the 3-point contest, which turned out to be a free throw contest.
During a timeout in the second quarter, Prominski walked on to the court for the Pyramid Brewing Shot, just he and an announcer in front of 20,000 people. Prominski had 30 seconds to make as many free throws as he could. Each made basket was worth $10.
While he got off to a rough start, Prominski quickly settled down to make seven free throws.
He won a $70 gift card for Pyramid Brewing Company in Portland.
"I was kind of nervous so I airballed the first one," Prominski said.
He had one last 3-point shot to try to triple his money.
"It was pretty close but I missed that one," he said.
Prominski, who turns 25 on Friday, works at Airco Heating and Cooling in The Dalles.
He's a diehard Trail Blazers fan, even more so now.