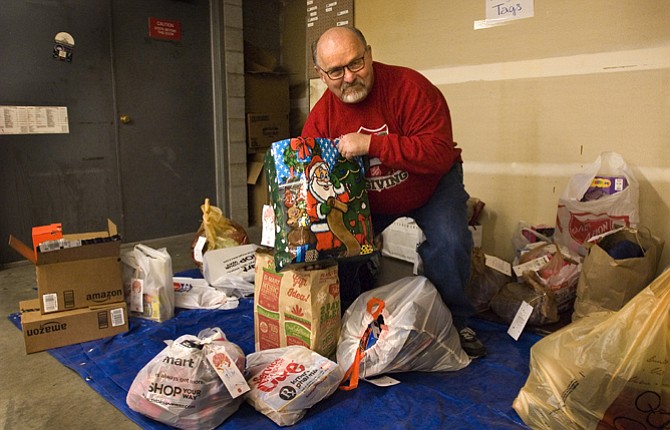 On Monday, Dec. 21, hundreds of parents will be arriving at the Salvation Army in The Dalles to pick up presents for their children and food boxes for their Christmas meal.
With 550 kids relying on him for Christmas presents, Salvation Army Corp. Officer Major Ron Wildman is getting a little nervous.
Area residents have been selecting tags with children's names on them from "Angel Trees" hosted by area businesses in over a dozen locations, and the gifts have been slow to come in. "Some people take the tags, but don't get the deadline," Wildman explained. "If we don't know whether it's coming or not, we have to go buy the toys."
In past years, 70 or 80 percent of the tickets would have already been filled: This year, only 20 percent are in hand.
Adding to his holiday stress is a reduction in donations at the Army's kettles, the iconic red collection buckets manned primarily by bell ringers hired for the holiday season. The buckets are barely making wages this year – bell ringers are paid minimum wage. "For some of them, this work is making their own Christmas," he said.
"We use the money raised to supplement the gifts," Wildman said. "The kettles raise money for Christmas and winter relief." One of those expenses is a gift card, included in the food boxes, for buying meat for a Christmas Dinner.
Those who have a tag from an Angel Tree are encouraged to bring their gift to business location where they selected it, or the Salvation Army downtown. The "last minute" deadline is Friday, Dec. 18. Those without tags can bring unwrapped gifts to the Salvation Army downtown. Already, crews are
working to sort and bag gifts that have arrived — there will be a total of about 1,500, two or three for each child — and will soon begin preparing food boxes.
Wildman is confident donations will increase.
On Thursday, Dec. 16, Kiwanis Club members will be out ringing bells and on Saturday, Dec. 19, Lion Club members will take up stations at five locations.
"Those are usually really good days," said Wildman.
Other groups and volunteers have also been helping at kettle locations. All funds raised are used to meet local needs, Wildman noted.
The struggle this year is due in part to an increase in families being served. In the past, an average of 200 families received Christmas boxes and gifts. This year, 500 families are signed up for assistance.
With Christmas rapidly approach, it's all a matter of timing, said Wildman.
"The Dalles has been, historically, a very giving community," said Wildman.
"We just need help sooner, rather than later."