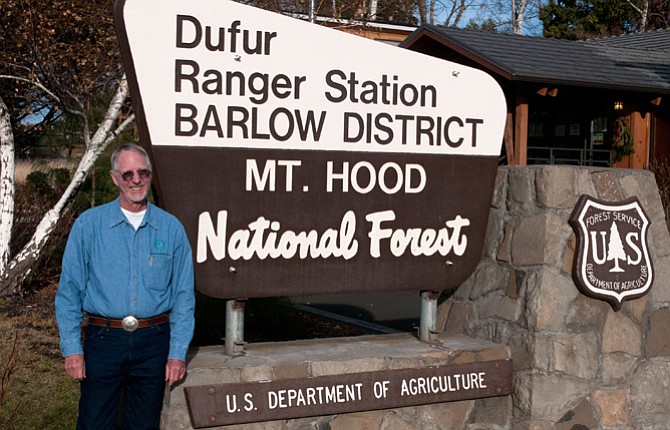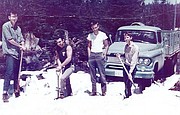 Most foresters don't stay at one place.
They move on to bigger and better jobs. It's even expected.
But David Gross, who has spent all his career at the Barlow Ranger District in Dufur, first as a seasonal employee, then as a permanent forester, a community engagement specialist and now a retired volunteer, is not most foresters.
"In my early days, I was encouraged to move," Gross said. "That was the expectation, that you would move up the ladder. And I actually ran into trouble in those early days because I wasn't doing that. I've known people who've worked at a dozen different places over the course of their career. I stayed put. I resisted that, for some reason, I'm not exactly sure why. But I think part of it was I had moved a lot as a child and I wanted to bring my children up in one community and I like it here and I like my job."
Gross was born in Cleveland, Ohio, but moved around the Midwest and East Coast before winding up in Tucson, Ariz. for his junior year of high school.
It was there, while being active in a hiking club, that Gross determined he wanted to be a forester.
He went to the University of Arizona to begin work on a bachelor of science in agriculture with a major in watershed management. During his freshman year, Gross was offered a summer job with the Barlow Ranger District.
"I had never been to Oregon so I didn't know anything about it," Gross said. "I said sure, I'll take it and that's how I ended up in Dufur. The forest service asked my school."
He spent the summer of 1962 on a project crew pruning trees and piling logging slash. He also responded to several small forest fires. At forestry camp in 1963, Gross wasn't available but he returned to Dufur in 1964 and 1965 and was offered a job as a professional forester after graduating from college.
"They gave me a permanent job in the same place," Gross said. "This is unheard of these days. In those days, it was still pretty unusual, I think. I don't even remember applying for a job. I just remember getting it. I knew I wanted to be a forester and I knew I wanted to work for the U.S. Forest Service. It was just a dream come true and [getting] it was really easy."
Gross started out as pre-sale forester. He laid out timber sales, marked boundaries, determined how big the cutting areas were and selected trees to be cut. In the winter, he did office work.
But that was all put on hold in October 1968 when Gross was drafted into the U.S. Army.
He served two years in the military, including a tour in Vietnam, as a terrain analyst."I actually had a really good job," Gross said. "We used the same skills that I had just learned being a forester, using aerial photography and contour mapping. I knew all that basic stuff.
I ended up taking a four month school in the army to teach me all that stuff but I knew a bunch of it already. It was really a good fit. It was pretty easy duty."
On Oct. 17, 1969, Gross returned from Vietnam and went back to work in the Mt. Hood National Forest.
"They held my job for me," Gross said. "I was really amazed."
In 1974, Gross began what would become the "signature achievement" of his career — managing the Youth Conservation Corps.
Gross started with 40 high school students in two crews in Dufur and Parkdale who spent eight weeks during the summer working in the forest. But that's when the YCC was funded by Congress. As the money went away, Gross found it harder to put together a program. But for 36 years, he had a crew at each site, ranging from five to 15 students.
"To keep it going year after year by pulling rabbits out of black hats, getting money wherever I could find it, that's something I'm very proud of," Gross said. "That's one of my big legacies."
In 1987, Gross switched gears and became a community engagement specialist for the Barlow Ranger District. Along with the YCC, he managed the volunteer program and would take groups of kids into the forest for experimental learning.
Gross also had a special emphasis of getting into the inner city and underserved communities in the Portland metro area that didn't know anything about the forest service.
In 2000, Gross was asked to be a recruiter for the U.S. Forest Service and began going to the University of Oregon, Oregon State, Washington and Washington State to get the word out about job opportunities.
"No. 1, I tell them you're not going to get rich as a public servant," Gross said. "If you want to be a public servant, this is the place to be. You'll get other benefits, one of which is being outdoors a fair amount."
Gross also goes back to a quote a colleague said many years ago — "Every day is different and every day is a challenge."
Besides the Barlow Ranger District building, which has gone through three remodels, and its staff, which started with about 15, grew to more than 40 and then dwindle back down to 15, Gross has seen a lot of changes in his career.
When he first started, pretty much all foresters were white men. About 10 years ago, Gross worked with Portland State University to tell the stories of the first women and African American foresters in Oregon and Washington. For more than three years, Gross and Portland State interviewed 30-plus people for the oral history project.
"We went to those people who had broken the barriers," Gross said. "Some of them are still working now, some were those very first people. I feel really good that I was able to pull that off with the help of Portland State University so we have those lessons and stories."
Gross began thinking about retiring 10 years ago but kept telling himself, "two more years." After two years passed, he said "another two years." Then Gross recognized he was approaching a number few foresters hit.
"When I realized that I was getting close to 50, I thought I can't imagine too many people do this," Gross said. "It was time to go."
Gross retired in October but is still volunteering at the Barlow Ranger District a couple days a week.
"I just want to go out in the woods and paint a sign or do some really nitty gritty kind of work because I love being outside and I love being active," Gross said.
He'll also continue to work with university students and try to find an outside partner in the community to get a YCC program going again since Mount Hood National Forest will no longer have one.
"I don't want to see that go away," Gross said. "There are too many young people out there who need that positive, constructive experience."