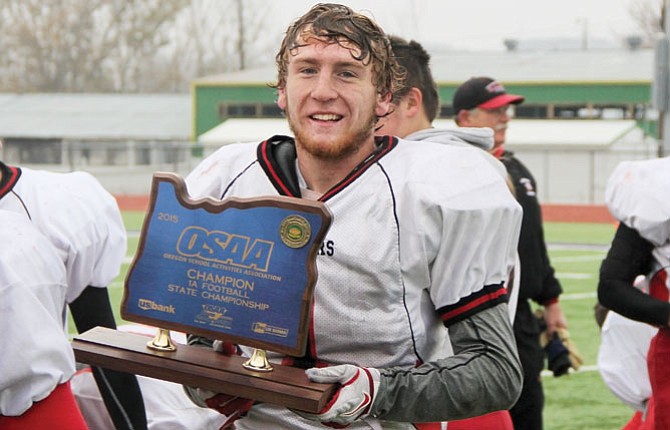 The word family means everything to Dufur quarterback Bailey Keever.
Whether he is talking about former or current teammates that he has gone to battle with, the coaches he has shared special moments with through his athletic career or the loved ones like his father Randy, mother Cindy and sisters Janelle and Lindsay, who are his biggest fans, his rock and his main source of emotional support, Keever shares all of his accolades with them all.
"Every single one of my family members is a huge support," Keever said. "They always make it to the games, they are always yelling their loudest or have encouraging words when needed, and to me, this team is my family. I am willing to put the time, the work, and the sacrifice in for each and every one of these teammates if that will help make us better."
Keever led the Dufur Ranger football team to an 11-win season, was a Big Sky Conference first team winner and captured the high school's seventh state championship this past fall.
For those accolades, his leadership and clutch playoff performances displayed on the gridiron, the junior quarterback was named the state's 1A Player of the Year.
Along with the Dufur quarterback, Regan Shira (Adrian), Bryson Shira (Adrian), Keenan Bailey (Perrydale), Will Shaw (Yoncalla), Marques Parazoo (Chiloquin), Mitchell Cole (Hosanna Christian) and Jackson Stallard (Powers), all were under consideration for the state's top honor.
Keever won the vote by a landslide.
With his recognition, Keever is the first Dufur football player to earn POY honors since Jason Reed in 2006.
In addition to his top player status, Keever was named as a first-team all-state winner at quarterback and defensive back.
Keever missed two full games and a portion of play against Perrydale on Sept. 25, but still managed to put up stout numbers.
On the year, Keever was a dual-threat weapon for a Ranger team that scored 632 points in 13 games this season, the state's third-best scoring offense.
On the ground, the junior rushed 88 times for 1,089 yards and 18 touchdowns.
Through the air, he completed 71 of 110 passes for 1,030 yards and 34 touchdowns.
All of those numbers and the wins would not be possible without the help of his linemen.
Keever spoke highly of Alec Smith, Jon Keyser, Zach Christiansen, Curtis Crawford and Bales.
"My linemen are the people I couldn't do it without. They did a great job this year, keeping me safe," Keever said. "Linemen and blockers don't usually get a lot of compliments or articles written about them because they don't actually score a touchdown. Just because they didn't score, doesn't mean they weren't involved. Without the linemen, I wouldn't be able to do my job, and our offense wouldn't be able to work the way it does."
Once the calendar switched to November, the lights brighter and the stage bigger, Keever put the Rangers on his back.
At home in Dufur's playoff opener against Days Creek on Nov. 7, Keever completed 6 of 12 for 146 yards and three touchdowns to lead his team to a 62-8 triumph.
Then came Yoncalla.
Keever rallied the Rangers from a 14-point deficit with two rushing scores and two conversion runs in the final minute to lead a stunning 74-72 comeback victory over then No. 2-ranked and undefeated Yoncalla on Nov. 14 in a quarterfinal classic played in Cottage Grove.
All told, Keever rushed 12 times for 115 yards and had a career-high six touchdowns, and he completed 19 of 31 passes for 247 yards and two scores.
"The only game I was even nervous about was the beginning of the Yoncalla game, but it's typical to be nervous at the beginning right?" Keever said. "Other than that, in the game, I was never nervous, always focused on making a play, along with playing well and I just told myself, 'push yourself Keever, make a play, and do what you are capable of.'"

In that game, the Rangers were down 72-58 with one minute and 28 seconds left.
Keever scored with 55 seconds left, and then following an onside kick recovery by Hagen Pence, the quarterback connected on a long pass to Kole Bales.
On second down, Keever found the end zone from one yard out and converted the extra point to help his team win the game.
"After we recovered that onside kick and were down by six points, I knew we were going to come back," Keever said. "We made some great plays in the last stretch and made it so that we were able to win that game. The Yoncalla game was amazing. I've never, ever seen or played in anything like it. It was one of those games that'll be talked about in the history books."
The following week, Dufur faced another top-ranked and undefeated opponent, this time Perrydale.
The same team he faced where he suffered his shoulder injury.
Keever had the last laugh, however.
He finished with 291 total yards and six touchdowns.
When dropping back, he was 9 of 16 passing for 202 yards and five scores.
Getting to the championship game, Keever said there was a sense of accomplishment.
If they would have lost that finale against Crane, he said the level of pride would had still been high.
Once the Rangers stormed onto Kennison Field in Hermiston, the focus was on capturing title No. 7.
Keever, who earned Player of the Game honors against Crane, had 24 carries for 159 yards and a touchdown. He was also 6 of 9 passing for 73 yards and three scores.
In his four-game playoff effort, Keever also added a defensive touchdown, a punt return for a score and a combined 71 tackles
"Bailey, most importantly is a great teammate, he leads by example and puts in the effort every day and never leaves anything left in the tank," said Dufur coach Jack Henderson. "He became a great leader this season as a junior by setting an amazing example for his teammates. His understanding of the game has grown remarkably. He is truly a coach on the field."
Keever now joins an illustrious list of Dufur Ranger football players who have paved the way for current and future players.
He added that the thing that makes game day so special, is teams who come to play the Rangers don't just come to play the current season's team, they come to play the many great teams that have come through Dufur High School.
"If you ask people about Dufur, they're going to tell you it's a football sport school due to the amount of success we've had," Keever said. "But, it feels amazing to be on that long list of teams and players that have come through and were able to win a championship. It is truly amazing."