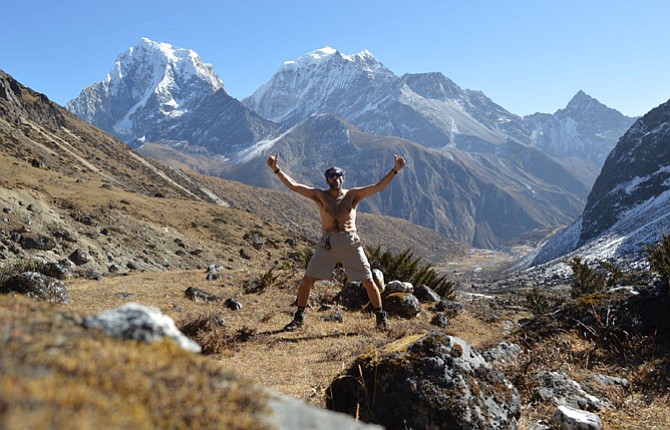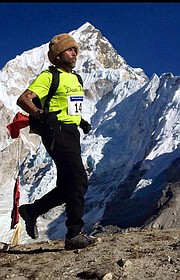 Condon resident Jennifer Houghtelling should have known better.
When her husband, Darryl, was in the hospital last August recovering from surgery to have a cancerous tumor removed from his kidney, she got him a book — "Extreme Running."
More than a year later, Darryl Houghtelling was on a plane headed for Nepal to participate in one of the races in that book — the Everest Marathon.
Listed in the Guinness Book of World Records as the highest in the world, the Everest Marathon begins at an altitude of over 17,000 feet near the Everest Base Camp.
The 26.2-mile race takes place every two years in November but this years' race was in doubt after an April 25th earthquake killed over 9,000 people and injured more than 23,000.
Usually there's 75 international runners and 25 local Nepalese for a total of 100. However, this year only 27 international runners from the United States, Britain, Denmark, Canada, Belgium and Switzerland made the trip. Houghtelling was one of only two Americans.
Before the race, he spent 26 days in Nepal with a British group of 40 that along with runners also included doctors and marshals. They toured the capital, Kathmandu, and spent 15 days trekking to acclimate themselves to the high elevation. Joining them were just as many locals to cook, put up their tents and guide them on the daily treck, which includs five to 15 miles a day.
"If we went up more than 2,000 feet for one day then we'd have a rest day, take it easy," Houghtelling said. "We had about six hours of actual sunlight a day because of the high peaks. It took a while for the sun to come up."
At night, they shared stories of the races they'd conquered — the Great Wall of China and Antarctic Ice marathons.

Because of the high altitude, Houghtelling lost 19 pounds during the trip.
"You use about two and half times the calories," he said. "They fed us really well, three times a day, more tea than ever. They boiled our water at night to be safe because there's no running water. Porridge, an egg, a pancake and more tea for breakfast and then lunch, some kind of a protein and a lot of carbs and local vegetables. They were trying to keep our calories up. I thought I would be gaining weight over there the way I was eating."
To see some of the best views of Everest, they climbed to the top of Gokyo Ri and Kala Pattar.
"It kind of ruined me for hiking because I can't go anywhere now, everywhere I went, there's more mountains, the Himalayans," Houghtelling said. "It's pretty incredible."
The day before the marathon, Houghtelling was given a final medical evaluation in order to receive his race number and be allowed to start. He also had to go through a practice race start and photo shoot for a BBC crew shooting a documentary on local female runner Mera Rai.
Race day began at 4:45 a.m. with a hot steaming washrag wake-up call. The runners were served porridge and hot tea. Jumping up and down awaiting the 6:30 a.m. start, the marathon was short 10 runners and had to wait three minutes as Nepal runners came sprinting from their lodge.
Once the race finally started, the locals took off. Houghtelling didn't chase them.
"You've been acclimated and you think you're fine but because of the altitude I felt like I might pass out and desperately needed a third lung," Houghtelling said. "I knew it would not be easy but was honestly surprised at how labored my breathing was the first two miles."
The marathon is downhill, starting at more than 17,000 feet and ending at around 11,300. But the trail features boulders, stone staircases, narrow suspension bridges and yak trains.
"It sounds great and it looks good on paper but some of it is so steep that you have to watch twisting your ankle," Houghtelling said. "Then there's a two and half mile stretch that's pretty much straight up. There's a lot of it that you just can't run. Well the local guys did. They were incredible."
The top seven finishers were all from Nepal, including the overall winner, 33-year-old Bhim Gurung, who completed the course in 3 hours, 42 minutes and 36 seconds.
Simon Grimstrup, of Denmark, placed eighth in 4:53:36.
After the 5-mile checkpoint, Houghtelling began to feel comfortable and find his spot before wandering off on the wrong trail.
"People were shouting at me from below but I assumed they were cheering, yet in all actuality they were yelling at me to come down to the correct path," Houghtelling said.
Getting off course wasn't anything new for Houghtelling.
"Even when I was in cross country in high school, I was pretty famous for getting lost," he said. "Back then I was fast so I'd be in first place and end up getting third. That's pretty normal. That's probably why I like track and field so much."
Back on course, at mile 12, Houghtelling's breathing was natural as he felt acclimated from the previous three weeks of trekking. After a steep hill between miles 13 and 14, he was given apple crisp pie and mars bars by the group leader.
Houghtelling then crossed a bridge over a beautiful wild river gorge before slogging 2.5 miles uphill to the 17.5-mile aid station. After completing the climb, he received a hug, mango juice and granola bar.
At the 20-mile marker, Houghtelling got lost again, this time in an old woman's backyard that didn't speak a lick of English. After losing 15 to 20 minutes but finally finding his way back on the correct trail, Houghtelling discovered he was 10 minutes behind the other American—36-year-old Tarek Kholoussy from New York.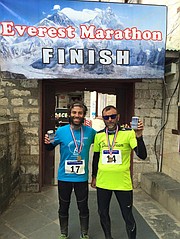 Houghtelling, who ran a personal record 3:12 marathon in Eugene in May, didn't give up on being the top runner from the U.S. He finished 30th in 7:48.07, which was nearly 5 minutes before Kholoussy.
"Getting high-fives from our trekking friends, I caught him with a kilometer to go and didn't look back as I finished the most scenic and hardest marathon anyone could think of," Houghtelling said.
Forty-five runners completed the race, the last coming in at 11:58.
It was Houghtelling's 38th marathon or ultra in just over five years.
In 2015 alone, he ran marathons in Boston, Bend, Seattle, Eugene, Hood River and Savannah, Ga. He also completed a 100-mile race in Key Largo, Fla., the Canada to Seattle Ragnar Relay, Volcanic 50K in Mt. St. Helens and a 50-miler on Mt. Hood.
Houghtelling has promised his wife that he will take it easy in 2016. However, he does plan on going back to Bend and Boston, where he got hypothermia last year and didn't finish.
"All of a sudden, my calendar got pretty full," Houghtelling said.
He's also got the Bunker to Bonneville 50K and White River 50-miler at Mt. Rainier on his schedule. But Houghtelling doesn't plan on leaving the U.S., at least not yet.
There's always 2017.
"I've looked at the one that goes through Switzerland, France and Italy," Houghtelling said.