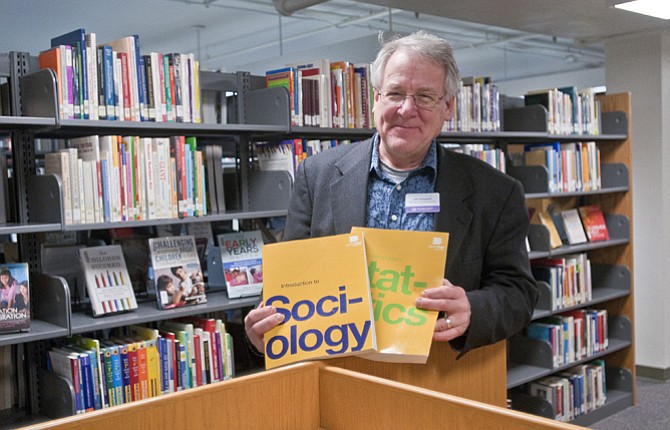 John Schoppert, director of library services at Columbia Gorge Community College, is on a mission to save students money.
For the past two years, Schoppert has worked with instructors at the college to help them shift from commercial textbooks to Open Education Resources.
Open education resources are textbooks and other materials published online under a license that allows free and open use.
They can be freely downloaded, modified or printed. The OER program at CGCC, called Gorge Open, was started in 2013.
According to Schoppert, textbooks have increased in cost by 812 percent since 1978, almost 500 percent more than medical services increased in the same time frame.
Students struggled to purchase textbooks at an average cost of $1,200 a term.
The OER funding of $6,500 has saved students $35,246 in textbook costs, Schoppert reported.
"It's a whole new way of teaching, when you are not relying on someone else's textbook," Schoppert explained to the board at a recent meeting.
"It's a lot of work," he added. "Some instructors wrote their own textbooks."
Others modified textbooks created at other colleges.
Schoppert explained that a natural history textbook created for use in Florida, for example, may in large part meet the needs of a course in the Columbia River Gorge once habitat examples are modified to reflect the local area.
"You add in all your own bells and whistles," he explained.
The savings for students can be significant: A printed open textbook currently in use at the college costs about $25, and replaces a commercial textbook priced at $185. Other curriculum is based online, using resources and databases purchased by the college that are free to the student.
Classes at CGCC that used OER resources in the winter term included fundamentals of music, U.S. government 1, human development, critical reading, college algebra, alternative energy resources, English composition and cascading style sheets.
The online curriculum is not a complete success, Schoppert noted. "The problem is, students like books, they like hardcover books."
Yet many online resources can be printed, if that is preferred, and surveys on the open source resources used in various classes has been positive.
The textbook affordability program recently received full support from the college board of directors, who voted unanimous in support of the program.
Moving forward, Schoppert hopes to continue to expand the program into core courses, develop a faculty team to maintain sustainability, align the CGCC program with the Oregon higher education coordinating commission textbook affordability program and partner with the state-wide OER librarian to build curriculum.