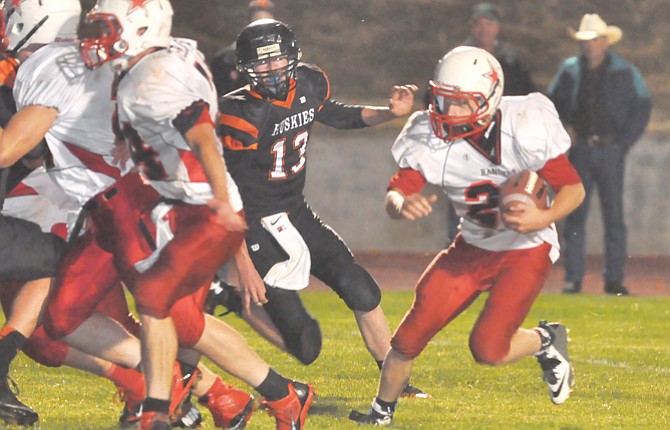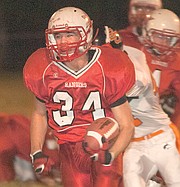 When summarizing the last four years of Dufur Ranger football, seniors Nick Little, Trever Tibbets, Jake Little and Brent Sumner are four names that put the program on the cusp of championship status.
Sophomore Bailey Keever and junior Zach Christiansen will be back to carry the torch even further.
Those six players were voted to represent not only the scarlet and white, but the rest of Oregon as part of the 1A all-state team in 2014.
Nick Little, Sumner, Tibbets and Jake Little were named to the first team, Christiansen and Keever were second-team picks and the Little brothers had their names called for solid play on both sides of the ball.
Those athletes were the staples of a Ranger football team that won 10 games this past fall, won the Big Sky Conference title and advanced to the OSAA/U.S. Bank/Les Schwab Tires Class 1A state semifinal game on Nov. 22 in Hermiston, losing 58-52 to the Adrian Antelopes.
"Overall, a tremendous success story this season," said Dufur head coach Jack Henderson. "Our kids worked hard every day and reached their potential. Unfortunately, we came up one play short against the eventual state champions."
First-team players make a difference
During the 2014 football season, the Dufur Rangers dominated the Big Sky Conference with a perfect 5-0 record, outscored its opposition 294-88 and had an average margin of victory of 43.2 points.
On the state level, Nick Little represents the first team for his play at linebacker and was an honorable mention selection at running back.
The dual threat back rushed for 1,290 yards and 22 touchdowns and added 11 catches for 285 yards.
"He led us in rushing yards with over 1,200 yards and was always a threat to catch the ball as well," Henderson said. "Although not real big, he ran with power and worked for extra yards at the end of each run or catch. Defensively, he was tough at linebacker and out-quicked opponents on a consistent basis."
In addition to state honors, the first-team all-league winner and Big Sky Player of the Year will be given an opportunity to dress down one more time this summer.
"Nick was very deserving of the Big Sky Conference player of the Year award he received and has recently been selected to represent Dufur in the East-West Shrine Game in August," Henderson added.
The Rangers wound up finishing fourth in the 38-team 1A classification with 591 points scored (49.2 a game) with Jake Little adding a receiving dimension most teams could not counteract, as he racked up 312 yards on 20 catches to secure his second-team all-state status at end/receiver.
"Jake had a great four-year career for us," Henderson said. "He ran great routes on offense and was an effective possession receiver for the Rangers."
This Dufur defense ended up ranked fourth in scoring defense with 254 points allowed in 12 contests (21.1 a game) and a major component of those numbers was Jake Little's play at defensive back, where he was a first-team selection.
In the final seven games, the Rangers (10-2, 6-0) allowed 124 points for an average of 17.7 points a game.
With speed and power as just a few of his strong suits, Tibbets wreaked havoc on offensive players and for that, he notched a first-team bid for his performance at defensive end.
"Trever capped a great career for the Rangers this year," Henderson said. "He led us in tackles for loss, and was always a threat coming off the edge and forcing the opposing quarterback in to mistakes."
In his final varsity season, Tibbets rushed for 654 yards and tacked on a team-leading 24 touchdowns. With his soft hands, Tibbets hauled in 12 catches for 415 yards.
The junior had his name called for a spot on the second team, as an anchor for an offense that scored 342 points in seven wins in the months of October and November.
Although he did not earn state recognition at running back, Henderson highlighted Tibbets' consistency on and off the field.
"Offensively, he ran the ball hard for us and was a great receiver out of the backfield," the Ranger coach said.
Playing in a complex offense, Keever, playing in his first full season at quarterback, was a dangerous threat to run and pass the ball.
He also was given an opportunity to call and execute audibles at the line of scrimmage for a squad that amassed a 5-0 record when scoring 55 points or more.
The sophomore completed 52 of 111 passes for 1,158 yards and tacked on 582 yards rushing and with those statistics, he earned a second-team award as the Ranger signal caller.
"Bailey grew into his role as the starting quarterback each week this season and was a huge key to our success," Henderson said. "He will be a dominate player for two more seasons for the Rangers. His ability to run and throw makes him a difficult kid for opponents to deal with."
With Tibbets and the Little brothers giving support on three levels of defense, Christiansen, a junior, proved his weight in gold as one of the anchors on a stout defensive line.
The 5-foot-11 inch, 210 pound behemoth could not be overlooked by opposing coaches, as he tallied a second-team award.
"Zach overcame a serious back injury to become a force on the defensive line for us this season," Henderson said. "He couples strength with quickness and toughness to create problems for opposing offenses. He has the potential to have a great senior season."
For a team that had its share of difficulties getting over the first-round playoff hump, Dufur strung together a hot streak down the stretch with offense imposing its will.
In this playoff run, the Rangers dropped North Douglas by a 48-0 score in opening round play and in the quarterfinals, they rolled past Wallowa in a lopsided 72-20 outcome to punch their first semifinals ticket since the 2008 season.
At one of the guard slots, Sumner (6-2, 220) caught a second wind when the calendar read October and November and the senior was rewarded for his output with a first-team pick at offensive guard.
"Brent improved as much as any kid that I've ever coached," Henderson said. "He worked hard year-round to become a big strong kid that was our best lineman for the past two years. He has great feet and is quick to the point of attack. When we needed yards, we ran behind him. Brent is a great success story for the Rangers."
Next crops eyes future accolades
Just like any high school program, Dufur turns around its roster in the 2015 season with the loss of five seniors.
Keever and Christiansen will bring a leadership element and players such as David Brown, Jon Keyser, Alec Smith, Steven Bailey, Curtis Crawford, Hagen Pence, Kurt Nuevo and Kolbe Bales will fill holes left by the graduated quintuplet.
"Although we graduate some great kids this year, we also return a bunch of talented kids that have played a lot for us," Henderson said. "Those that are waiting for the Rangers to fall off the map should plan to be very patient."