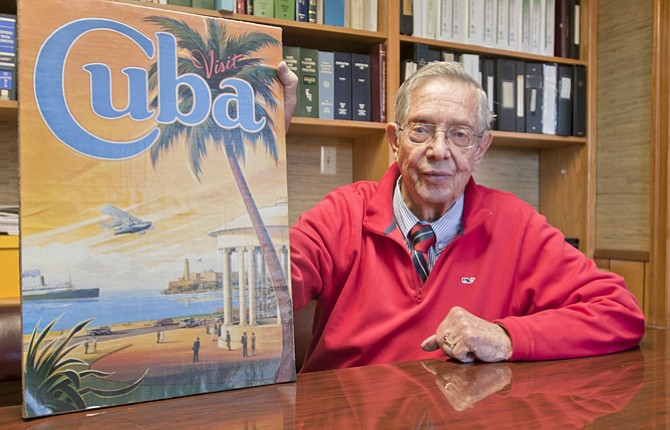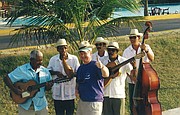 On a lark some years ago, The Dalles attorney M.D. Van Valkenburgh went to Cuba.
It was around 1997, and he'd just finished attending a tax conference in Miami, and some buddies were headed to Cuba in the comfort of a roomy 60-foot boat.
He joined them for the adventure, and found a country much like the photographs depict: A time warp where cars and amenities date from the 1950s.
Van Valkenburgh agreed to talk to the Chronicle about his trip in light of President Barack Obama's surprise announcement Dec. 17 that the United States was normalizing diplomatic relations with Cuba, reversing a longstanding freeze that dates back to January 1961.
Van Valkenburgh said he was surprised "in a way" by the president's decision, which also includes a partial lifting of the trade and travel embargo to the communist nation, but added, "I always felt it was inevitable. We couldn't be stupid forever."
"The rest of the world trades with them and we're 90 miles away and theoretically we can't trade with them. It's nonsense," he said.
Not only will a U.S. embassy reopen in Havana, but other changes will make certain categories of travel easier, allow more money to be sent to Cubans, provide telecom infrastructure and ease banking restrictions.
U.S. credit and debit cards will also be allowed in Cuba.
But back in 1997, Van Valkenburgh and his buddies knew that the Cubans had a special affinity for American $2 bills, so they got $600 worth of the bills and spent them all.
Cuba has the same latitude as Hawaii, Van Valkenburgh said, and the island was memorable for its music, friendly residents and delicious food, though it was a bit heavy on two island staples: black beans and rice.
"There's a lot of Chinese, Canadians, Europeans there, and because of our embargo, there aren't many Americans, which is a stupid decision," he said. The distance to the island from Florida is the same as "the distance between here and Portland."
While American commercial tourist travel to Cuba has long been banned — and still is, even under Obama's looser regulations — it appears that travel there by private boat has been another thing entirely.
"We reported to the Coast Guard before we left and did it by telephone," Van Valkenburgh said of their departure from Key West. "And they said, 'Well, you're not taking anything illegal?' And we said, 'No,' and they said, 'Report back when you come in.'"
They did, but it was late on a Friday night and nobody answered the phone, so they just left a message.
After an eight-hour boat ride, Van Valkenburgh's boat sailed into Havana and the Hemingway Marina, "which is a beautiful marina with condos around it, swimming pools, and is very attractive," he said.
"When we got close we radioed for permission to come in and they gave us direction where to come in and berth the boat and we were met by a small group of musicians and a boy who offered to wash the saltwater off the sides of the boat."
Two government officials came on board and checked their papers — all they needed to enter the country was their driver's license — "and they sent a diver underneath the boat to make sure we weren't sneaking something in."
A man arrived and offered to take them on a tour.
They went by the area where Fidel Castro lived, and spent a full day at the the Hemingway Museum, which is the former home of the great American writer, Ernest Hemingway.
They learned that Hemingway put on an annual fishing contest, and Castro won it a couple times. Also, during World War II, at the behest of the British secret service, Hemingway went to the Caribbean to look for submarines.
Prior to the revolution, Cuba was a hotspot for the rich and famous – and the mafia, Van Valkenburgh said.
They saw former casinos and brothels that were shut down by Castro. The story in Cuba was that those decadent, sinful places were run by President Kennedy and his father, Van Valkenburgh said.
While America embargoed Cuba two years after Castro took over and it became communist, prior to that the U.S. had backed the dictator Fulgencio Batista, "a crooked snake," Van Valkenburgh said, who brutally controlled the country with death squads.
Batista was overthrown in early 1959 and Fidel Castro took over. Castro's brother, Raul, is in power today.
Van Valkenburgh and his buddies spent a week and a half on the island and had a great time. "People were very friendly. They all seemed to have relatives in Miami," he said. A few asked them to forward letters to relatives, and they did.
Nobody had cell phones, since they were banned, and long distance calls could only be made with permission, he said.
While Cuba is famous for its cigars — visitors can now bring home $400 of items from Cuba, but no more than $100 worth of tobacco products — Van Valkenburgh didn't buy any. He didn't buy any rum either, another favorite.
Rather, he said, he just went "for the experience